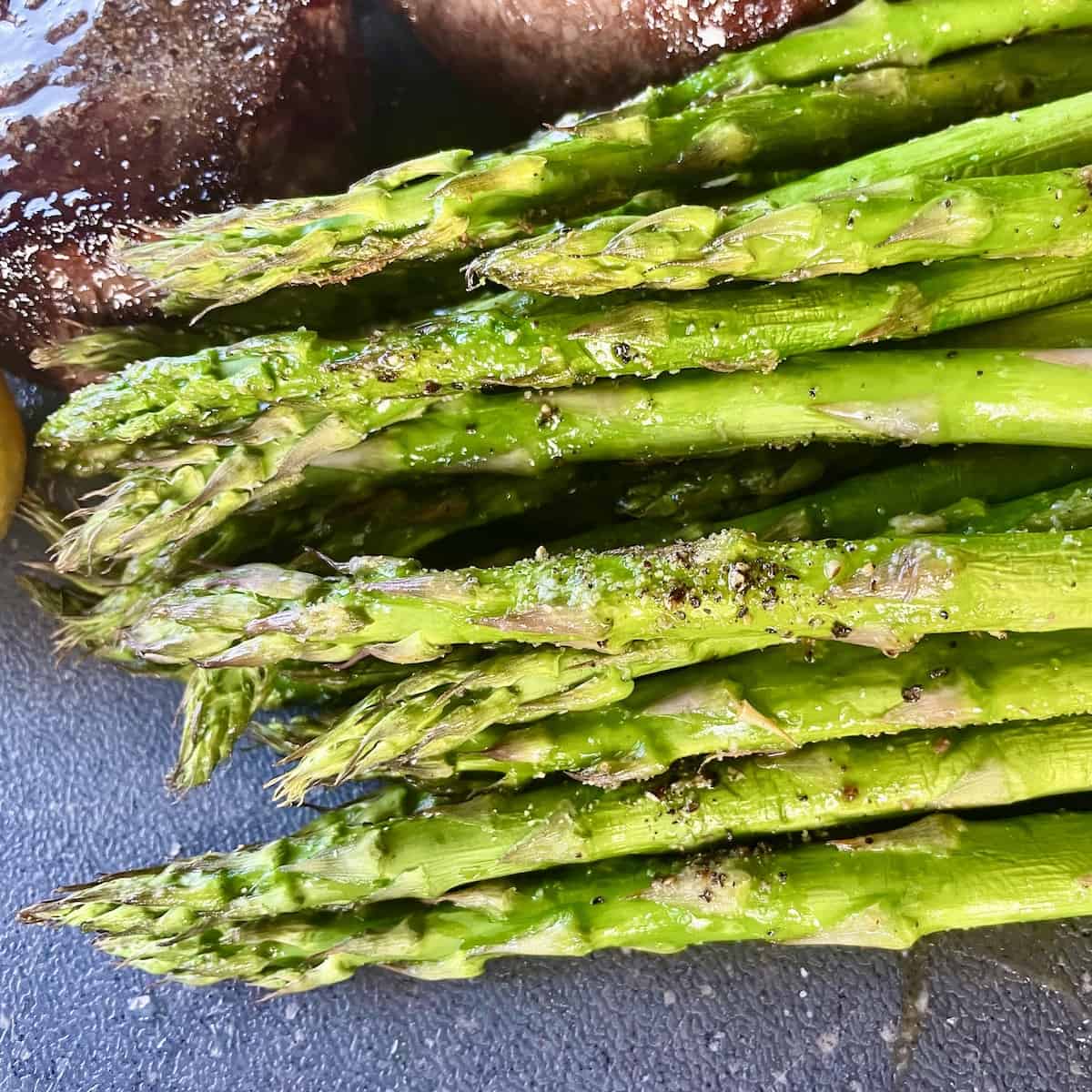 This blog post contains affiliate links. As an Amazon Associate I may earn income from qualifying purchases. Thanks for the support.
This recipe for Traeger asparagus grills up quickly and leaves you with tasty tender asparagus that maintains a bit of crunch. This is my favorite way to make perfectly seasoned asparagus that is tender without being over cooked. Grilling our vegetable side dish outside on the Traeger makes cooking dinner all in one place a breeze.
Why is Grilled Asparagus a Favorite of Mine
When it comes to a great vegetable recipe, it's mostly about the cooking method in my opinion. Controlling the moisture with the right amount of heat is key to cooking vegetables just so they are tender, but not mushy.
Grilling asparagus on any grill whether you are using a traeger pellet grill, charcoal grill, or gas grill generates high heat and pulls moisture from the asparagus. Follow a few easy steps and have a bright and delicious side dish in no time.
Asparagus and Ingredients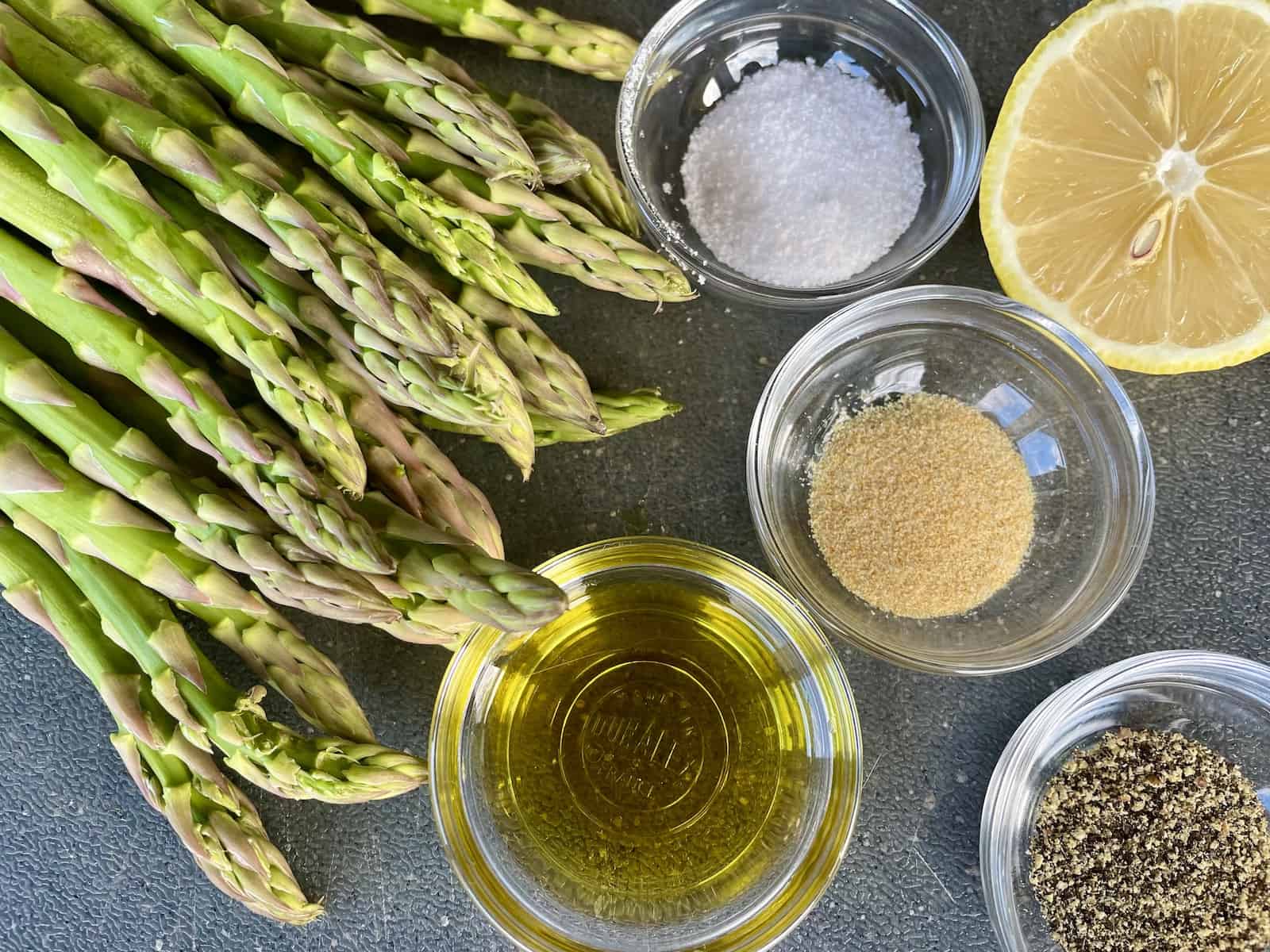 One of my favorite vegetables is fresh asparagus. It can be dressed up and fancy or kept super simple with a bright finish. Since we are making this simple side dish on the grill, I prefer thick asparagus spears so that they maintain their crunch.
Preparing grilled asparagus makes me want to keep it bright and and zesty. For that flavor profile, I use just a little olive oil, salt, granulated garlic, lots of black pepper, and a squeeze of lemon juice.
Traeger Grill and Supplies
Making asparagus on a Traeger grill is super easy, especially with a few key supplies. For this recipe, you will need:
Traeger Grill: Any Traeger Grill will work for this recipe. When shopping for a pellet grill or pellet smoker with Traeger, pay attention to the number associated with the grill. For example, the Ironwood 650 which is a great size for everyday use and cooking for a family. The 650 is the number of cubic inches of cooking space. At that size, you can easily fit a protein such as steak or chicken breasts alongside the asparagus.
Stainless Steel Grill Topper: This is optional, but recommended. When you lay the asparagus on the grill in a single layer, you can lay them perpendicular to the grill grate. However, you run the risk of some asparagus stalks falling through the grates. A grill topper or grill basket for vegetables makes it easier to control and move the asparagus around.
Wood Pellets: Since we are cooking the asparagus quickly at a high heat, the wood pellet can be whatever you have on hand. For everything grilling, I use the signature blend and don't worry too much about changing them out unless I'm doing a longer cook to get that smoky flavor.
Anything Rub: If you want a quick seasoning option, grab the Anything Rub from Traeger. It has a great blend of spices for protein or veggies.
Finally, you'll need the other kitchen basics like a cutting board and tongs.
Preparation and Grilling Process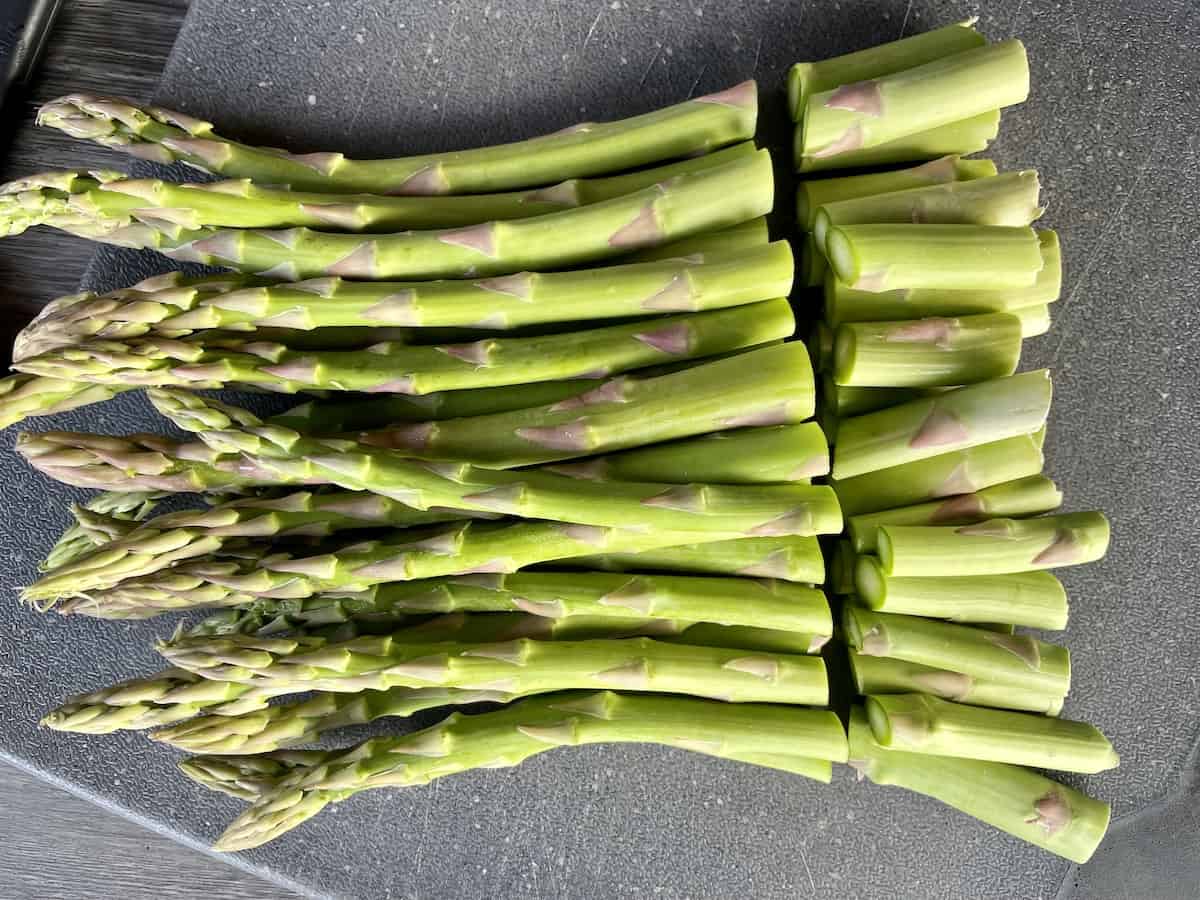 To prepare the asparagus, start by washing the spears thoroughly with cold water and trimming the woody part at the bottom. The best way to find the mark for where to trim, take one spear and snap off the bottom. Use that bottom piece as a guide and trim the rest of the asparagus to the same length.
Once the asparagus is washed and trimmed, drizzle the spears with extra virgin olive oil and sprinkle with your seasoning. They are ready for the grill!
The hardest part of making this asparagus side dish is waiting for the Traeger pellet smoker to preheat. And that takes nothing. Once you get the grill temperature up to 400F, you can toss those thick asparagus stalks on and start cooking.
After the asparagus has cooked, remove them from the grill to a serving plate. Hit them with a squeeze of lemon and serve with a lemon wedge in case your peeps want extra.
Recipe Modifications
If you want flavor options, let's go:
More lemony: before laying the asparagus on the grill, add lemon zest from half of a lemon. Set it aside to squeeze fresh lemon juice after the asparagus is done cooking.
Parmesan Cheese or Pecorino: to add another layer of flavor, shave on some fresh parmesan or pecorino romano cheese for a nice salty bite
Hollandaise Sauce: dress up your grilled asparagus by serving it with a rich and creamy hollandaise sauce
Traeger Asparagus Recipe Card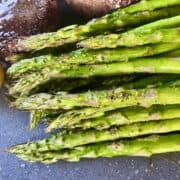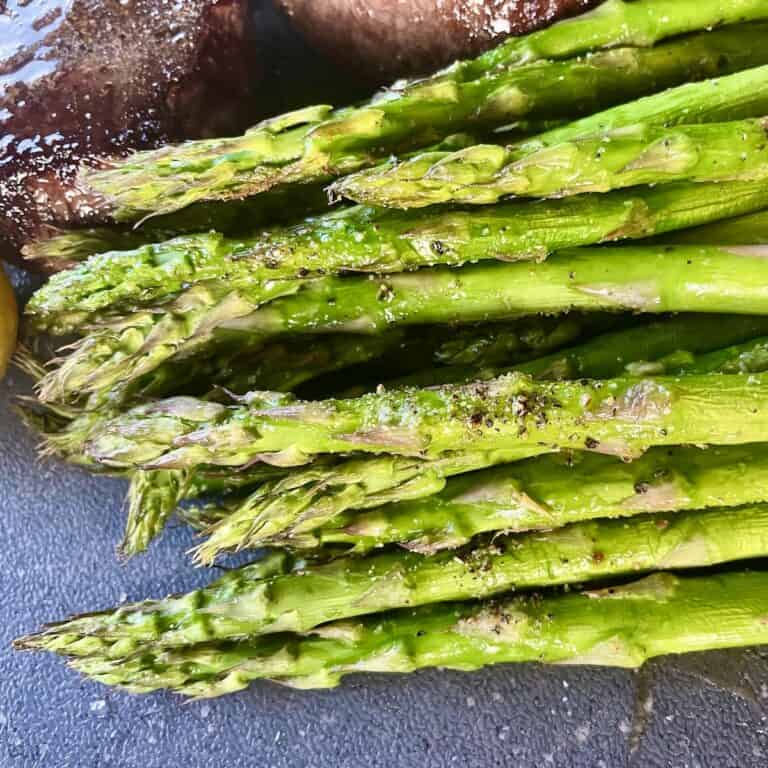 Print Recipe
Traeger Asparagus
Bright green asparagus seasoned and quickly grilled for a great side dish. Grilling asparagus quickly ensures a tender veggie but maintains a bite without getting mushy.
Equipment
1 cutting board

1 Traeger Grill

1 vegetable grill pan

(optional)
Ingredients
1

pound

asparagus

1

tablespoon

olive oil

2

teaspoon

kosher salt

1

teaspoon

black pepper

1 ½

teaspoon

granulated garlic

½

freshly squeezed lemon
Instructions
Preheat the Traeger Grill to 400F.

Prepare the asparagus by washing and removing bottom 1-2 inches depending on the thickness of the asparagus. The bigger the asparagus, the more you'll need to trim. For really big asparagus stalks, use a vegetable peeler to peel the bottom 2 inches.

After the asparagus is prepared, drizzle the stalks with olive oil. Season them with salt, pepper, and granulated garlic. Make sure they are evenly coated on all sides.

Once the grill has reached 400F, lay the asparagus on the grates in a perpendicular direction so they do not fall through the grates. You can also use a vegetable grill pan to make sure they stay on the grill.

Cook the asparagus wit the grill lid closed for 8-10 minutes. Poke the asparagus with a fork to check for doneness. When the asparagus is cooked but has a crunch in the center, it is ready to remove.

Use tongs to pull the asparagus off the grill onto a serving plate. Squeeze with the lemon juice from half of a lemon and serve.
Nutrition
Calories:
59
kcal
|
Carbohydrates:
6
g
|
Protein:
3
g
|
Fat:
4
g
|
Saturated Fat:
1
g
|
Polyunsaturated Fat:
0.4
g
|
Monounsaturated Fat:
3
g
|
Sodium:
1166
mg
|
Potassium:
249
mg
|
Fiber:
3
g
|
Sugar:
2
g
|
Vitamin A:
860
IU
|
Vitamin C:
6
mg
|
Calcium:
31
mg
|
Iron:
3
mg
Did you make this recipe? Tag me on Instagram @fancy_apron 🙂 or leave a comment below.
If you have questions or comments, please submit them below!
Main Dishes Perfect for Traeger Asparagus
Some great choices for a hearty main dish to serve with this healthy vegetable check out my pork chops and chicken breast recipes. The are delicious recipes and have amazing flavor. You can cook your protein on one half and the bright green asparagus on the other side of the grill.