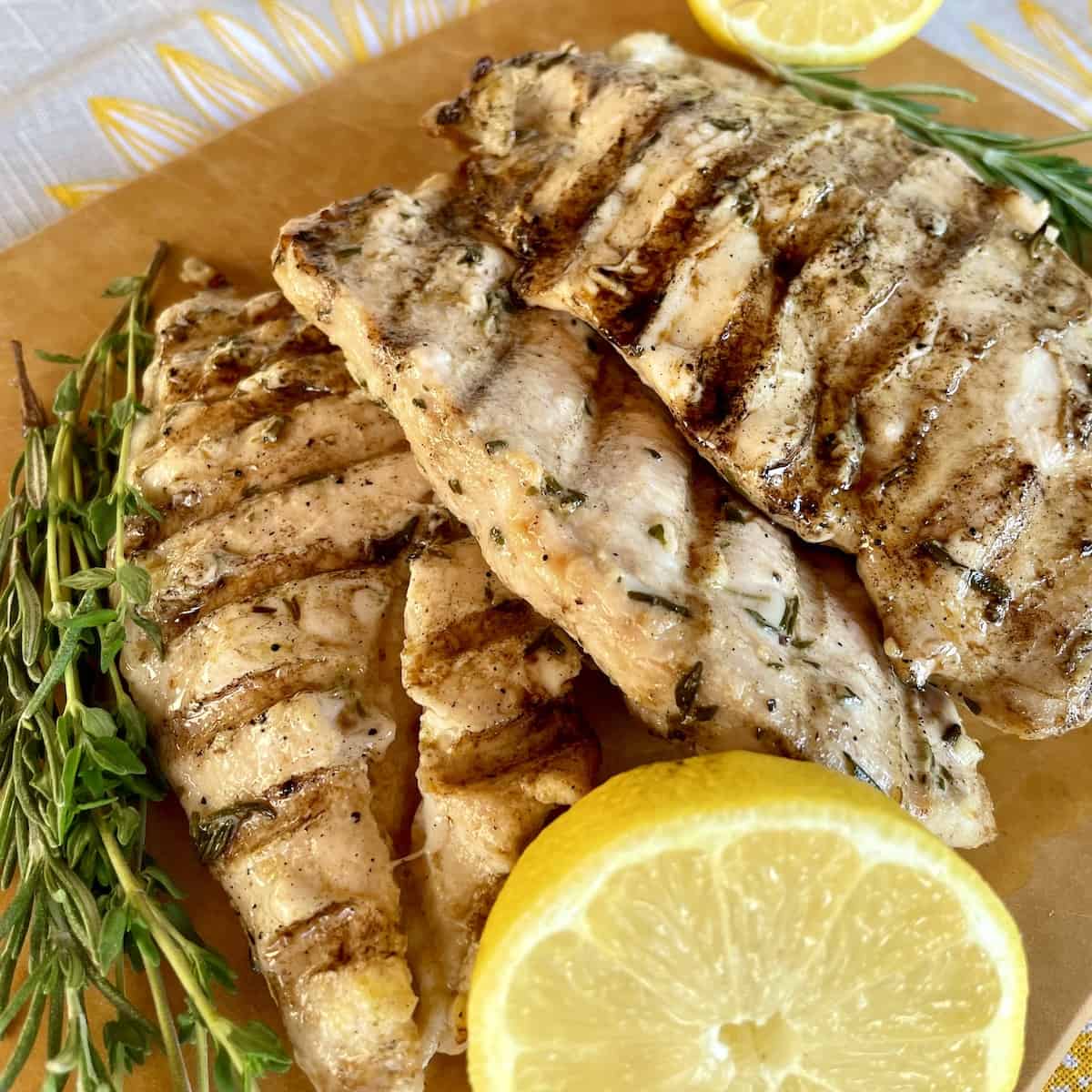 This Lemon and herb marinade is perfect for grilled chicken or pork chops. It combines great flavor from garlic, fresh herbs, and zesty lemon.
This blog post contains affiliate links. As an Amazon Associate I may earn income from qualifying purchases. Thanks for the support.
The Perfect Marinade for Weeknight Cooking
I just love this easy marinade! I most often use it as a lemon herb chicken marinade, but as you read on, you will see what a versatile marinade it can be. The blend of lemon juice and herbs pack a flavorful punch. The natural flavor from fresh herbs really wake up the senses. The aroma from the lemon marinade can't be beat. If you need new recipes, you are in the right place to make some new home-cooked meals this week.
Simple Lemon and Herb Marinade Ingredients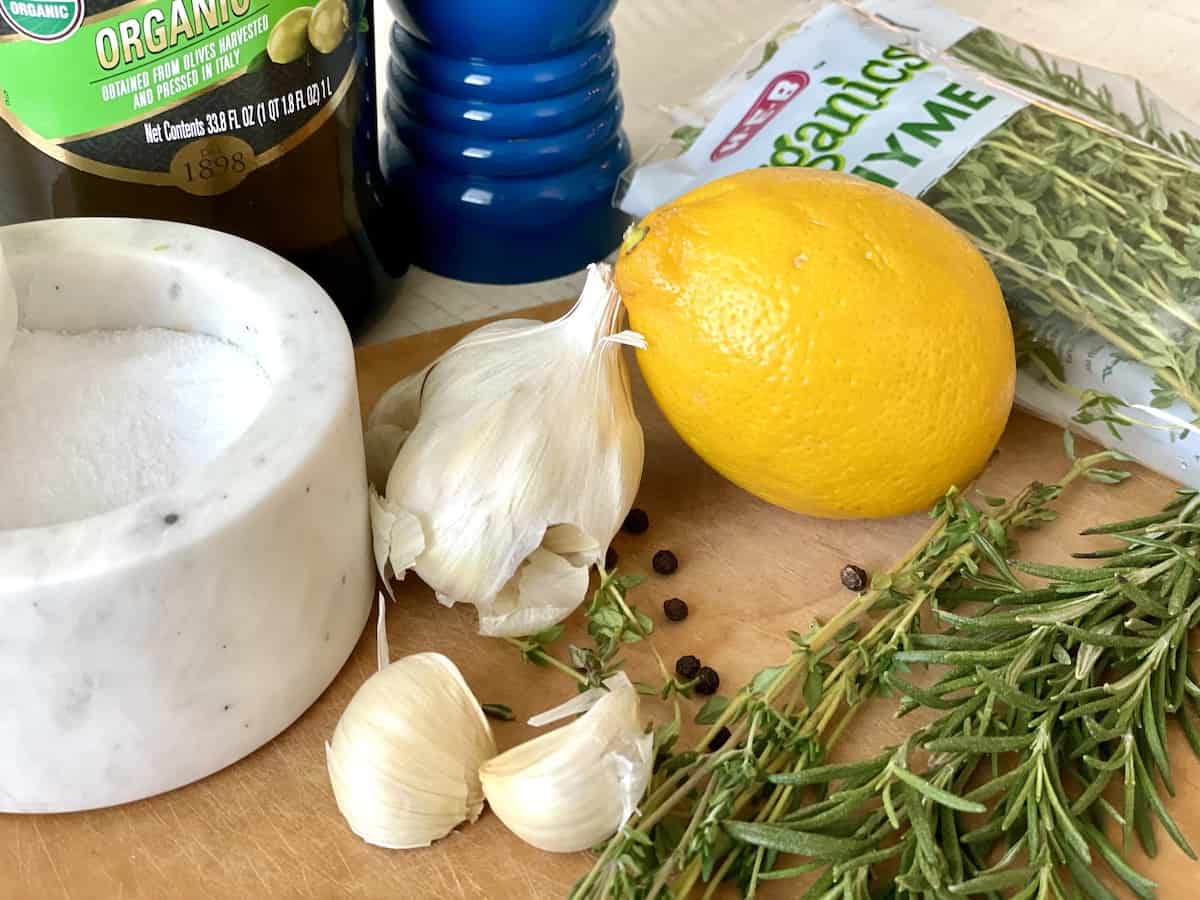 These ingredients are meant to be together. The rosemary and garlicky flavor gives the marinade is deep and earthy base. The fresh lemon juice and thyme are bright and zesty. I pretty much always have garlic cloves and lemons on hand which is why I reach for this recipe so often. Fresh thyme and rosemary are also staples, but even if I don't have them on hand, they are available year round and can be used in so many recipes.
The other marinade basics include olive oil, kosher salt, and pepper.
Lastly, other great herb options include: fresh basil, dried or fresh oregano, and Italian flat leaf parsley.
Making the Marinade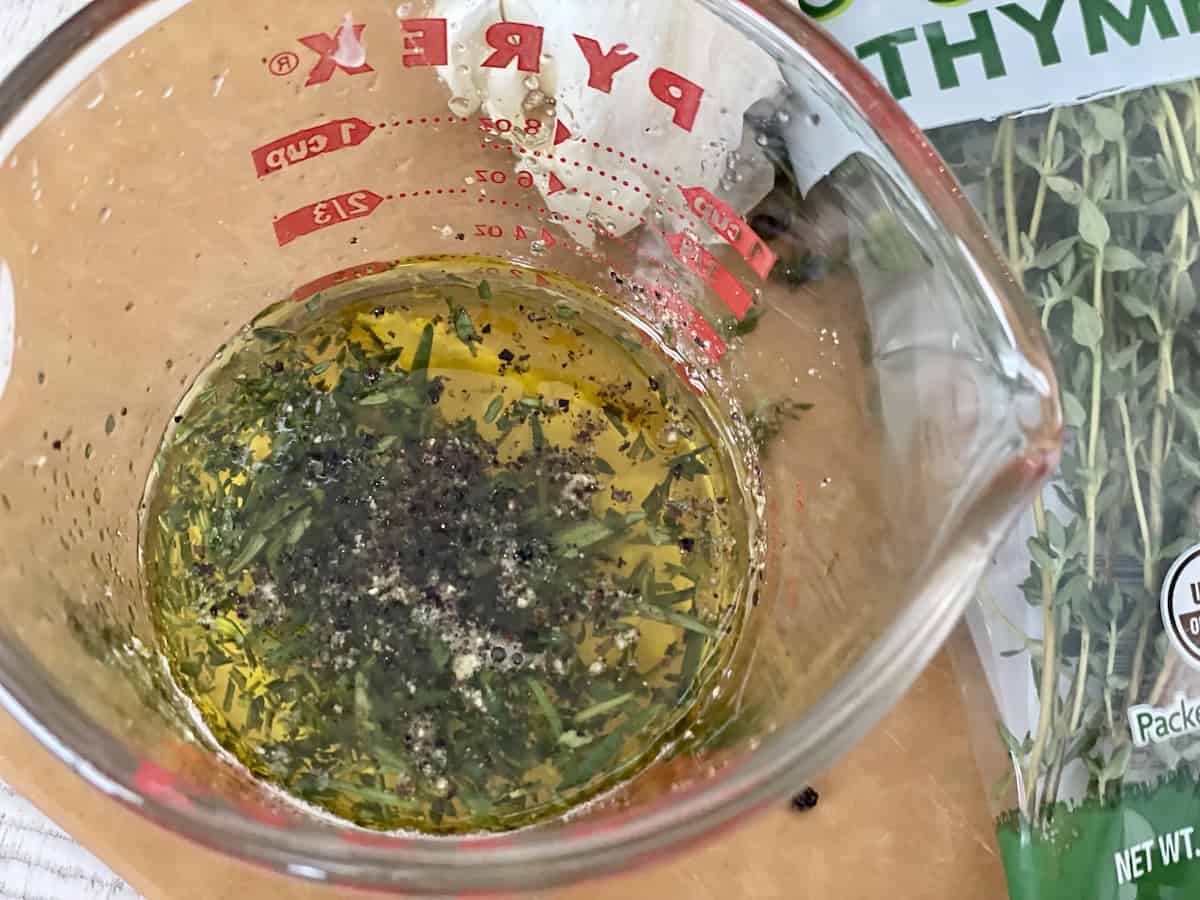 Making the marinade is a 5 minute process. You'll want to prepare the herbs including the garlic, thyme, and rosemary by pulling it from the stems and give a a very fine chop. Get them together in a small bowl or measuring cup.
Next, you can add the olive oil, lemon, salt and pepper. Pour the marinade over your choice of protein: boneless chicken breasts, chicken thighs, whole chickens, pork chops, pork tenderloin, or shrimp. Save the meat in the marinade and store in an airtight container, sealable plastic bag, or vacuum sealed bag and refrigerate for 2-12 hours or overnight.
If you are cooking for vegetation/plant based friends, this marinade is also good on vegetables including: red bell peppers, white mushrooms, baby portobellos, red onion, zucchini, yellow squash, or eggplant.
Cooking Marinated Chicken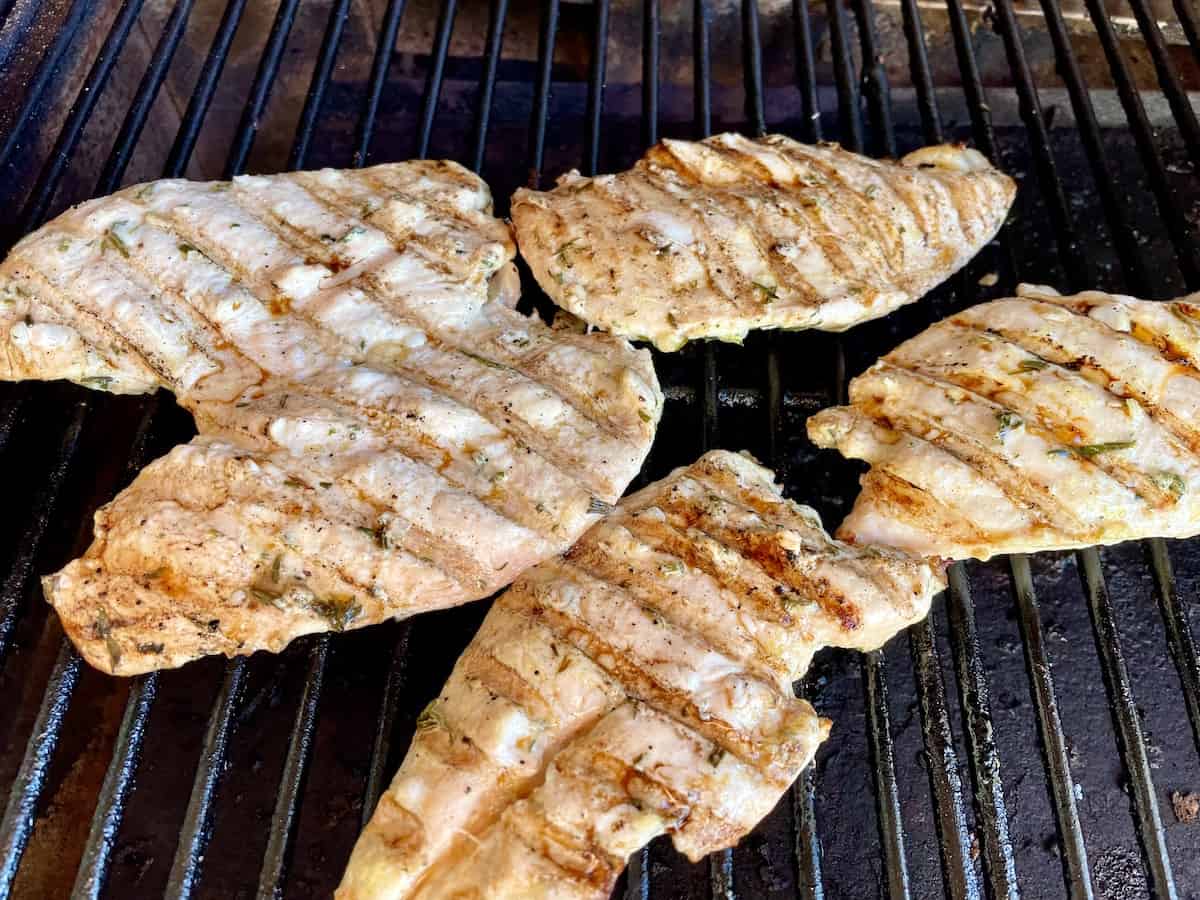 As far as cooking recommendations go, I almost always grill my marinated chicken. Its a quick process and I can keep the mess outside. I grill the chicken on a Traeger heated to 375F for 16-20 minutes. I flip the chicken one time halfway through the cooking process to get even grill marks on both sides on the cutlet. Make sure the internal temperature of the chicken reaches 165F and verify that with a meat thermometer if needed.
However, if you are not a grill master like me or ran out of propane, you can also pan sear these cutlets. Cook them in a large pan or cast iron skillet with olive oil on medium for 15 minutes, flipping them throughout the cooking process so they do not burn.
Serving Suggestions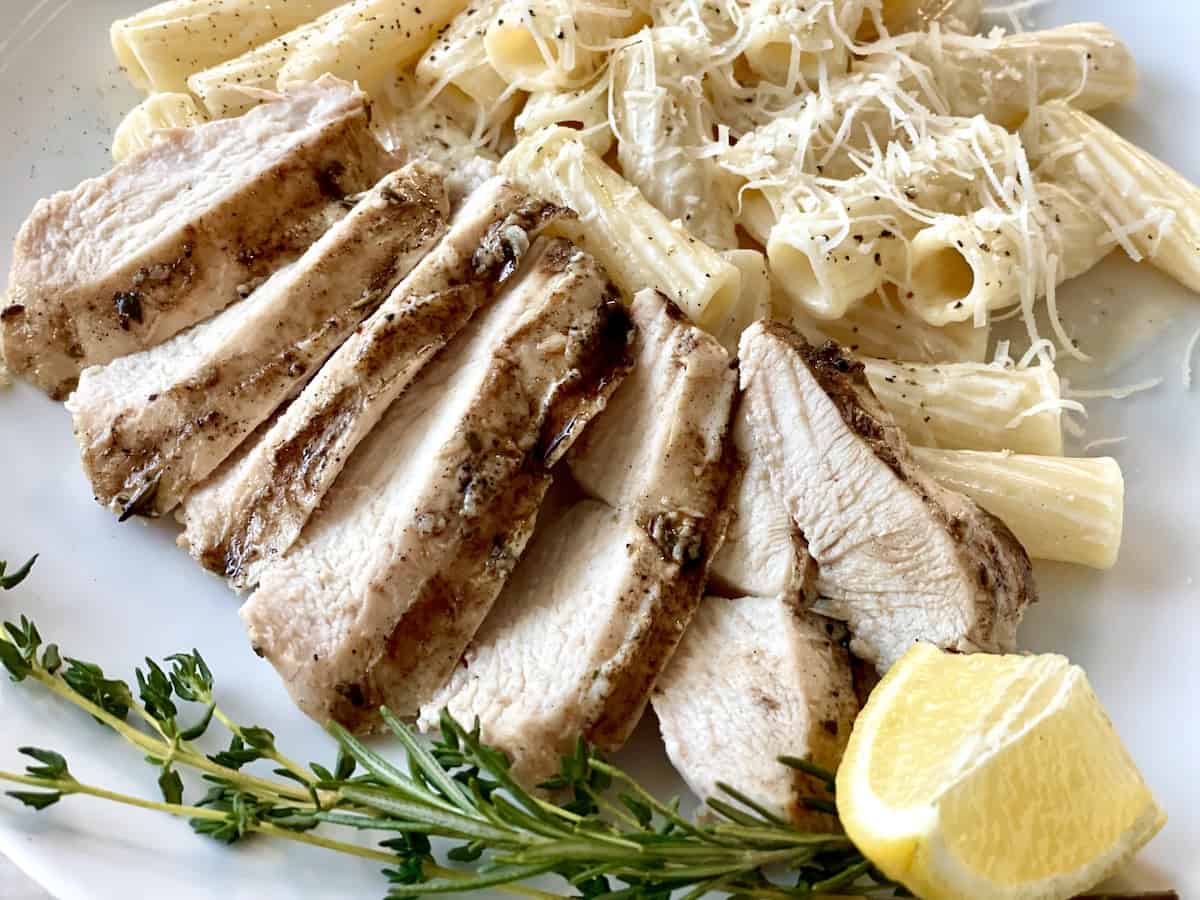 My favorite way to make and serve an herb and lemon marinaded chicken breast is over buttered noodles with broccoli or a dinner salad. It also goes very well with roasted potatoes and carrots that are seasoned with the same herbs and butter.
More ideas:
thinly sliced for sandwiches
served with rice pilaf and zucchini
dinner salad topped with a lemony vinaigrette of greens, cucumbers, and tomatoes
its great for chicken caesar salad too
Bottom line, the marinade packs tons of flavor, but is so versatile that it can be transformed into several different types lunches and dinners.
Lemon Herb Marinade Recipe Card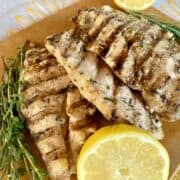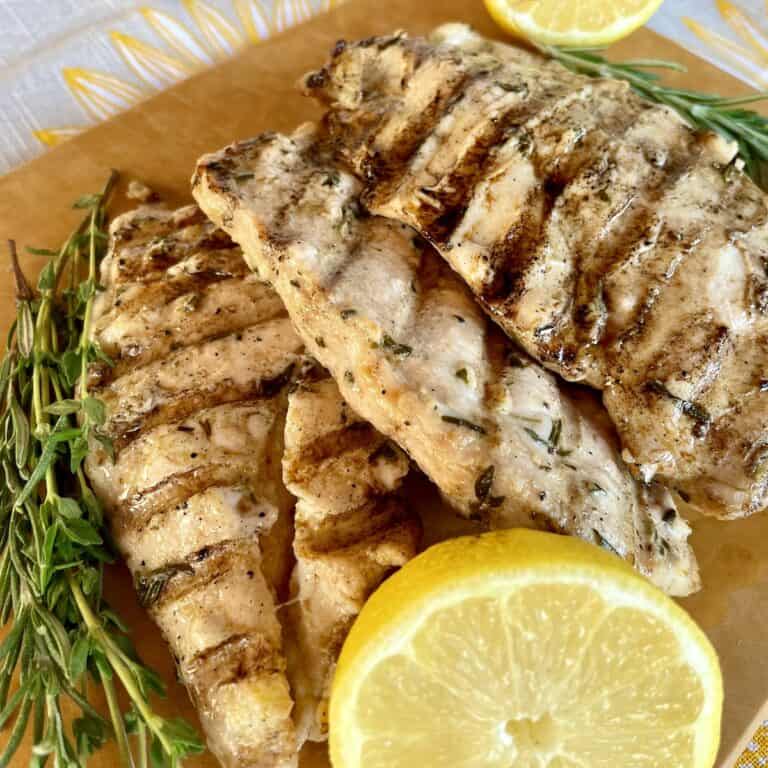 Print Recipe
Herb and Lemon Marinade
A fresh and bright marinade that combines fresh thyme, rosemary, and lemon.
Ingredients
¼

cup

veg oil

1

clove

minced garlic

1

tablespoon

minced fresh rosemary

1

tablespoon

minced fresh thyme

½

lemon juiced

1

teaspoon

salt

½

teaspoon

pepper
Instructions
Measure and combine all ingredients in a bowl or measuring cup.

Cut boneless skinless chicken breasts through the center to make thin cutlets.

Marinade chicken in a bowl and refrigerate for 2-4 hours. Or save marinated chicken in freezer safe bags in the freezer for future use.

When you are ready to cook the chicken, grill on high for 7-8 minutes per side or until the internal temperature of the chicken breasts reads 165F on a meat thermometer.

Serve grilled chicken with parmesan butter noddles and asparagus or over a crisp salad with Italian dressing and garlic bread.
Nutrition
Freezer Friendly Marinade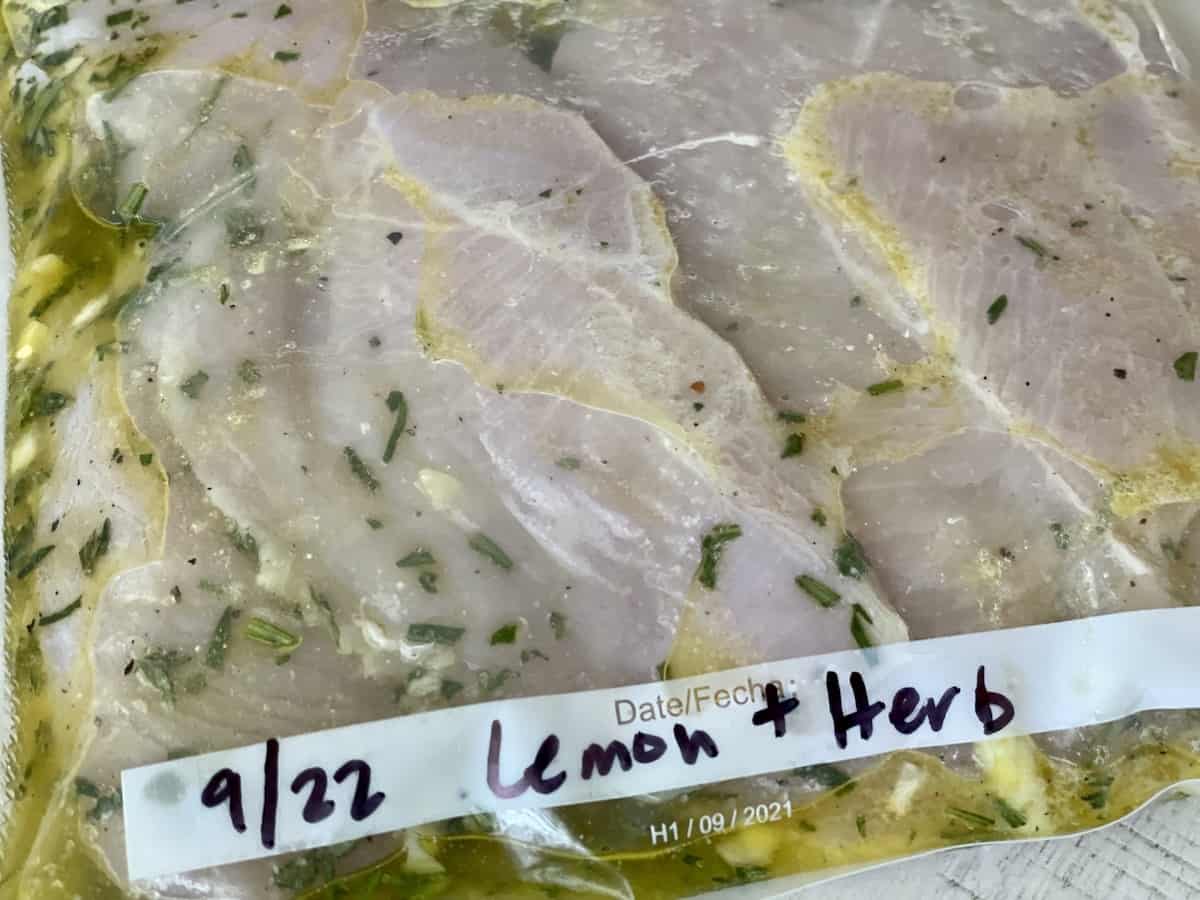 This marinade in particular is one I use for make ahead meals. I make my marinade and pour it over the chicken to save in a vacuum sealed Food Saver bag. You can do this with any sealable bag, but removing the air prevents freezer burn. Check out my other freezer friendly marinades below!
These are a great way to have dinner on the table quickly during busy weeknights. Just take the sealed chicken out of the freezer the day before and let it thaw in the refrigerator overnight. Choose an easy side dish and take the stress out of cooking for that night.
Why this Homemade Marinade is Better than Store Bought
Now, you may have learned by now that I am a huge advocate for cooking from scratch and making it as easy as possible. Sometimes I enjoy the convenience of a bottled store bought marinade. The challenge is finding one that is not loaded with added msg, high fructose corn syrup, preservatives, and artificial ingredients.
More Great Marinades