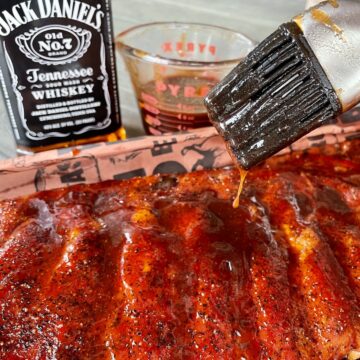 My Jack Daniels Sauce Recipe is one of the most scrumptious sauces you will ever make. I make it all of the time whether we are having an easy weeknight meal or smoking meat out back in the summer. Everyone asks for the recipe and I am so happy to share because it goes on just about everything.
This Jack Daniels bbq sauce is better than any other copycat recipes you might find because the flavors are so simple. Jack Daniel's Tennessee Whiskey shines through without being overpowering or too intense.
Jack Daniels Sauce Ingredients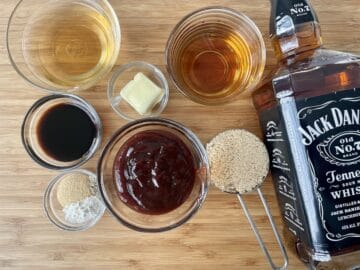 ​This delicious sauce recipes has the easiest ingredients ever. The intense flavor from the whiskey is balanced out by the brown sugar and other ingredients. For the sauce, we need:
Jack Daniels Whiskey
apple juice
soy sauce
unsalted butter
dark brown sugar
onion powder
granulated garlic
black pepper
bottled bbq sauce
For the bottled BBQ sauce, I like to use Sweet Baby Rays original bbq sauce. It has a simple barbecue flavor and has great body for the Jack Daniel's.
How to Make the Sauce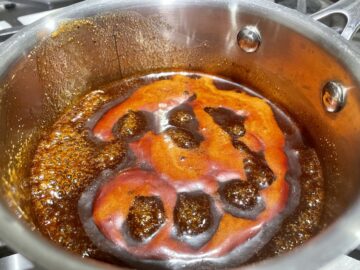 This is such an easy sauce recipe to make. The cooking process only takes 15 minutes and it doesn't take much attention. Just start by heating a medium sauce pan on medium high heat. Add the brown sugar and Jack Daniels Whiskey to the pot and bring to a boil. Cook for 2-3 minutes until the whiskey smell has cooked off.
Now you can add in the rest of the ingredients. Stir in the soy sauce, bottled BBQ sauce, apple juice, garlic powder, onion powder, and black pepper.
What to Serve this Sauce With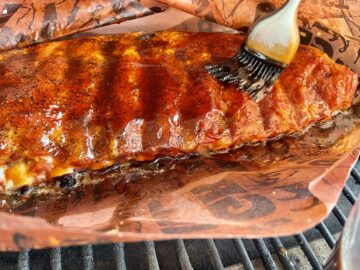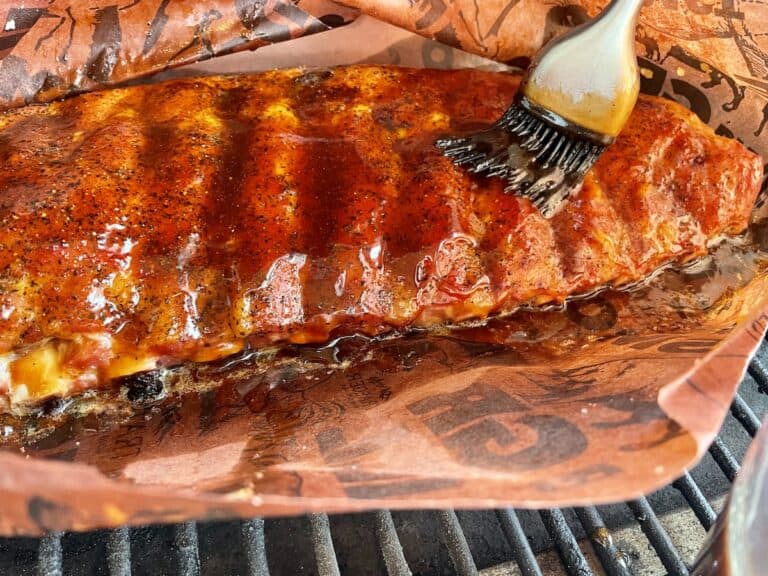 Ha! What can't you serve this sauce with? My favorite way to serve Jack Daniel's Sauce is over ribs. I'll brush it for the last hour off the cook time and have extra sauce available for serving.
It's great on all cuts of beef, especially tri tip and flank steak. One of my favorite uses is serving it with my Bourbon Glazed pork chops. Use it as a dipping sauce for cooked meat that has been grilled.
It also goes really well with a whole smoked chicken or chicken breasts, bbq chicken thighs, and chicken wings. Basically, any time you want barbecue sauce. It can be used as a Jack Daniels glaze by brushing onto chicken, pork chops, or baby back ribs while you smoke them on your Traeger Grill.
Recipe Modifications and Substitutions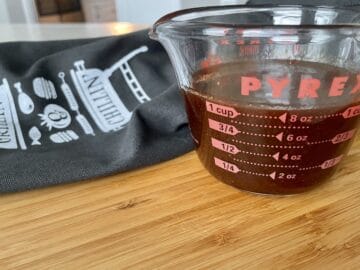 Bourbon Whiskey- if you happen to be out of Jack Daniel's, some other options include Weller Reserve, Kirkland Signature Bourbon from Costco, but any sweet bourbon whiskey you find at the liquor store will be great.
Apple Juice- you can also use pineapple juice
Make it spicy with a little bit of cayenne pepper or tabasco sauce.
Turn up the garlic flavor by adding 3-4 cloves of roasted garlic or adding 2 minced garlic cloves at the beginning with the brown sugar and whiskey.
Teriyaki sauce- you can sub soy sauce for teriyaki sauce if you it on hand. The extra sweetness goes nicely with the glaze. This is my favorite modification and really adds the best flavor.
Apple Cider Vinegar- add a teaspoon of apple cider vinegar to brighten up the sauce if you want it to be a little lighter and brighter in flavor
Storing Jack Daniel's Sauce
If you happen have any leftovers or if you make this ahead of time, transfer the sauce from the pot to an airtight container and keep refrigerated. Ball mason jars are great for this. When you are ready to serve it again I recommend heating, but you don't have to. You can save the sauce in the refrigerator for a couple of weeks, but I doubt it will last that long. 
Jack Daniels Sauce Recipe Card
If you want to make a double batch, go ahead and use the option in the recipe card to double the servings..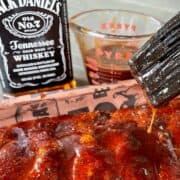 Print Recipe
Jack Daniels Sauce Recipe
A whiskey based BBQ sauce full of bold flavor that's good on anything.
Ingredients
1

tablespoon

unsalted butter

½

cup

Jack Daniels Whiskey

⅓

cup

brown sugar

½

cup

bottled BBQ sauce

I like Sweet Baby Rays

¼

cup

apple juice

2

tbs

soy sauce

1

teaspoon

garlic powder

1

tsp

onion powder

½

tsp

black pepper
Instructions
Heat a small sauce pan on medium high heat. Add the butter, brown sugar, and Jack Daniels.

Bring the mixture to a boil and cook it for two minutes to burn off the alcohol.

Add all of the other ingredients. Reduce heat to medium low and simmer for 15 minutes.

Turn off heat and let stand for a few minutes before serving.
Notes
*this is a thinner BBQ sauce than most making it perfect for a light coating instead of a heavy sauce.
Nutrition
Thanks for reading!
I really think you will love this sauce. Every time I make it, I get rave reviews and everyone asks for the recipe. It really is finger licking good.
Check out more great recipes to serve this sauce with.