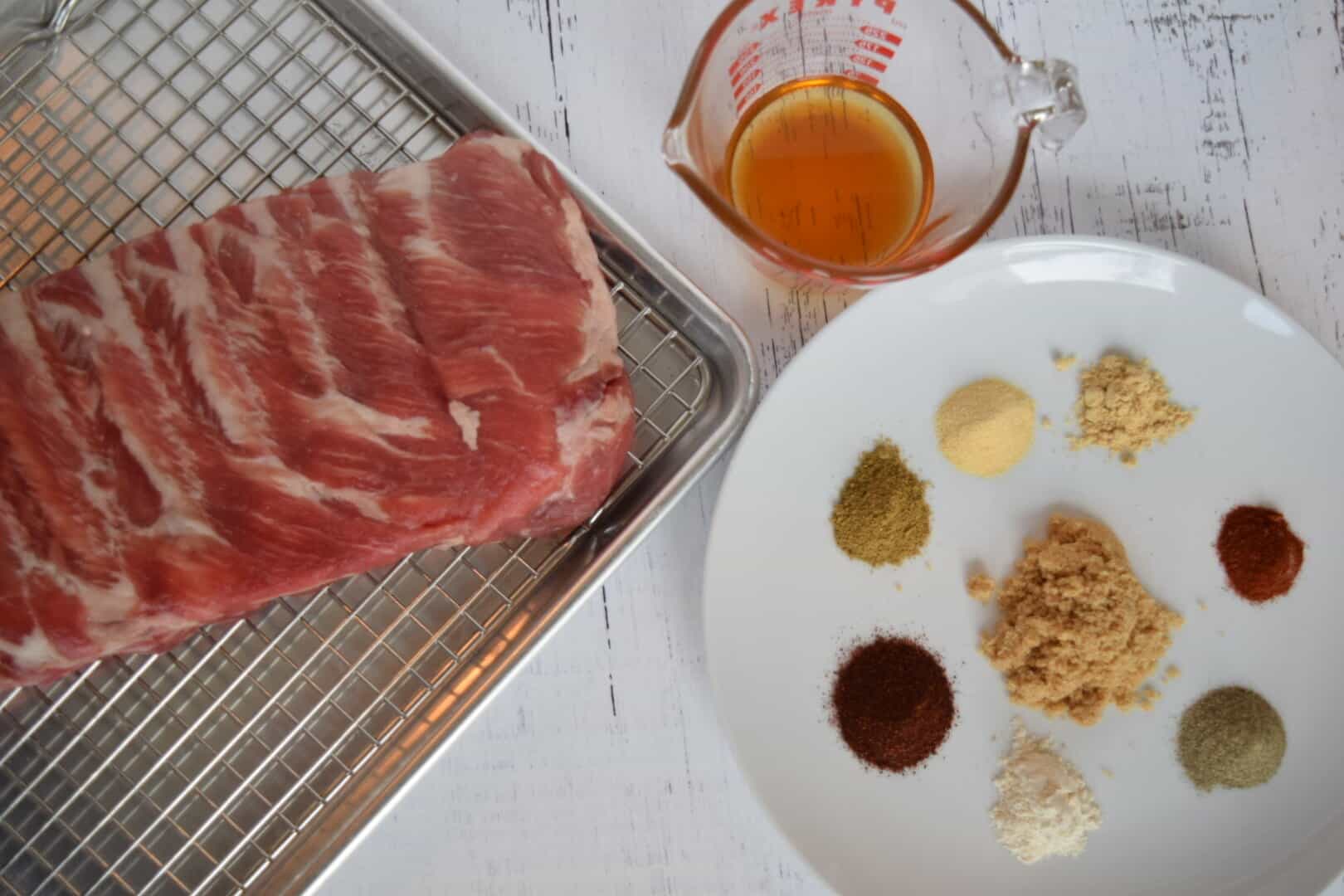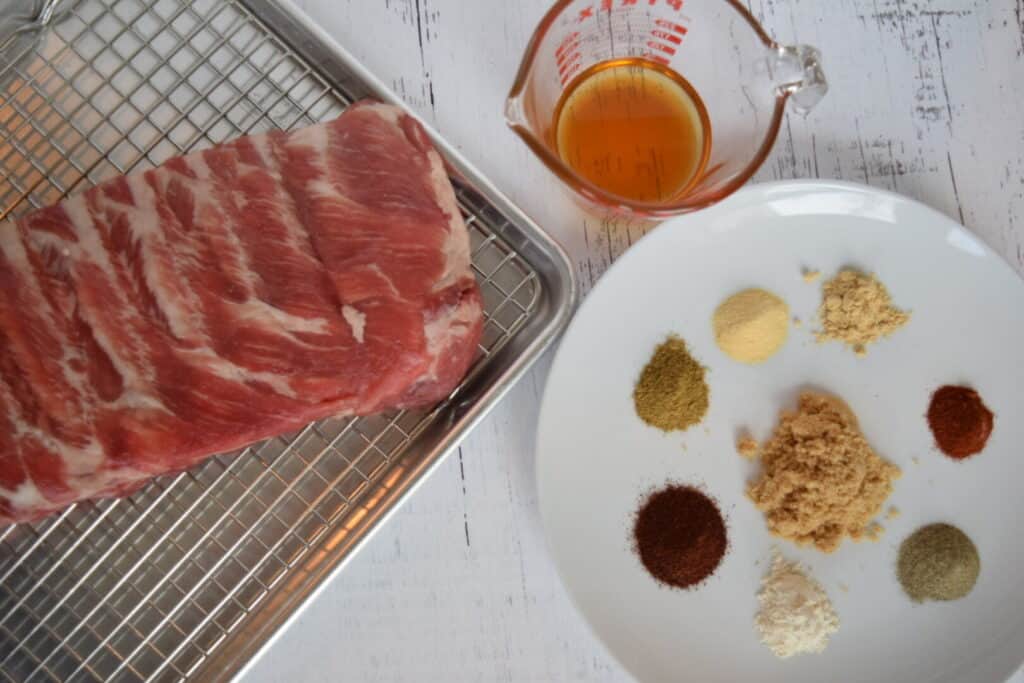 Traeger St Louis Ribs are the easiest way to make super flavorful, fall off the bone ribs that are cooked to perfection every time.
BBQ St Louis Ribs, potato salad, cold beer. Yes, please!
Ribs and potato salad. A marriage made on a plate. This dynamic duo is a winning meal for three reasons: it's downright delicious, it's mostly prepared the day before you want to eat it, it's the perfect meal to feed a crowd.
Here's a quick back story on my journey with ribs… because I didn't always love them. In fact, it would be the last thing I chose at a BBQ. But years ago, my husband brought home a Traeger from Costco. It's able to smoke on low heat or grill at high heat (180-450 or so). Naturally, I started with what I knew: chicken and steak, but this Texas girl had to smoke something and see what this little Traeger could do. I gave it a shot, and now ribs are one of the most requested meals I make.
Every time I make them, I learn something new. A little tweak here or a little more there. I'm pleased to share my method with you, although I'm sure I'll be back here with edits in the future.
How to make ribs tender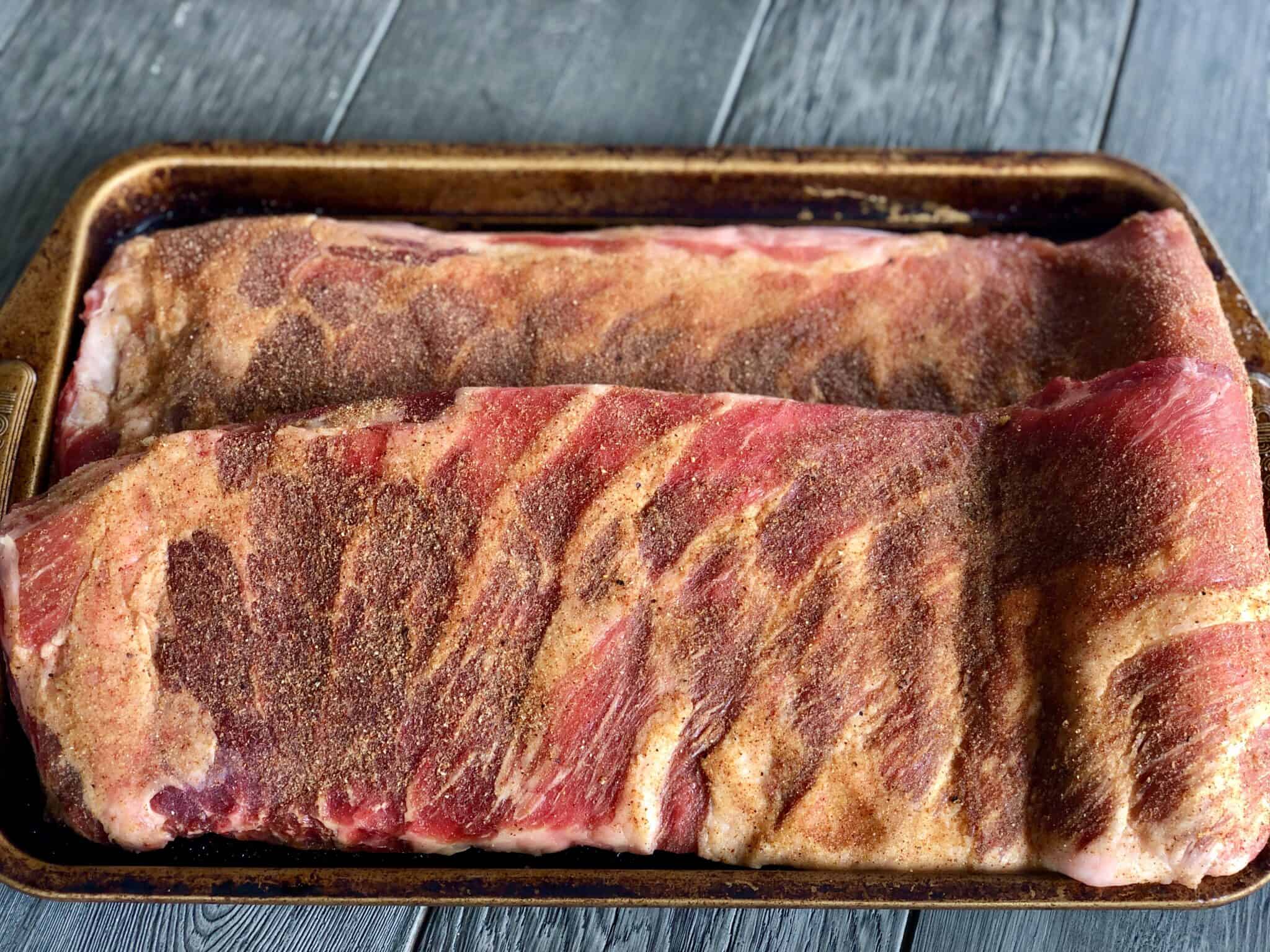 An important step to making any protein tender is seasoning the meat early. These ribs are dry aged. I season them the day before and leave them on a sheet pan, uncovered, overnight. The salt will pull moisture from the ribs, dissolve in the pulled liquid, and seep back down into the meat when they are given enough time.
Now we have ribs that are well seasoned all of the way through. Also, we now have dryer exterior which will help with the cooking process. By the time these ribs are cut, some bones will come out completely. It happens every time.
This is why pre-seasoned ribs from the Costco deli department are so good. They have plenty of time to soak up the salt seasoning and cook easily for you.
The rub down
Starting with a little vegetable oil, coat the ribs lightly. You don't need much. Next, I combine my rub in a bowl and rub all over the top and a liter coating on the back. They are ready for the smoker, starting at 350F for 45 minutes. I also mix up a little solution on apple cider vinegar, honey, and whiskey or bourbon depending on what bottle my husband has open. Now I wrap them in foil, give a little brush of the whiskey mixture, and get them back on the smoker at 225F. Check on them every 30-45 minutes. Brush, mop, or spritz them with your cooking liquid. This goes on for about another 2 ½-3 hours. A great time for a beer or dip in the pool. If you like your ribs saucy, pour on the sauce and keep wrapped in foil for the last hour. To make these BBQ St Louis Ribs stand out, I make my famous Jack Daniels Sauce.
When you pull them off the smoker, put them on a deep sheet tray. There will be quite a bit of liquid in that foil packet of deliciousness and I don't want you to burn your sweet little legs by sloshing hot liquid all over yourself. I always them sit for a just a few minutes while I get the rest of sides and beverages together. Once you start cutting into them, don't be surprised if bones pull right out. It happens.
Smoked St Loius Ribs Recipe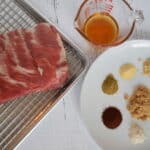 Print Recipe
Traeger St Louis Ribs
Easy fall off the bone BBQ ribs.
Equipment
1 Traeger Grill

1 sheet pan
Ingredients
1

slab St Loius ribs

2

tsps

Salt
Rib Rub
2

tsps

vegetable oil

½

cup

brown sugar

½

teaspoon

black pepper

½

teaspoon

garlic powder

½

teaspoon

onion powder

½

teaspoon

smoked paprike

½

teaspoon

chili powder

½

teaspoon

cumin

½

teaspoon

mustard powder
Basting Liquid
2

tablespoon

whiskey or bourbon

optional

2

tablespoon

brown sugar

2

tablespoon

apple cider vinegar
Instructions
Dry Brining
Score silver skin on back of ribs, being careful not to cut into the meat.

Salt ribs on top and bottom of slab, pressing salt into the meat and lay on sheet pan with rack. Place in fridge until ready to cook the next day.
Cooking the Ribs
Preheat the smoker to 350F.

Remove the ribs from the refrigerator and rub with vegetable oil. This will give the rub something to hold on to.

Mix together spices and brown sugar. Generously rub into the meat.

Cook in the smoker at 350F for 45 minutes.

After 45 minutes, lower the temperature to 225F. Wrap the ribs in foil, and cook additional 2 ½ to 3 hours.

Brush with whiskey mixture every 30-45 minutes.

Add BBQ sauce if desired for last hour of cooking.

Get yourself a cold beverage and a pile of napkins. These juicy and tender ribs make a tasty mess.