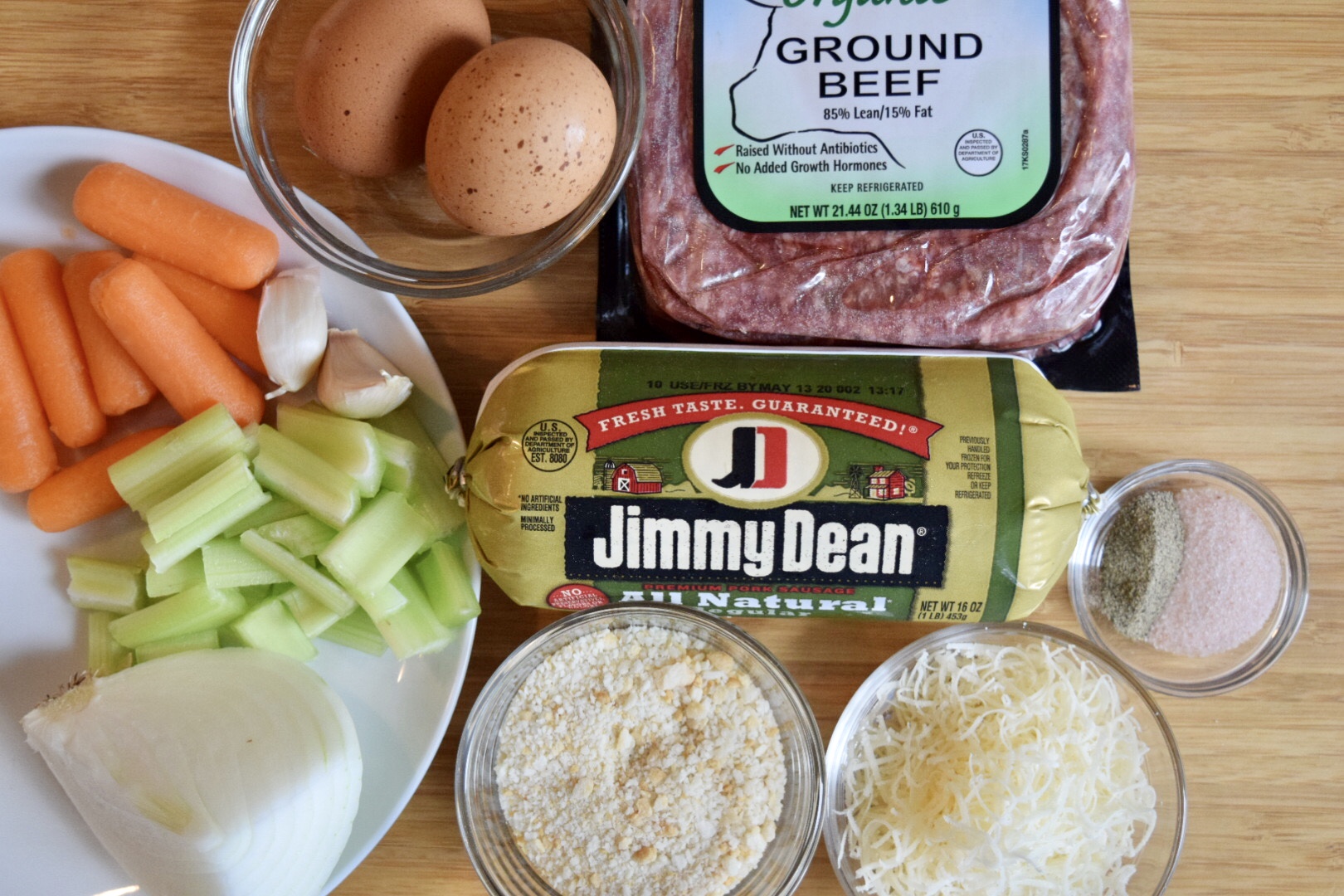 This recipe checks several boxes for me: super kid friendly, versatile, economical, can be prepped and saved in mass quantities. I make a double or triple sized batch and bake them off, which I also like because kitchen clean up is a breeze (I'm tired of cleaning my kitchen).
The flavors are pretty simple so we can have them in marinara with pasta, make them Swedish or stroganoff style, cook them up with brown gravy and mashed potatoes. One trick to cooking in bulk is making it versatile so you don't get bored with the same meal over and over. The above recipes are all very different.
My last selling point on making these in a big batch: it doesn't take much more time to roll out more meatballs, but you'll save yourself a ton of time and effort when you pull a batch of these out of the freezer. Make a mess in your kitchen once. The next time you want these for dinner, just heat them up in your sauce and serve with the sides.
This recipe is meant for two meals, but can certainly multiply it out for 3 or 4.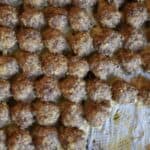 Print Recipe
Big Batch Meatballs
Make a big batch of meatballs to have in the freezer and ready at a moments notice.
Ingredients
1

lb

package Jimmy Dean Natural Sausage

1

package Organic Kirkland Signature Ground Beef

1 ⅓ lbs

2

eggs

½

cup

plain breadcrumbs

¼

yellow onion

2

stalks of celery

8

mini carrots or 2 whole carrots

2

cloves

garlic

½

parmesan cheese

optional

splash of olive oil

1

teaspoon

salt

½

teaspoon

black pepper
Instructions
Mince onion, carrots, celery, and garlic. I do this in a mini food processor. It's a wonderful thing.

Sauté veggies in olive oil until they are softened. Remove to a plate and let cool.

In a very large bowl, combine ground beef, sausage, eggs, breadcrumbs, cook veggies, cheese, salt and pepper.

Preheat oven to 375F.

Line a baking sheet with parchment paper. Using a cookie scoop, roll out meatballs and place in rows on cookie sheet.

Once they're all rolled out, bake for 20-25 minutes. Pull out one meatball and cut into it to make sure they are cooked through.

Serve half for dinner in desired sauce. Let the other half cool. Put in Food Saver bag or zip top freezer bag, and freeze for next time. Also optional to use quart size bags and save in individual portions.
Notes
Dinner Options:
Add meatballs to favorite pasta sauce. Pour over spaghetti or penne. Serve with a green salad.

Make a dark gravy: butter, flour, beef stock, kitchen bouquet. Add meatballs. Serve with mashed potatoes and green beans (reminds me of old school TV dinners).

Stogenoff: cook onions and mushrooms in butter, add dry Sherry and beef stock. Stir in room temp sour cream and parsley. Serve over egg noodles and a side of broccoli.

Coat with a ginger teriyaki sauce for a fun appetizer (just leave out parmesan cheese if you plan to make them this way).