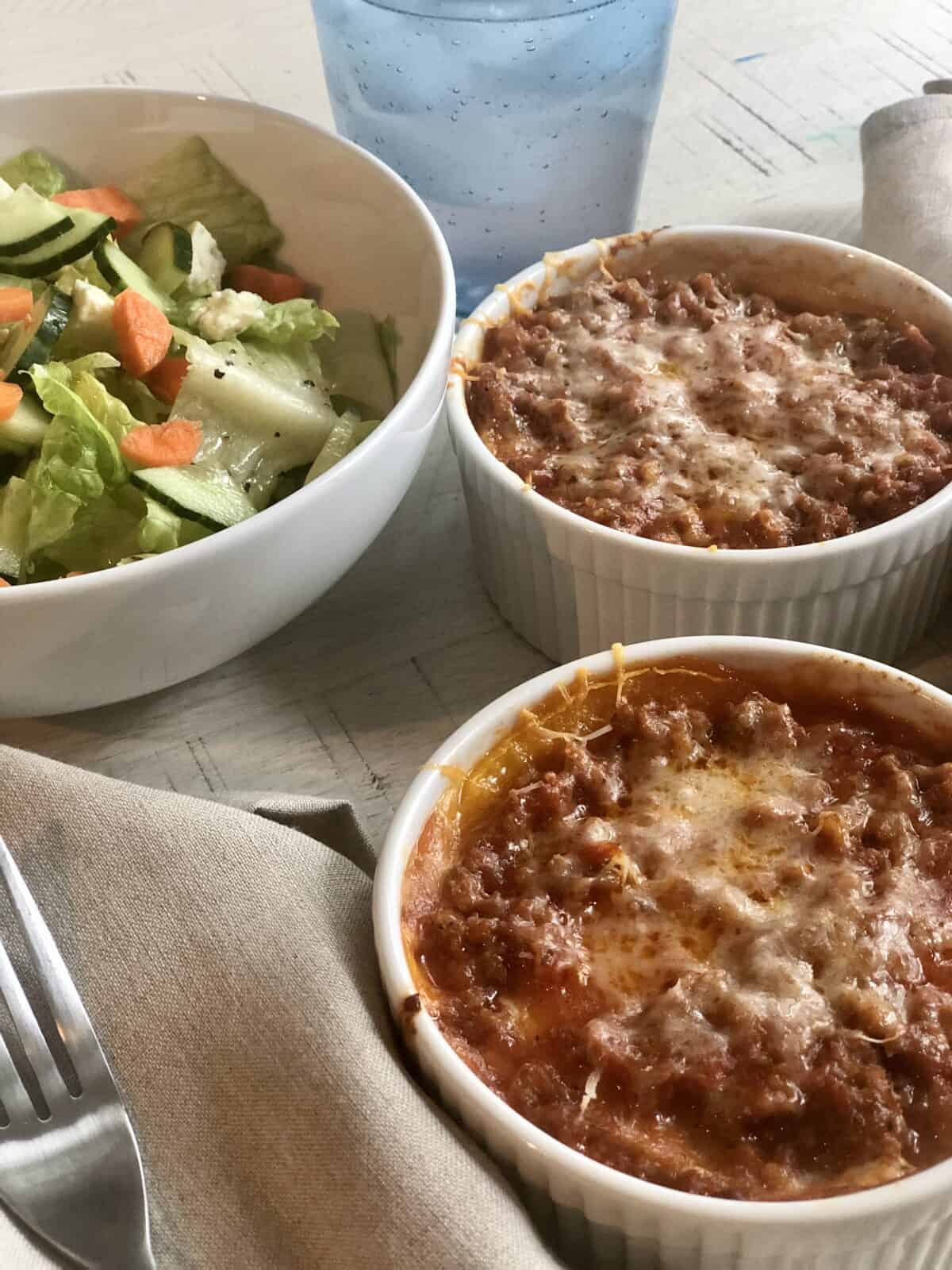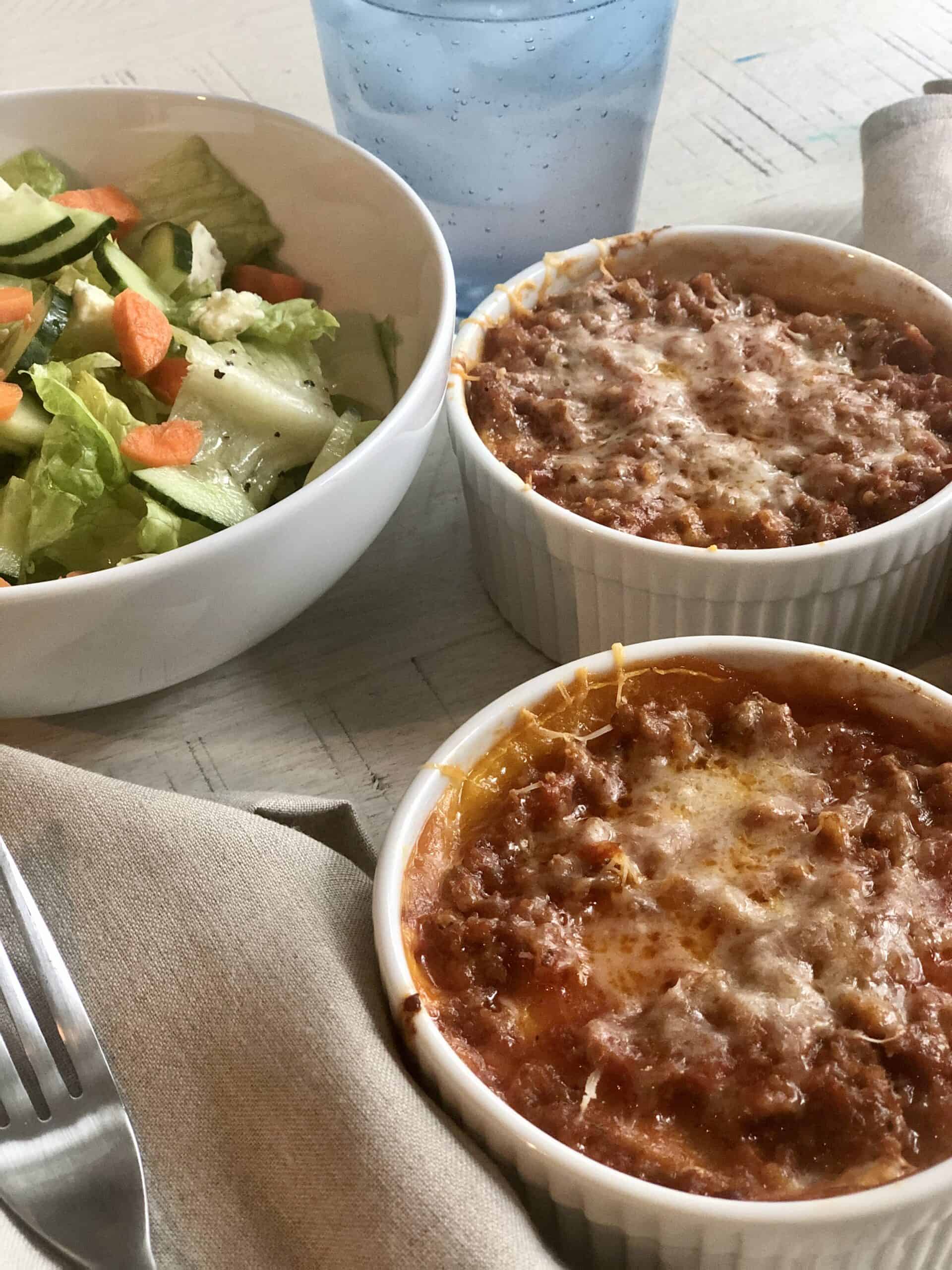 Butternut squash lasagna just might be even better than its noodle counterpart. The sweetness from the squash balances out the tang from the tomato sauce. The sausage brings plenty of meat and spice. And cheese needs no introduction. I have shared this recipe with friends before and I know it's a repeat dinner in their homes. If you like lasagna, try this. You'll get in a ton veggies and feel wrapped up in the blanket of comfort food.
Prepping Butternut Squash
Heads up, you'll need a mandolin. First, I cut off the top and the bottom bulb of the squash. Then, I peel it with a vegetable peeler. Next, slice it to ⅛" on a mandolin. You'll end up with a massive pile of squash circles. We are going to bake them with a light drizzle of olive oil and a pinch of salt. I like to line my baking sheets with parchment beforehand because it makes clean up easier, but that's optional.
The Meat and Cheese
My favorite sausage or ground meat to use when I'm making Italian food is Jimmy Dean's All Natural Sausage. I doubt there's much "natural" in it, but maybe it has less MSG than other sausages. I dunno. It does have a great flavor though. To mix things up just a titch more, I'm using provolone. Don't gasp. I know mozzarella or ricotta are traditional, but I like provolone. And it's round, so when I make these cute little individual butternut squash lasagnas, they're perfect. I top the whole thing off with a little parmesan to really bring it home. Yum.
Victoria White Linen Sauce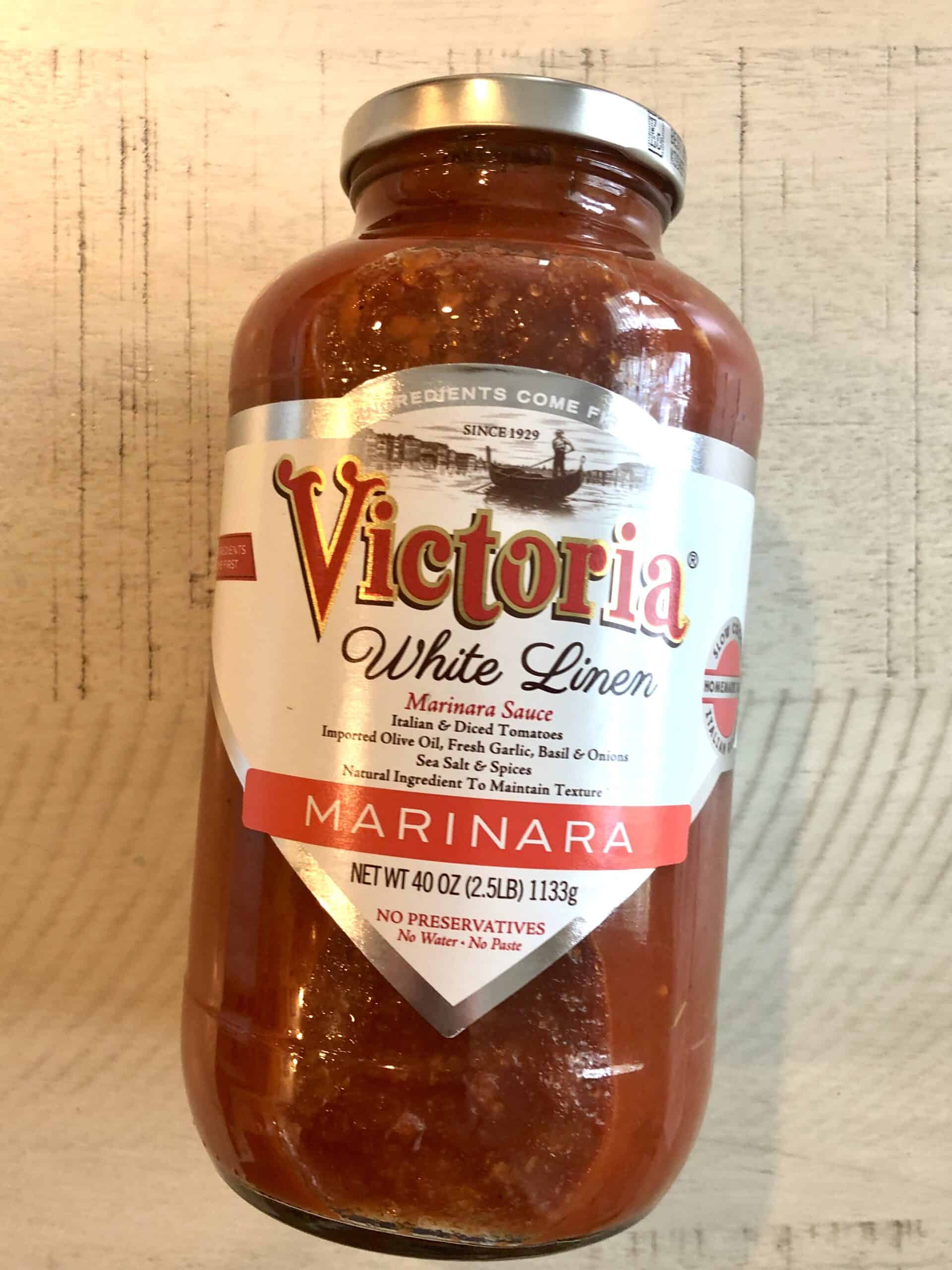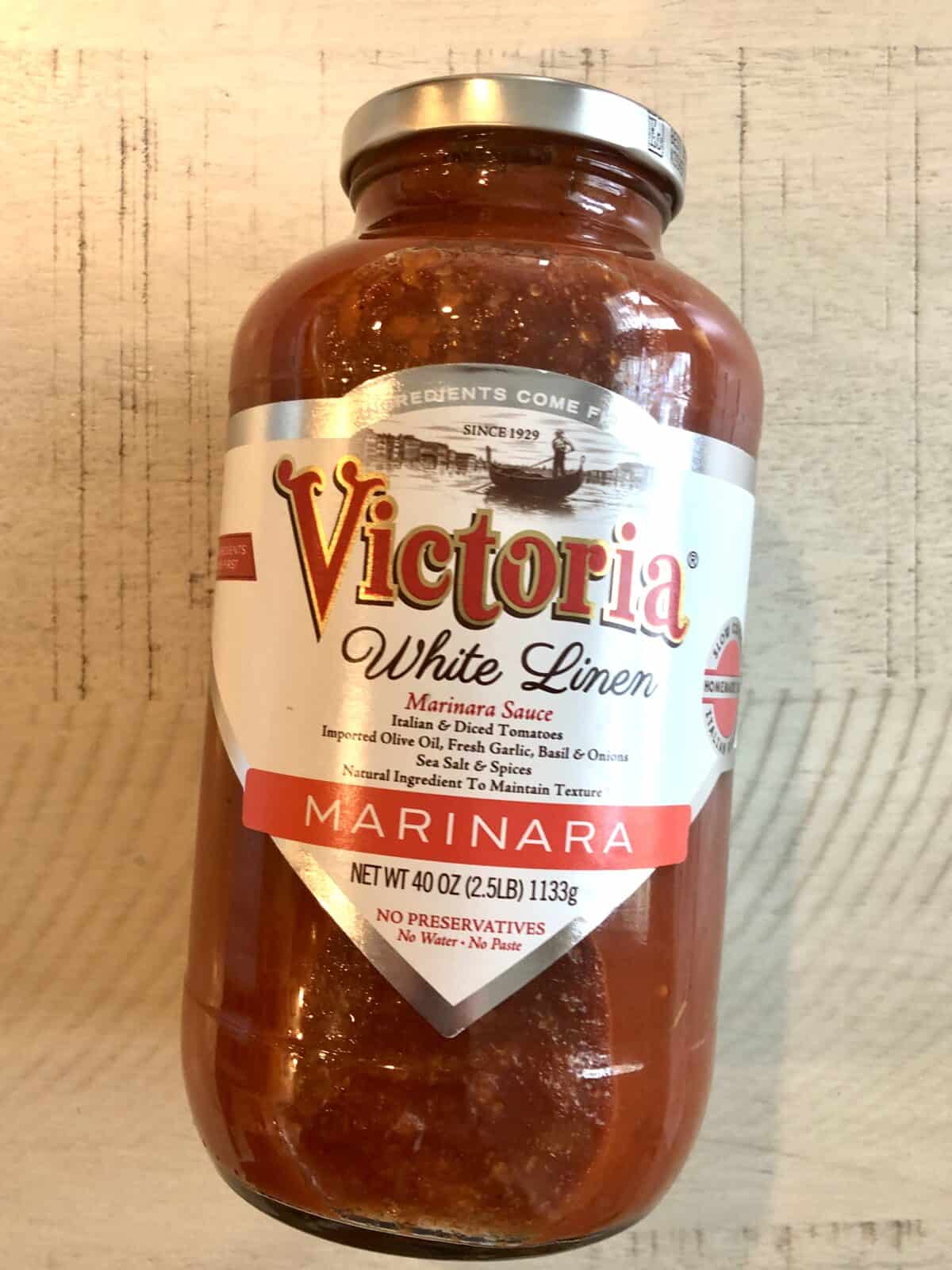 This is my favorite marinara sauce and it's available at Costco in a two pack. It has a really bright and simple flavor. Definitely the best jarred sauce I have ever had.
Butternut Squash Lasagna Assembly
We have choices. You can make this in one large 8x8 baking dish or you can make individual lasagnas as pictured above. Either way. It all tastes the same. Once your dish is assembled, bake them at 375F for 20 minutes. No matter what, they will be screaming hot when they come out of the oven, so give them a few minutes to cool before you dig in.
Serve with a salad. Try my vinaigrette. Voila. Dinner is served. (and leftovers for lunch if you're lucky.)
*Past the recipe card you'll find the video and links to other optional products 🙂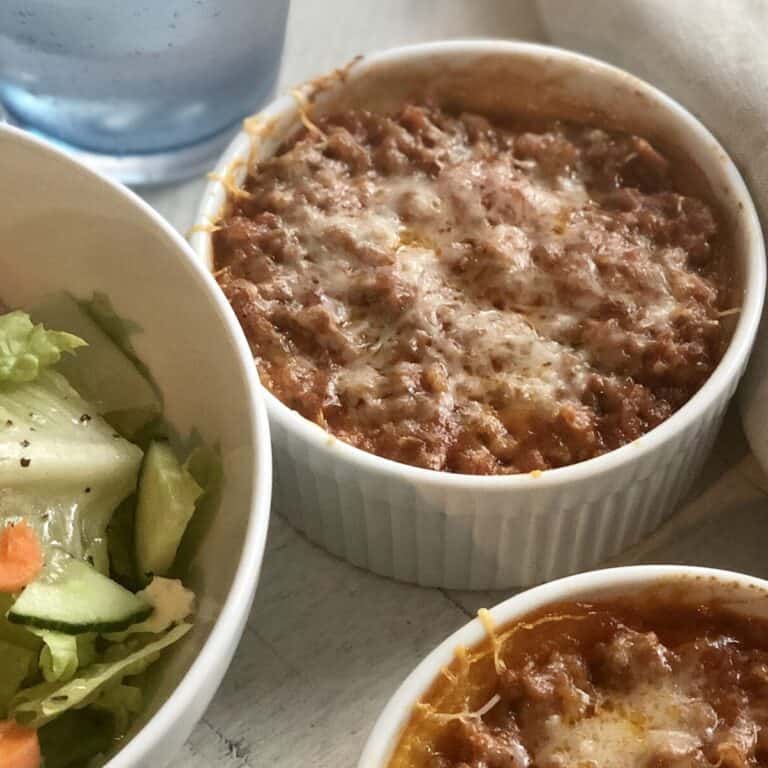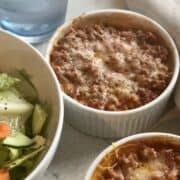 Print Recipe
Butternut Squash Lasanga
Layers of butternut squash topped with mild sausage, provolone cheese, and tomato sauce.
Ingredients
1

Butternut Squash

1

lb

Jimmy Dean All Natural Sausage

¼

cup

Pinot Grigio

2

cups

Victoria marinade sauce

8

slices

Provolone cheese

½

cup

Shredded Parmesan cheese

1

tablespoon

Olive oil

½

teaspoon

Salt
Instructions
Cut off the top and bottom bulb of butternut squash. Peel the outside with a vegetable peeler and use a mandolin to slice butternut squash into ⅛" slices.

Line two baking sheets with parchment paper if desired.

Spread the butternut squash slices out onto two baking sheets. Lightly drizzle the butternut squash with olive oil and very lightly sprinkle with salt.

Bake butternut squash circles at 375F for 15 minutes.

While the butternut squash bakes, heat a pan or skillet on medium high. Brown the sausage. Drain the fat. I use a turkey baster to remove the excess fat.

Add ¼ cup wine and stir. Cook for 1-2 minutes.

Add the tomato sauce and cover with a lid. Reduce heat to medium-low and cook for 15 minutes.

Once the sauce and butternut squash have cooked, get your baking dish ready to assemble. Start with a little sauce in the bottom of your dish. Layer the squash, overlapping slightly if using one large baking dish. Next add meat sauce, a layer of cheese, squash, and so on for 3 layers. Top with parmesan cheese.

Place baking dish or dishes on a baking sheet in case the sauce bubbles over to protect the oven from a mess.

Bake assembled lasagna for 20 minutes at 375F.

After 20 minutes, take out of the oven and let cool for 10 minutes before cutting into.
Notes
*you may have butternut squash noodles left over depending on how big the squash is.
Nutrition
Serving:
51
g
|
Calories:
430
kcal
|
Carbohydrates:
15
g
|
Protein:
21
g
|
Fat:
15
g
Optional Shopping
Small Baking Dishes also good for individual pot pies or cobblers
Meat Masher the best $5 gadget ever
This post contains affiliate links. As an Amazon Associate I may benefit from qualifying purchases.