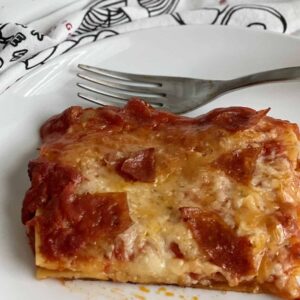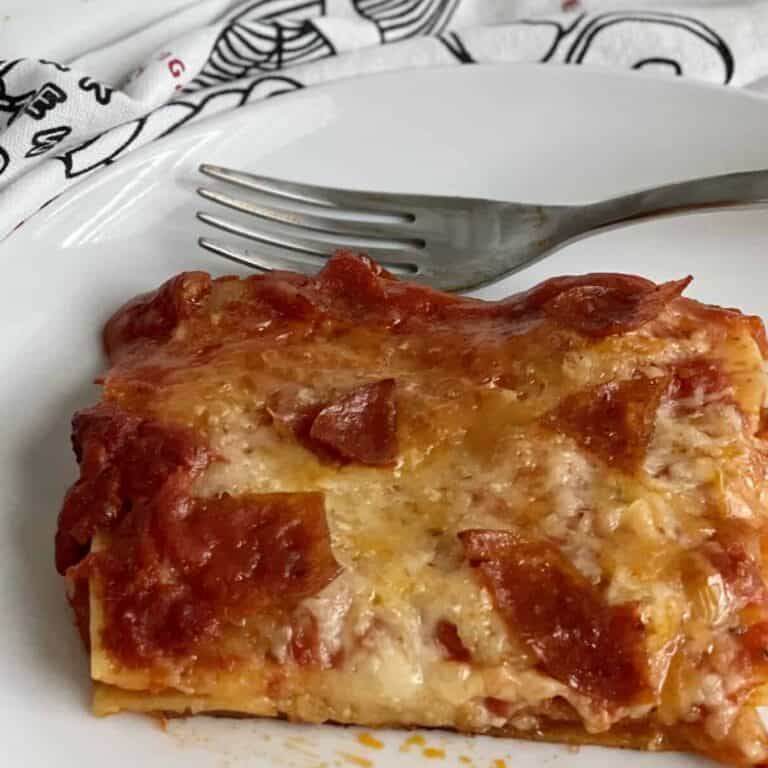 Why I like this pizzagna recipe
This pizzagna recipe is great for two main reasons:
1) There is very little prep. It's just dicing the precooked meat and layering the ingredients in the baking dish. I have this thing assembled in less than 10 minutes. That's a real 10 minutes. Not like the pretend amount of time other quick recipes like to claim. The longest part of this recipe is putting the cold items back in the fridge after it's made.
2) The pizzagna goes into the oven covered with foil and that's basically it. After 35 minutes, I take the foil off and cook for another 15. That's all. This really frees up my afternoon so I can clean up after my children and referee their fighting over the TV remote.
Dump a bag of salad in a bowl and we have dinner. You think I'm joking, but I'm not.
Pizzagna Recipe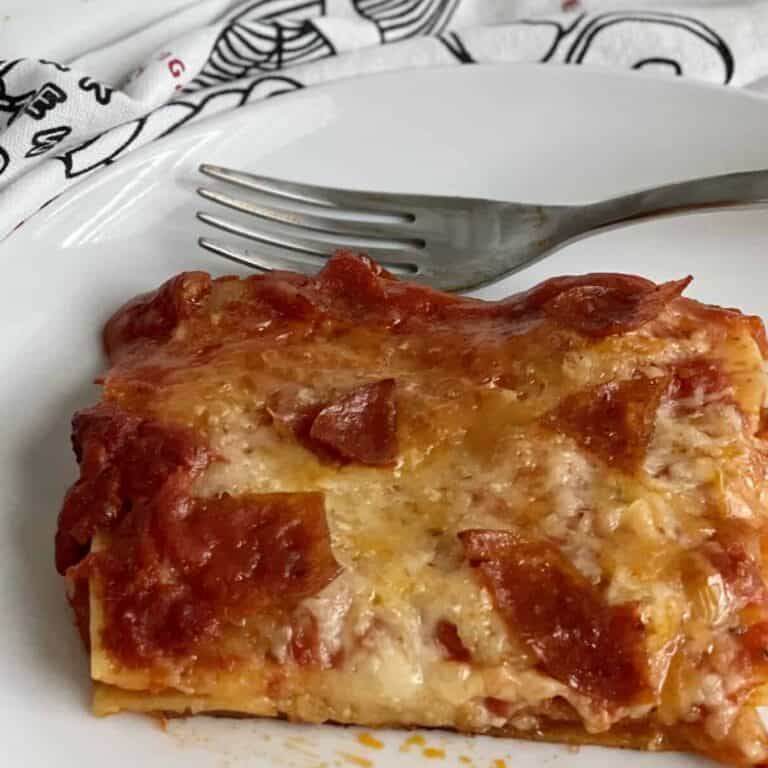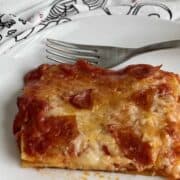 Print Recipe
Pizzagna Recipe
This easy to assemble recipe is a mash up of pizza ingredients layered in lasagna noodles.
Equipment
2 baking dish

1 cutting board

1 knife
Ingredients
6

No Boil lasagna sheets

1

jar of preferred pasta sauce

2

cups

shredded mozzerella cheese

¾

cup

pepperoni slices

¾

cup

canadian bacon or cooked pizza sausage
Instructions
Spray a 9x9 baking dish with nonstick cooking spray

Dice pepperoni and canadian bacon slices. Also an option to use cooked sausage or any other pizza topping.

In the baking dish, pour about half of a cup of the pasta sauce and spread it out evenly on the bottom of the dish.

Layer two of the lasagna noodles with a little room in between. They will spread out in size as the cook and absorb liquid from the sauce.

Spoon a thin layer of sauce on to the lasagna sheets.

Sprinkle a generous layer of shredded cheese and pizza meat onto the lasagna sheets.

Cover with two more lasagna sheets and repeat the layer process. Sauce, cheese, meat, and two more lasagna sheets.

Finish the final layer with a little more sauce, lots of cheese and meat.

Pour extra sauce around the sides of the assemble pizzagna so all sides of the pasta sheets are covered.

Cover the baking dish with foil and place in the oven on a middle rack.

Bake the pizzagna covered for 35 minutes.

After 35 minutes, remove the foil and cook for an additional 15 minutes.

Remove from the oven and let cool for at least 10 minutes.
Notes
Since we are using No Boil lasagna sheets, they need plenty of moisture to cook. Make sure they have enough liquid around them.
Did you make this recipe? Tag me on Instagram @fancy_apron 🙂 or leave a comment below.
The ingredients and prep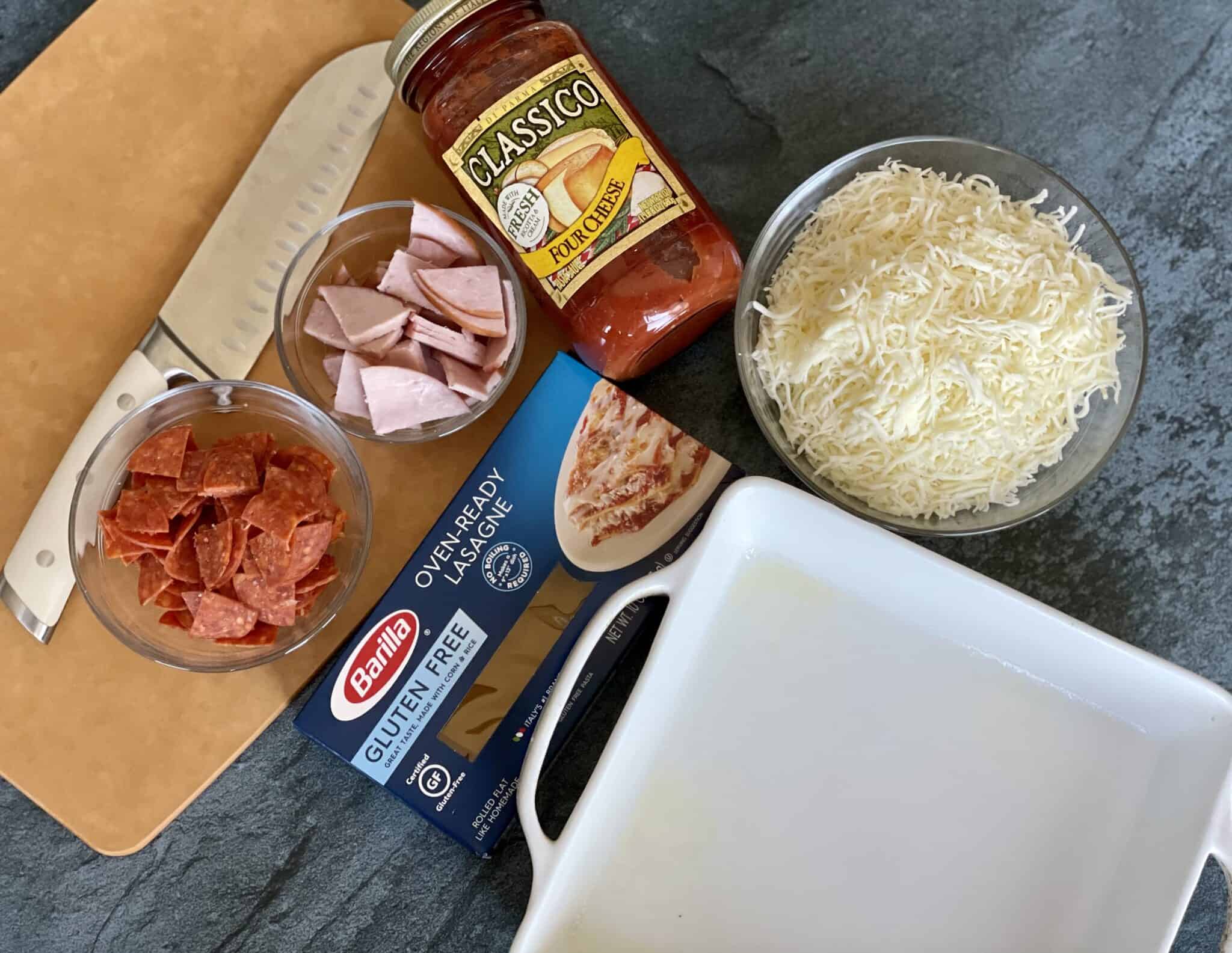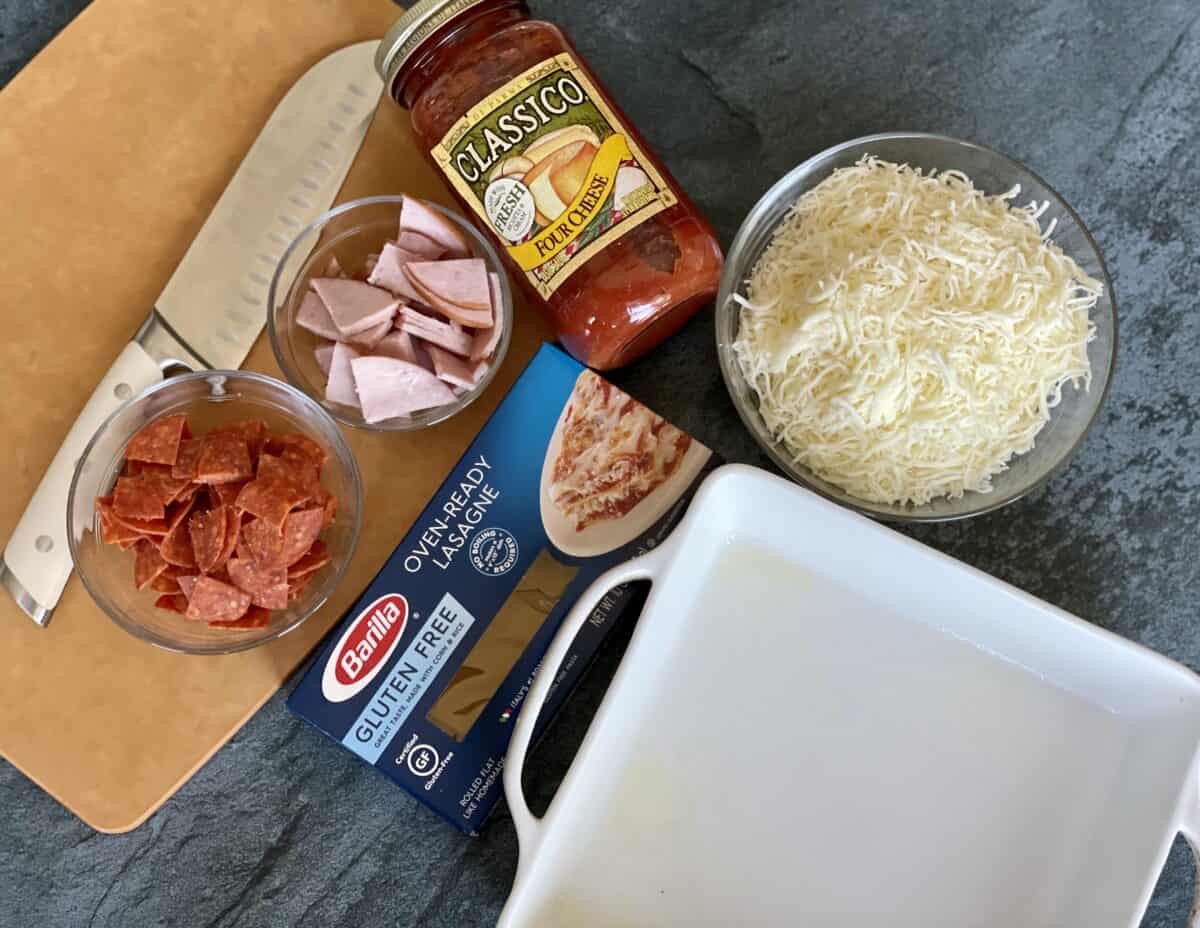 No Boil lasagna noodles, pepperoni and canadian bacon, pizza sauce, loads of cheese.
Emphasis on the loads of cheese part. Use whatever tomato sauce you love. Or your kids love. There's nothing like watching my kids scarf down dinner without complaining, am I right?!
More Kid Approved Recipes
Butternut Squash Lasagna- a sneaky and delicious way to get in loads of veggies. The sweetness from the butternut squash balances the tang from the tomato sauce.
Rotisserie Chicken Stew- a weeknight dinner with a store bought short cut. Rotisserie chicken from Costco speeds the cooking and clean up process. And what kids don't love chicken, carrots, and mashed potatoes.