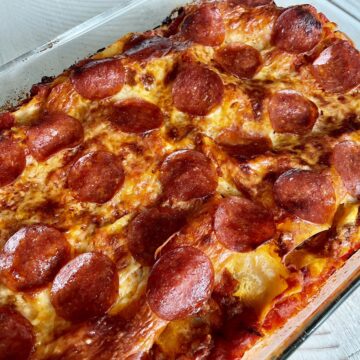 Why I like this pizzagna recipe so much
This pizzagna recipe is great for two main reasons:
1) There is very little preparation. The only active cooking involved here is browning the sausage to make our meat sauce. Other than that, we just need to layer the ingredients and get this pizzagna in the oven.
2) The pizzagna goes into the oven covered with foil and that's basically it. After 40 minutes, I take the foil off and cook for another 20. This really frees up my afternoon so I can clean up after my children and referee their fighting over the TV remote. 
Dump a bag of salad in a bowl and we have dinner. We all need easy and delicious recipes that the whole family will eat from time to time.
What supplies you will need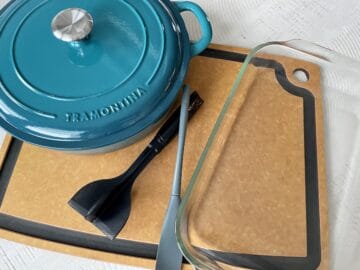 The supplies you need couldn't be easier:
One 9x13 baking dish
One large skillet
One wooden spoon
One large bowl
Pizzagna Recipe Ingredients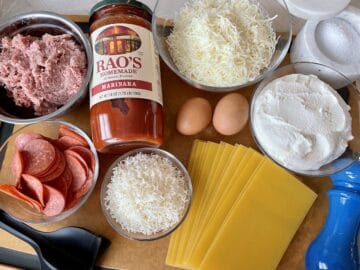 No Boil lasagna noodles, extra-virgin olive oil (optional),  pepperoni, sausage, pizza sauce, 2 eggs, ricotta and shredded Italian cheese, pinch of salt and black pepper. 
Emphasis on the loads of cheese part. Use whatever tomato sauce you love. Or your kids love. There's nothing like watching my kids scarf down dinner without complaining, am I right?!
Making this Pizzagna Recipe Step by Step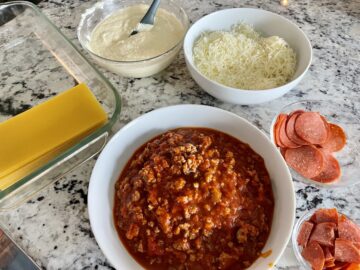 Preheat your oven to 425F
Start by heating a large skillet over medium heat with a little extra-virgin olive oil to brown the sausage.
Once the sausage has completely browned, drain any excess liquid and add 2 cups of marinara sauce.
While the sausage is cooking, prepare the other ingredients: combine ricotta cheese with the eggs and ½ cup of parmigiano-reggiano cheese, no boil lasagna noodles, shredded mozzarella cheese and pepperoni
Begin layering the lasagna by adding a thin layer of sauce to the bottom of your baking dish and swirling it around to evenly coat the bottom.
Add sheets of no-boil lasagna noodles, meat sauce mixture, ricotta cheese, shredded mozzarella, and repeat the process. Noodles, meat sauce, ricotta, shredded cheese. Do this for 3 full layers and generously top the pizzagna with cheese and pepperoni slices.
Gently cover with foil and bake for 40 minutes.
Uncover and cook for another 20 minutes until the top layer of mozzarella cheese is golden brown. You will have gooey melty mozzarella cheese on top.
After you take the pizzagna out of the oven, let it rest for 10 minutes before serving.
Add extra parmesan cheese for the top of the pizza. 
What to serve with this glorious pizzagna recipe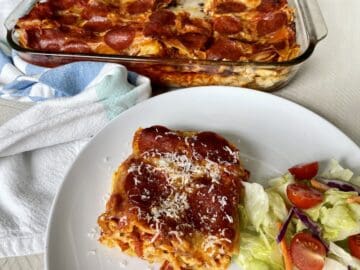 All you need for making this dish into a complete meal and fresh green salad and some delicious crusty bread. 
Pizzagna Modifications
Add some veggies: you can add diced onions, red bell pepper, minced garlic cloves, black olives or mushrooms in with the sausage if you want to make this more of a combo pizza meal
Turn up the heat: if you want a little heat, add some crushed red pepper flakes to the marinara sauce while cooking the sausage or sprinkle a red pepper flakes on top of the pizzagna when you serve it
Don't have sausage: substitute for ground beef
Pepperoni: if you don't eat pork or if you want to cut back on the calories use turkey pepperoni instead
Lasagna noodles: I really like the ease of no-boil lasagna noodles, but you certainly use regular noodles instead. Just follow the package directions and boil the pasta in a large pot of water. 
Quick and Easy Pizzagna Recipe Card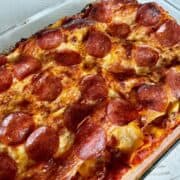 Print Recipe
Pizzagna Recipe
This easy to assemble recipe is a mash up of pizza ingredients layered in lasagna noodles.
Equipment
2 baking dish

1 cutting board

1 knife
Ingredients
16

No Boil lasagna sheets

2

jars of preferred marinara sauce

3

cups

shredded mozzerella cheese

or Italian blend

1

cup

pepperoni slices

1

pound

ground sausage

2

eggs

2

cups

ricotta cheese

1

cup

shredded parmesan
Instructions
Place a large skillet over medium high heat. Add the ground sausage and cook until it has browned completely. Drain any excess grease and discard. Pour in 1 jar of marinara sauce and cook with the sausage for 15 minutes. What that cooks, prepare the rest of the ingredients .

Slice half of the pepperoni into quarters. Leave the rest whole for topping the pizzagna.

In a large bowl, combine the 2 eggs, ricotta cheese, salt, pepper, and half of the shredded parmesan. Mix it well and set aside.

Once you have the meat sauce, cheeses, and pepperoni ready you can start layering the pizzagna. In the 9x13 baking dish, pour about half of a cup of the pasta sauce and spread it out evenly on the bottom of the dish.

Layer 4 of the lasagna noodles with a little room in between. They will spread out in size as the cook and absorb liquid from the sauce.

Add a layer of the meat sauce and spread it out evenly. Add ⅓ of the ricotta mixture in dollops and spread that around over the meat sauce. Sprinkle a generous layer of shredded cheese and pepperoni quarters onto the ricotta layer.

Cover with 4 more lasagna sheets and repeat the layer process. Sauce, cheese, meat, and lasagna sheets. Do this until you have 3 complete layers.

Finish the final layer with more marinara sauce, lots of shredded cheese and pepperoni slices.

Pour extra sauce around the sides of the assemble pizzagna so all sides of the pasta sheets are covered.

Cover the baking dish with foil and place in the oven on a middle rack.

Bake the pizzagna covered for 40 minutes.

After 40 minutes, remove the foil and cook for an additional 20 minutes.

Remove from the oven and let cool for at least 10 minutes.
Notes
Since we are using No Boil lasagna sheets, they need plenty of moisture to cook. Make sure they have enough liquid around them.
Did you make this recipe? Tag me on Instagram @fancy_apron 🙂 or leave a comment below.
More Kid Approved Recipes
Butternut Squash Lasagna- a sneaky and delicious way to get in loads of veggies. The sweetness from the butternut squash balances the tang from the tomato sauce.
Rotisserie Chicken Stew- a weeknight dinner with a store bought short cut. Rotisserie chicken from Costco speeds the cooking and clean up process. And what kids don't love chicken, carrots, and mashed potatoes.