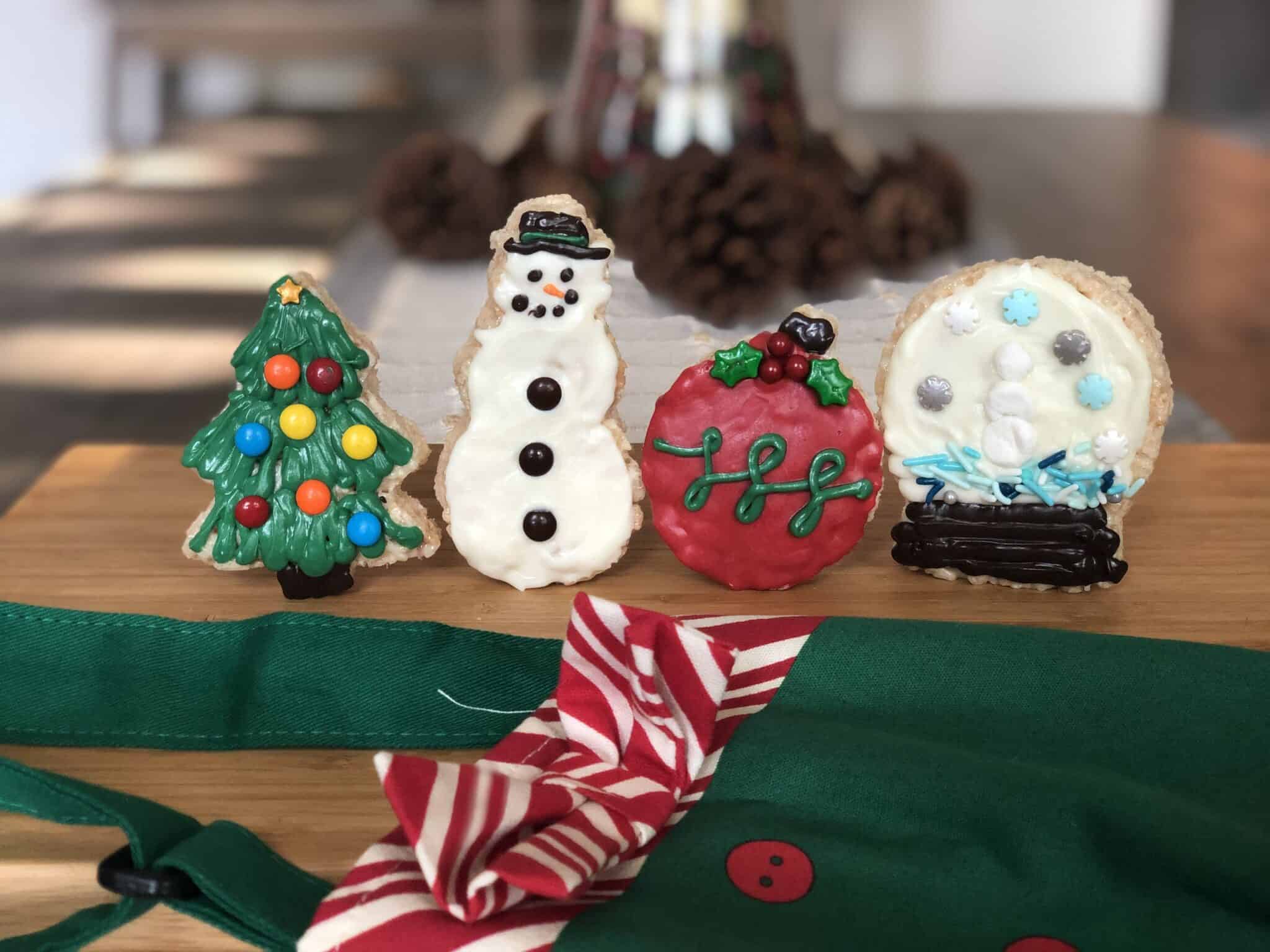 If you're not into baking, but want to make a festive sweet treat, these Christmas Rice Krispie Treats are for you. They are fast and easy. And holy cow, yum.
Supplies and Ingredients
You will need:
Large pot
Glass baking dish
Plastic Piping Bags
Microwave
Marshmallows
Rice Krispie Cereal
Butter
Merkens Chocolate Melts or Candy Melts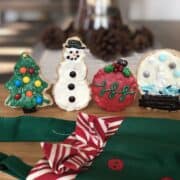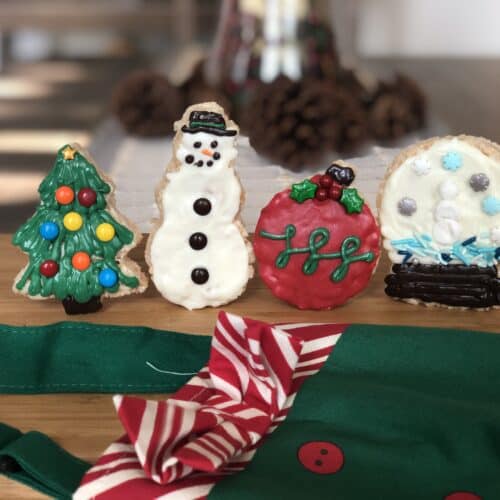 Print Recipe
Christmas Rice Krispie Treats
A fancy rice krispie treat made festive with melted chocolate decorations.
Equipment
Large Pot

baking dish

microwave safe bowl

disposable piping bags
Ingredients
5

cups

mini marshmallows

6

cups

rice krispie cereal

3

tablespoon

butter

2

cups

assorted chocoalte melts

white, milk chocolate, green, orange, and red

¼

cup

mini m&ms and Christmas themed sprinkles
Instructions
Prepare a 9x13 baking dish by spraying with nonstick spray. Set aside.

Melt 3 tablespoons of butter in a large pot over medium heat

Add 5 cups of mini marshmallows to the pot and stir to coat in the butter. Continue to stir until the marshmallows have melted completely.

Turn off the heat. Add 6 cups of rice krispie cereal and stir in quickly. As the marshmallows cool, the mixture will firm up.

Dump all of the marshmallow and cereal mixture into the baking dish. Press down with spatula and spread out evenly. Use a large piece of plastic wrap to cover the rice crispie treats and press into the baking dish to create a uniform thickness. Allow to set for 30 minutes or more.

After the rice krispie treats have set, run a butter knife along the edges to loosen it from the baking dish.

Use cookie cutters to cut out desired shapes such as Christmas trees, snowman, snow globe, and a Christmas ornamnet.

Melt chocolates in a microwave safe dish and pour into disposable piping bags. Cut off the tip and get to decorating. Be creative and most of all, have fun!

After the chocolae sets, they are ready to enjoy!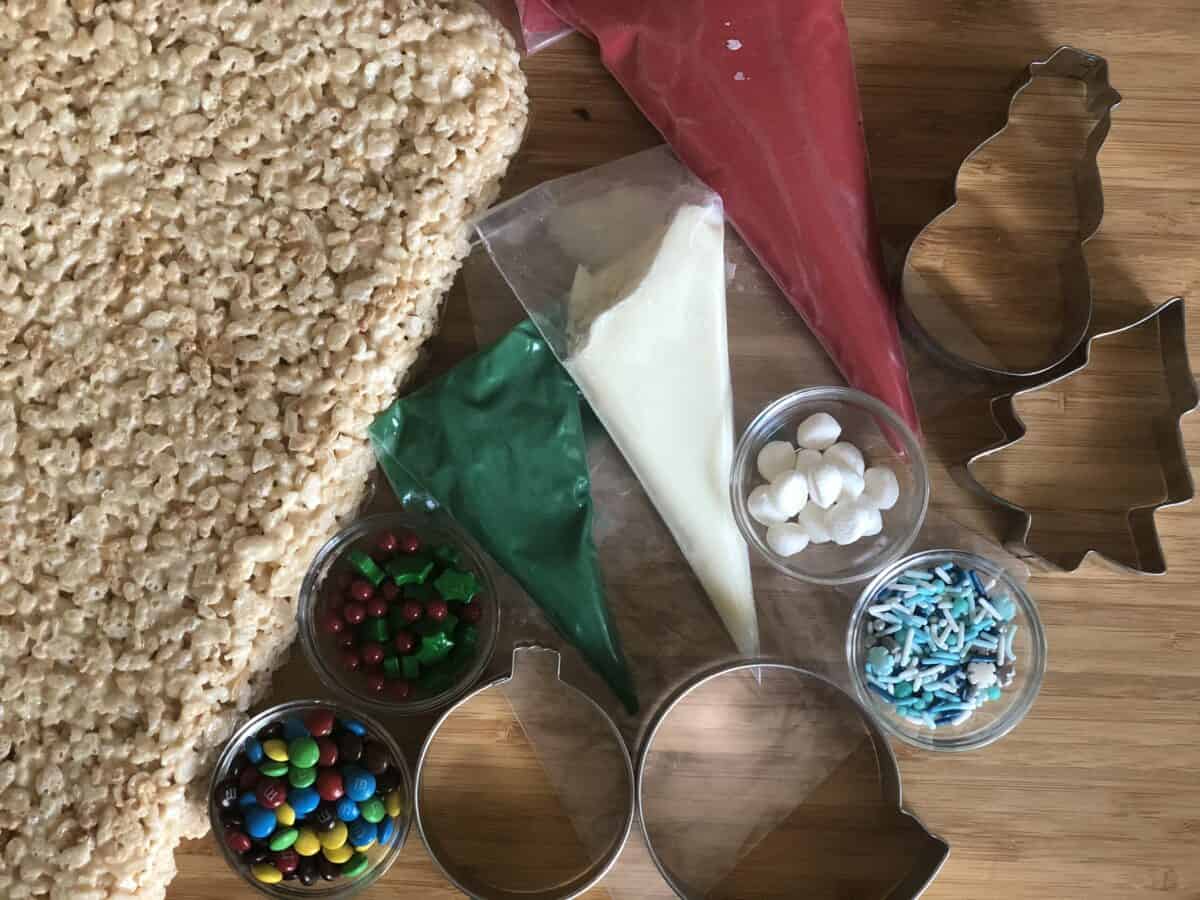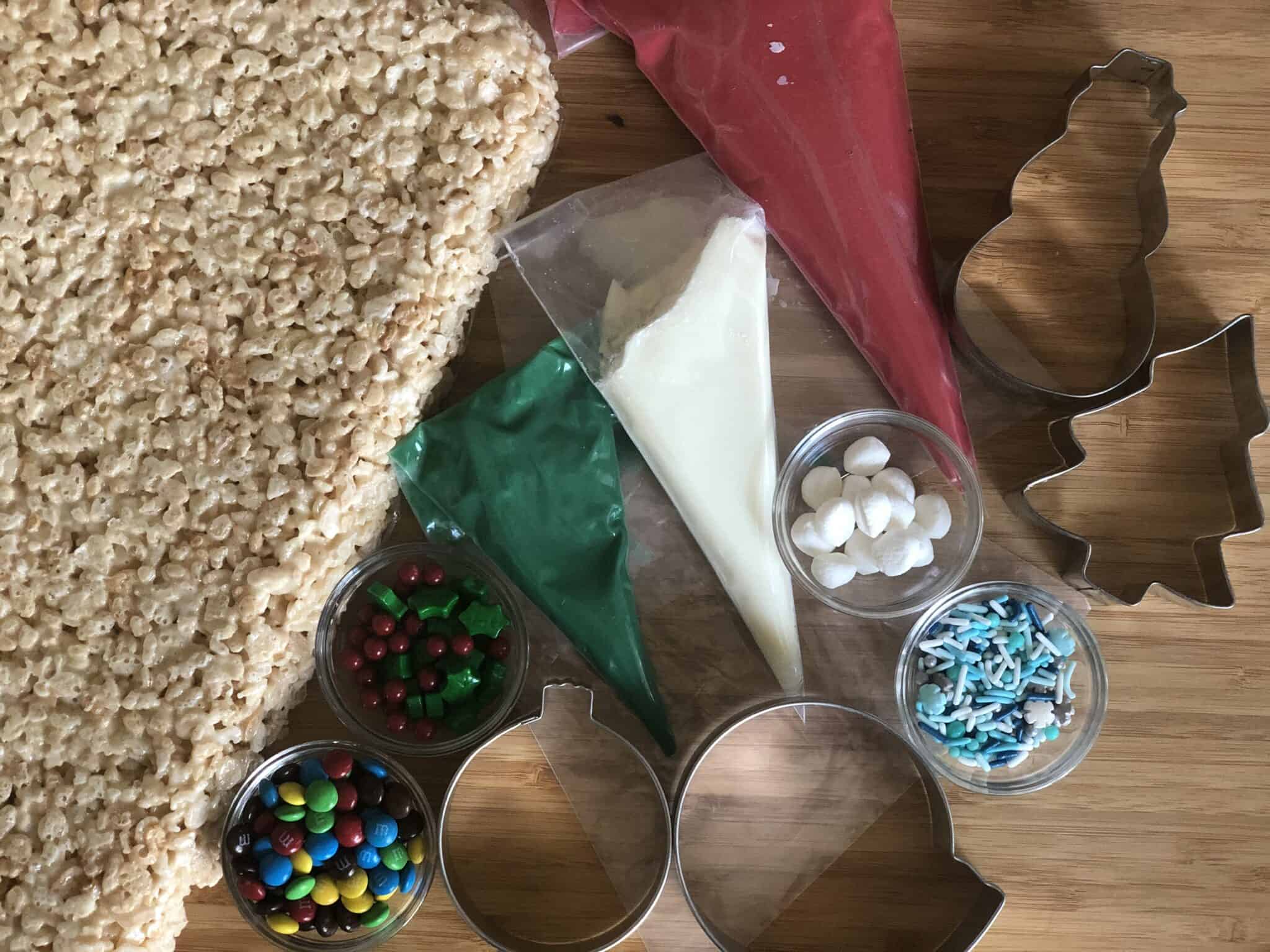 Cutting out you're shapes
After the rice krispie treats have set you can cut out some Christmas shapes using cookie cutters. If the rice krispie treats give you any trouble or are hard to press out, I use a rolling pin to roll over the cutters and push them through. Pick shapes that are medium in size.
Also, be careful of little details that may not come through when using a cutter. I pick easy to identify shapes that don't have small parts coming off of them.
Decorating Christmas Rice Krispie Treats
Now it's time to have some real fun! Melt your chocolate melts in a microwave safe bowl and pour into disposable piping bags. Cut off the tip and get to decorating. Try to work through one color at a time. The chocolate will cool in the bags over time. If that happens, reheat the chocolate in its bag for 20-30 seconds.
Get out the sprinkles, mini m&ms, marshmallows, and whatever other fun candies you want to make these special. Crushed candy canes and chocolate chips would also be fun.
The chocolate hardens pretty quickly. Have all of your sprinkles and decorations ready to go so that once you begin, you can quickly add the decorations before the chocolate sets.
Related Blog Posts
I also make fun Halloween Rice Krispie treats which are a blast and even easier.
This post contains affiliate links. As an Amazon Associate I may benefit from qualifying purchases.