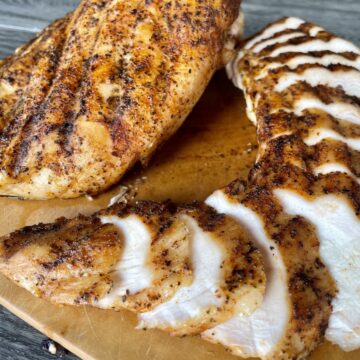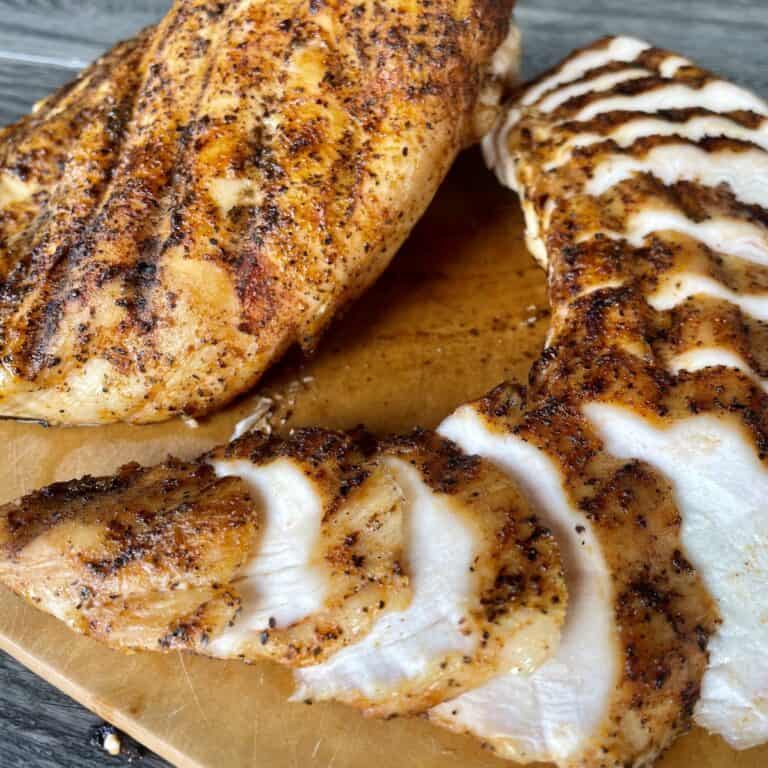 This blog post contains affiliate links. As an Amazon Associate I may earn income from qualifying purchases. Thanks for the support.
Smoked Chicken Breast on a Traeger Grill
There's nothing better than a juicy and flavorful chicken breast hot off the grill. But cook times for chicken can be tricky. You want to know how long to smoke a chicken breast at 300 on a Traeger- I got you!
How Long to Smoke a Chicken Breast
Any time we are cooking boneless chicken breasts, the most important factor is getting that internal temperature up to 165 degrees F. Once you have the temperature set on your smoker, it's just a matter of time waiting for the chicken to reach its target temperature no matter the size of the breast. I have found that when smoking a large boneless breast, it takes about an hour to cook all of the way through. However, I have a few tips for the cooking process if you are making several chicken breasts at different sizes.
Using a Thermometer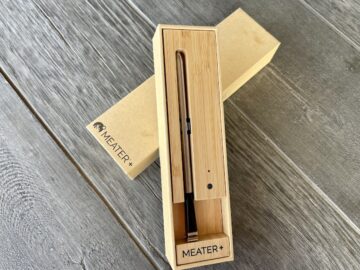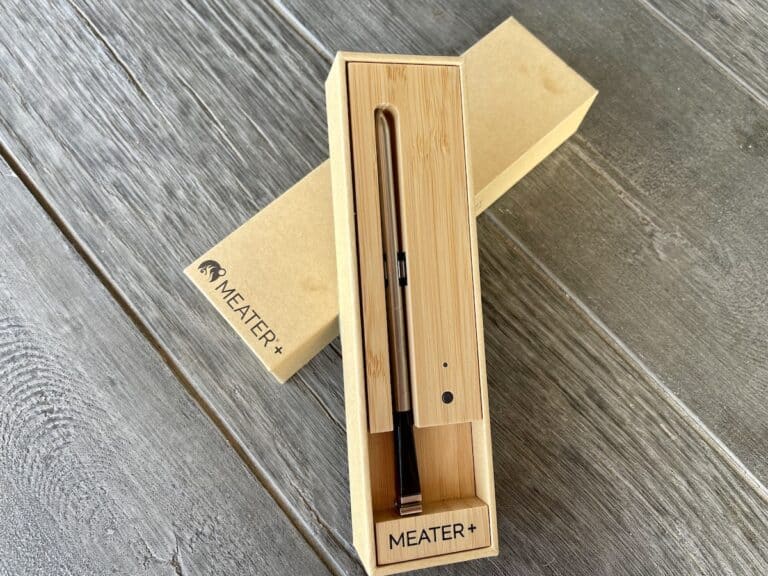 A meat thermometer is my number one favorite tool for cooking on a Traeger Pellet Grill. Its the best way to know if your meat is properly cooked both for flavor and food safety. Since individual chicken breasts vary in size, the time it takes to smoke a chicken breast at 300 degrees can also take more or less time. The Meater+ thermometer takes the guess work out for you. A chicken breast needs to reach 165˚F internally to kill all bacteria. However, if your chicken breast's internal temperature goes above that by very much, it will be dry and tougher to eat.
If you don't have a wireless thermometer or Traeger temperature probe, use an instant-read thermometer to check for doneness. After the chicken has been on the smoker for about 45 minutes, you can begin checking to gauge time.
Recommend Rubs and Seasoning for Smoked Chicken Breast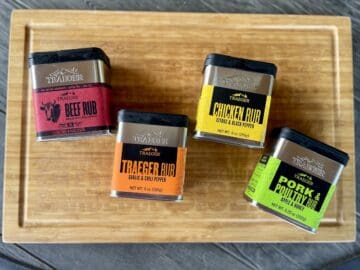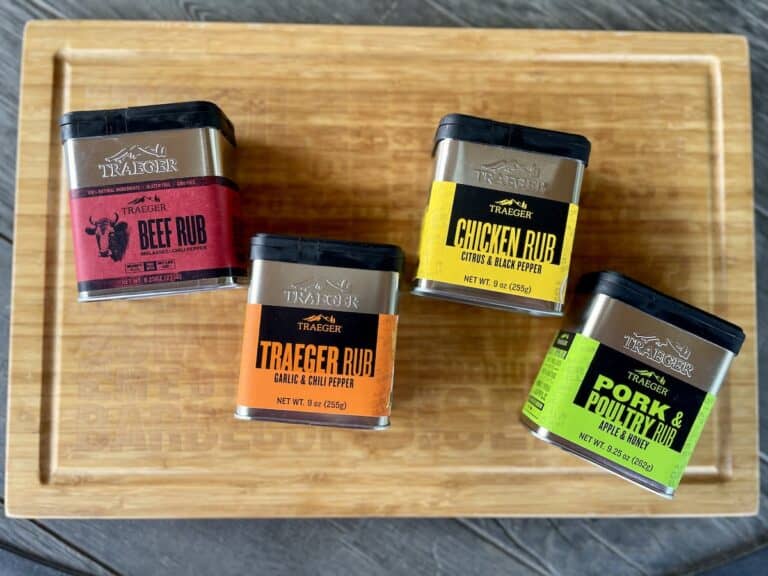 When it comes to chicken on the Traeger, I have two favorite rubs. The Traeger Rub which is a great all around dry rub for any protein. Specifically for chicken, I love the Chicken Rub with Citrus and Black Pepper. If you want to mix up your own seasoning blend, grab a small bowl and include the following:
kosher salt
black pepper
chili powder
garlic- either garlic powder or granulated garlic
onion powder
brown sugar
Since this is more about the cook time, I suggest you use any seasoned salt or dry rub that you like. Also, you consider how you will be serving the chicken. I love to meal prep and make a few breasts early in the week so I can use them for lunches in things like chicken cobb sandwiches, chicken tacos, or a big salad.
How to Prepare a Chicken Breast for the Smoker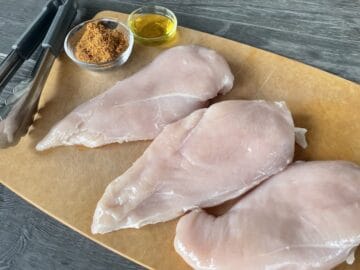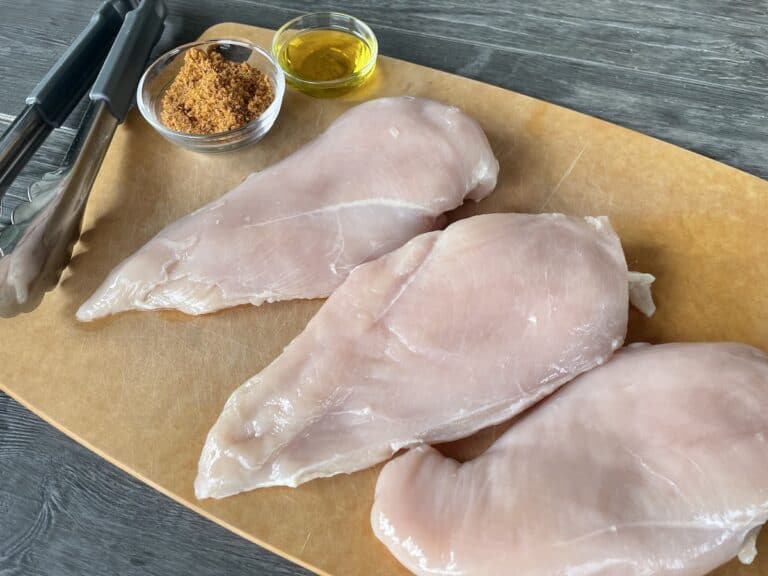 The prep for this easy recipe couldn't be any easier! Since chicken breast has very little fat, you need to help it out with a drizzle of vegetable oil or olive oil. After that, generously season the breasts on all sides. Don't hold back. Chicken is like a blank slate and wants the flavor!
Steps for Smoking a Chicken Breast on the Traeger Grill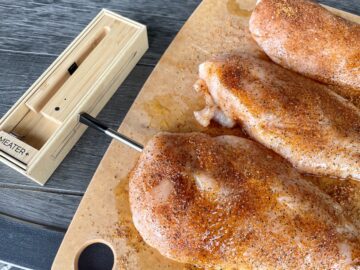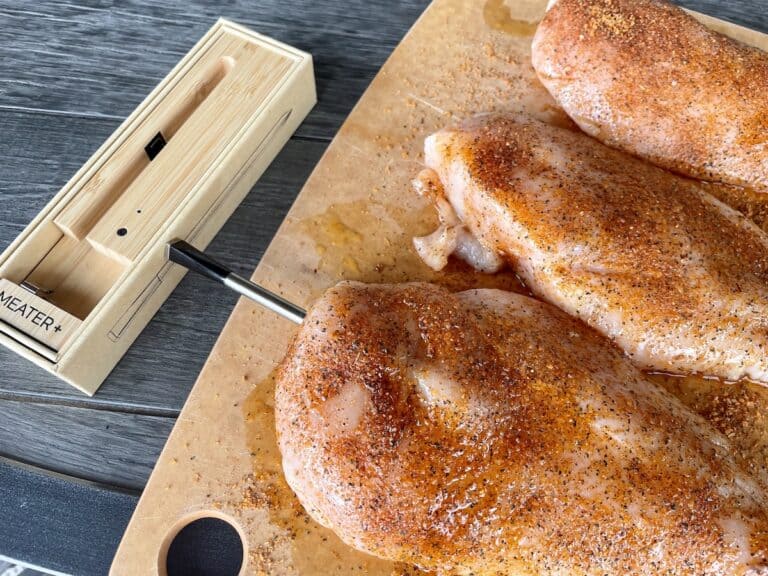 Preheat your smoker to 300˚F
Take the chicken breasts out of the refrigerator and let them come to room temperature. Pat them dry with paper towels
Drizzle the chicken breast with olive oil
Generously season them with your dry rub
Insert wireless thermometer or Traeger Probe into the thickest part of the breast
Once the smoker has reached 300F, please the chicken breasts directly on the grill grates and close the lid.
After 30 minutes, flip the chicken and cook for an additional 30 minutes or until the internal temperature reaches 165˚F
Remove the chicken from the grill and cover with aluminum foil. For best results, the chicken rest for 5-10 minutes before slicing.
Serve with your favorite bbq sauce and sides.
How will a smoked Chicken Breast on the Traeger Turn Out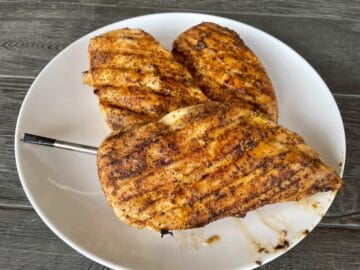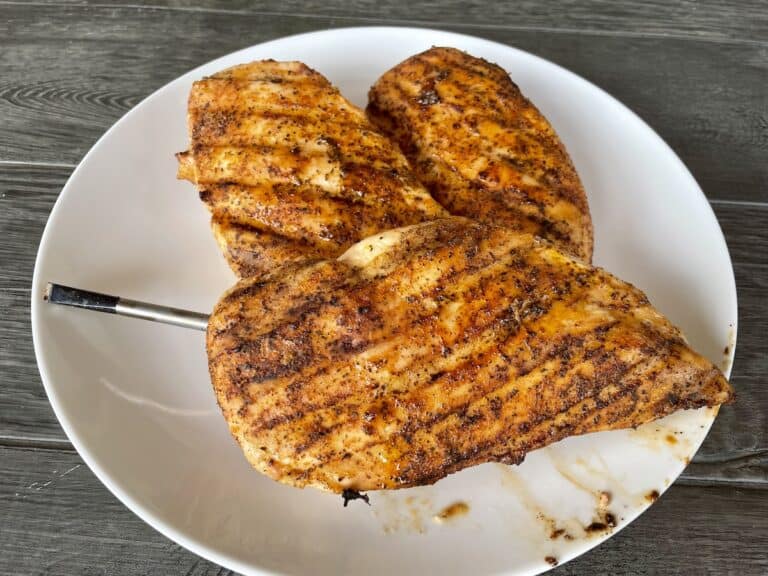 After smoking a chicken breast for an hour, you will see a mild smoke ring around the edges. However, you will definitely have a fantastic smoky flavor for the smoking process. They should still have quite a bit of moisture inside and be very easy to slice.
For juicy chicken breasts, make sure to pull the chicken right at 165 degrees. There will be some carryover cooking and you don't want it to dry out completely.
Serving a Smoked Chicken Breast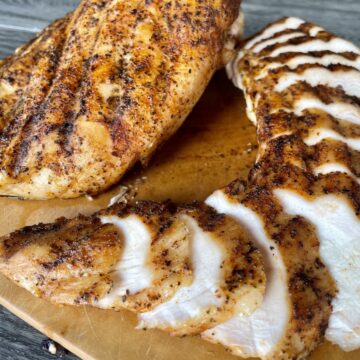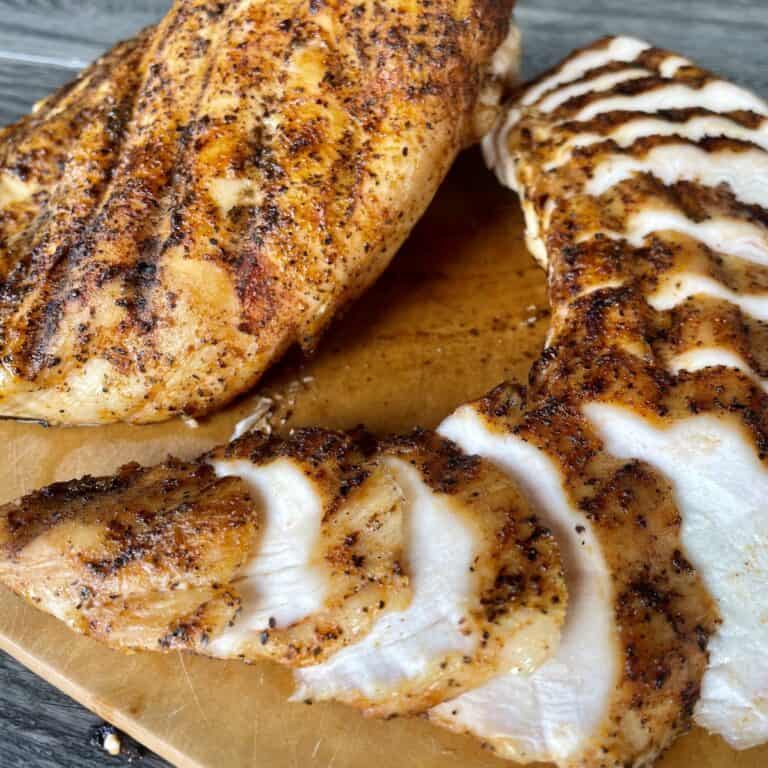 There are a variety of ways you can serve this up. After the chicken has reached the desired temperature and it has rested, you can slice into it or serve whole chicken breasts. My favorite way is to slice it diagonally on a bias to make sure I get a really tender piece of chicken.
Lean in to that smoky flavor with a Jack Daniel's sauce or other BBQ sauce that you love. For sides, you can really go any direction. Here are some great sides that are perfect for this easy smoked chicken breast recipe.
Sweet potato fries
Baked beans
Big salad
Modifications to this Technique
If you want more smoke flavor, you can cook at a lower temperature and increase the cook time. Use your meat thermometer and pull it at 165. If you want that smoky flavor but are a little shorter on time, cook at a higher temperature to reduce the cooking time.
Smoked Chicken Recipe Card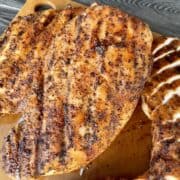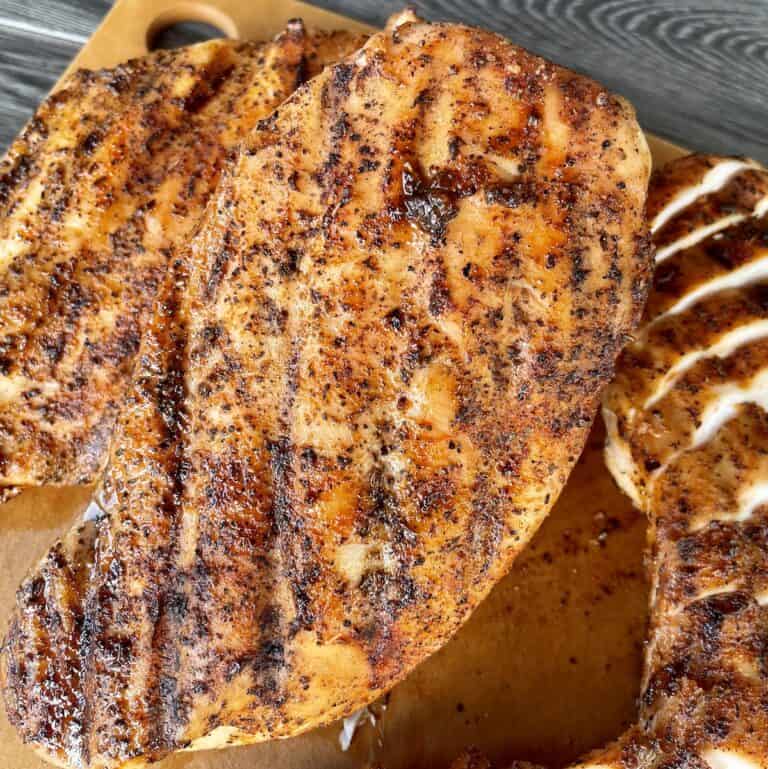 Print Recipe
How Long to Smoke a Chicken Breast at 300 Degrees
Simple recipe for a smoked chicken breast on a pellet smoker.
Equipment
1 Pellet Smoker

Recommend Traeger Grills
Ingredients
4

chicken breasts

1

tablespoon

olive oil

¼

cup

bbq rub
Instructions
Preheat pellet smoker to 300 degrees.

Drizzle each chicken breast with olive oil.

Generously season each breast with rub or desired seasoning.

If you are using a wireless thermometer, insert it into the thickest part of one chicken breast.

Once the smoker has reached 300 degrees, lay each chicken breast directly on the grill grates and cook with the lid closed for 30 minutes.

After 30 minutes, close the lid and cook for an additional 30 minutes or until the chicken reaches an internal temperature of 165 degrees.

Remove the chicken breast and gently cover with foil. Allow to rest for 5-10 minutes before slicing.
Nutrition
Calories:
289
kcal
|
Protein:
48
g
|
Fat:
9
g
|
Saturated Fat:
2
g
|
Polyunsaturated Fat:
1
g
|
Monounsaturated Fat:
4
g
|
Trans Fat:
0.03
g
|
Cholesterol:
145
mg
|
Sodium:
262
mg
|
Potassium:
836
mg
|
Vitamin A:
68
IU
|
Vitamin C:
3
mg
|
Calcium:
11
mg
|
Iron:
1
mg
More Chicken Recipes on the Traeger
Tequila Lime chicken wings are absolute favorite off the Traeger. We get a nice crispy skin and perfectly cooked inside. For a nice Sunday dinner and super easy recipe, make my smoked whole chicken that's fully loaded with juicy meat and great flavor.
This blog post contains affiliate links. as an amazon associate I may earn income from qualifying purchases.