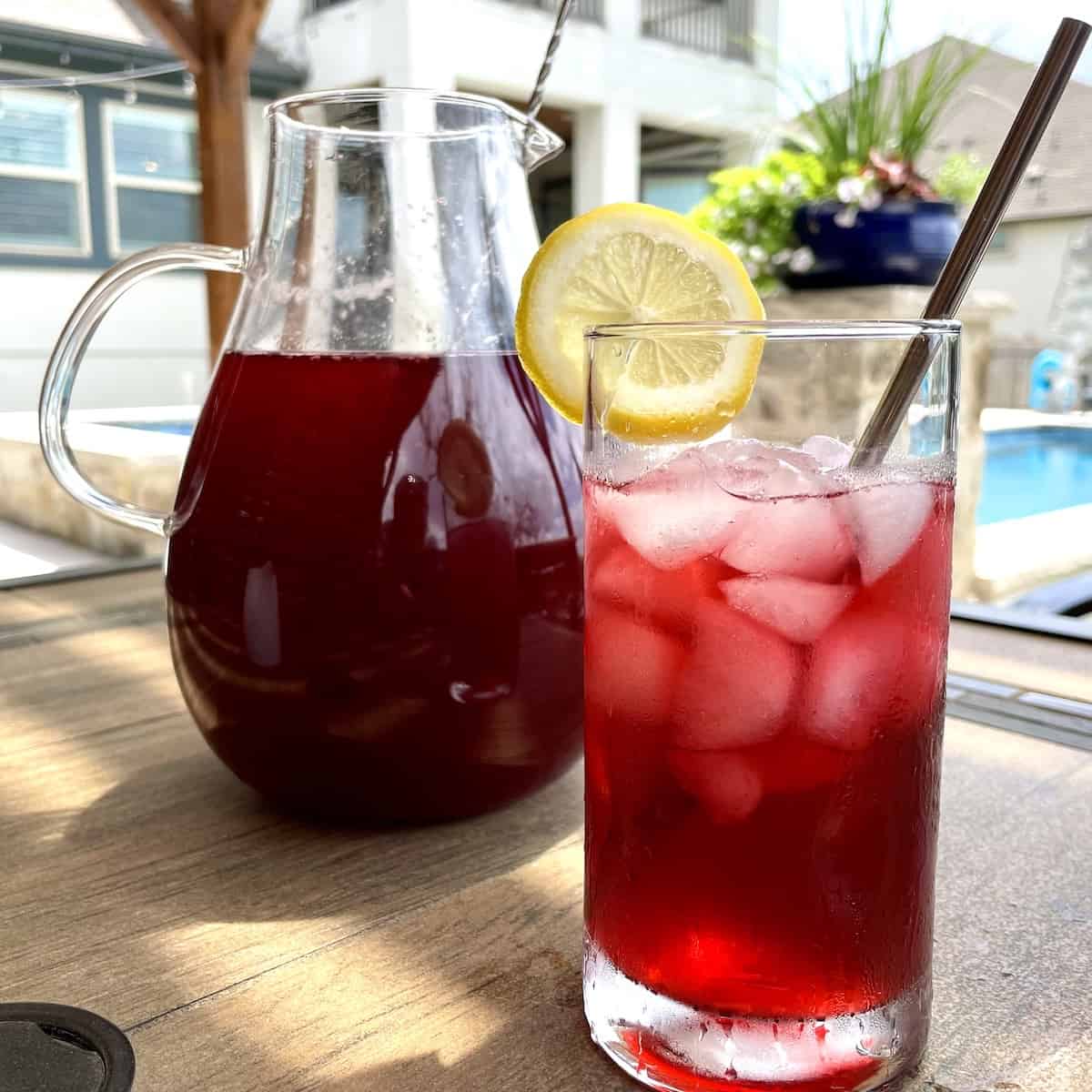 This berry hibiscus iced tea recipe is sure to quench your thirst and satisfy that afternoon sugar craving.
I love all things berry. When I want a refreshing beverage that is hydrating and won't bog me down, I turn to this berry hibiscus iced tea recipe.
This blog post contains affiliate links. As an Amazon Associate I may earn income from qualifying purchases. Thanks for the support.
The Frozen Berries and the Tea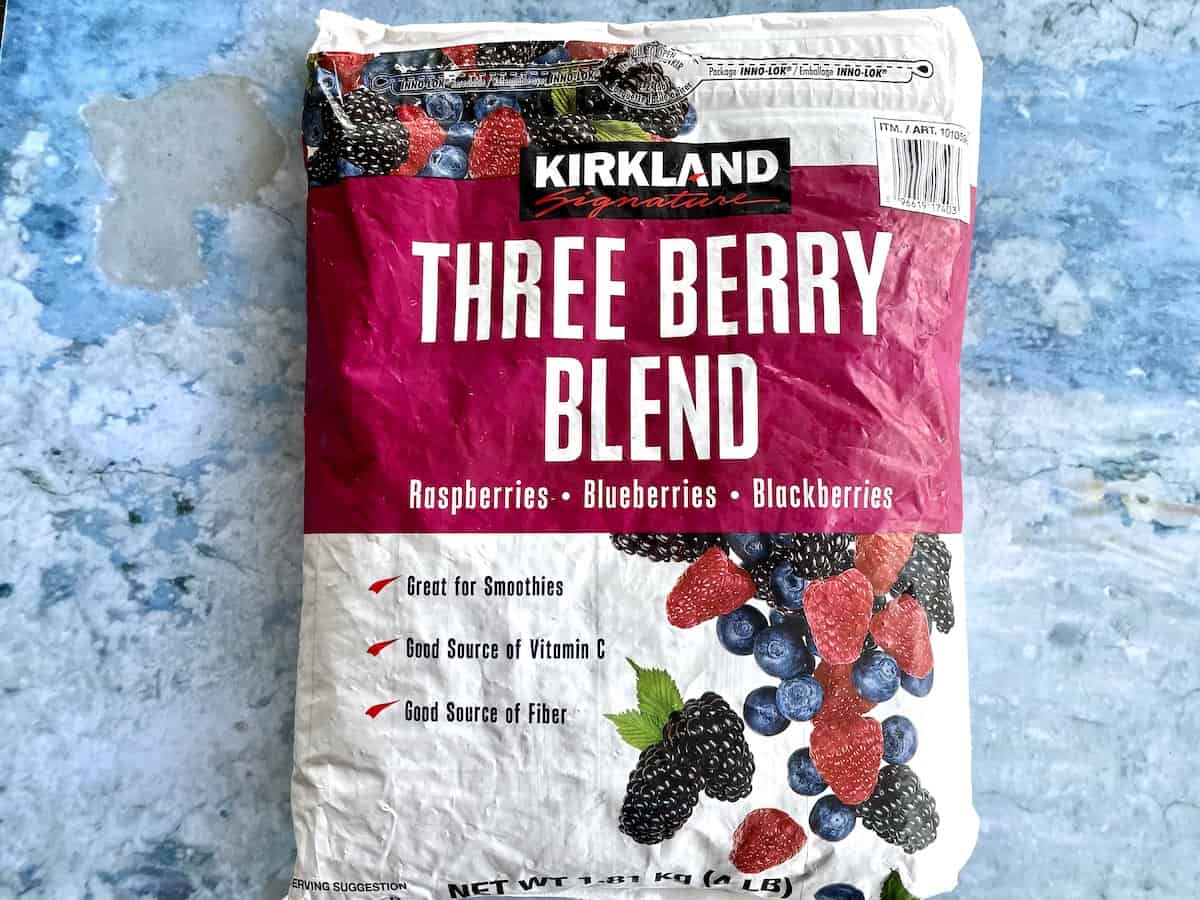 This frozen triple berry blend is the best for smoothies, berry pies, and this syrup of course. It's full of raspberries, blackberries, and blueberries. An antioxidant power house!
The triple berry syrup I make doubles as the sweetener and flavor enhancer for iced tea. The berry syrup can also be used on pancakes, waffles, ice cream, or whipped into cream cheese for a tasty spread.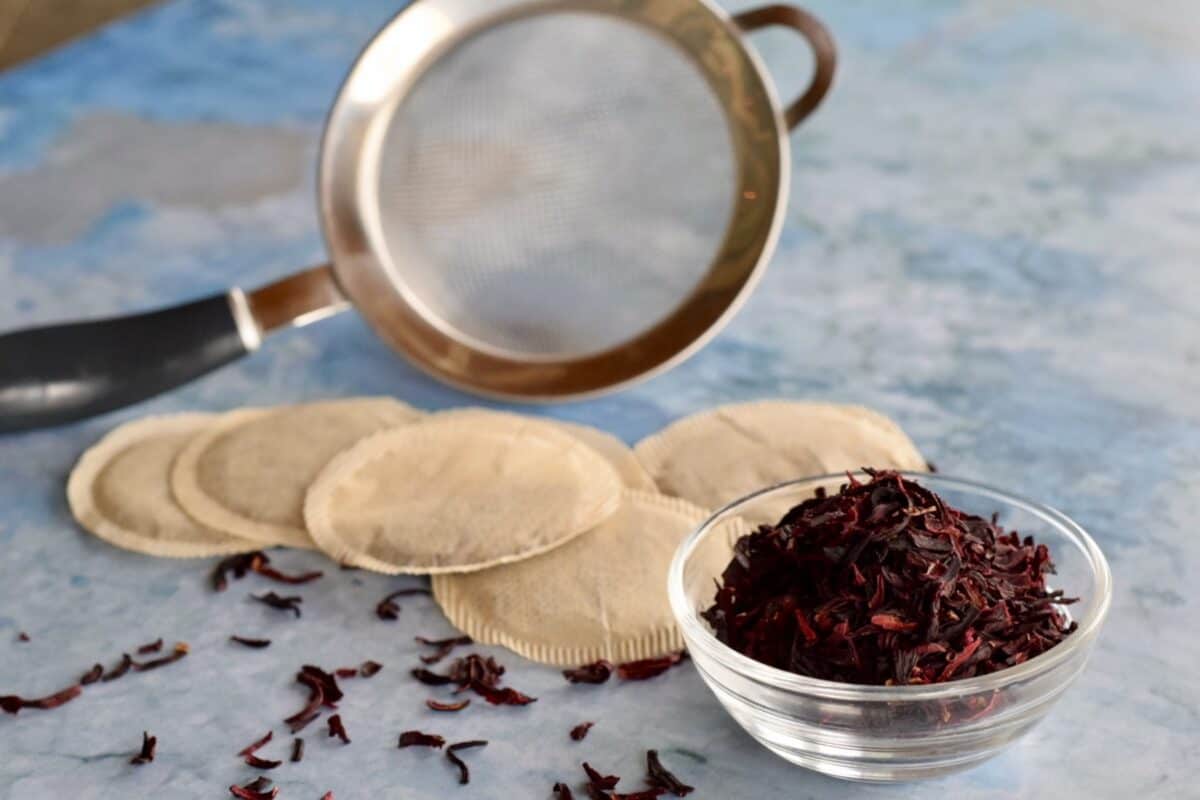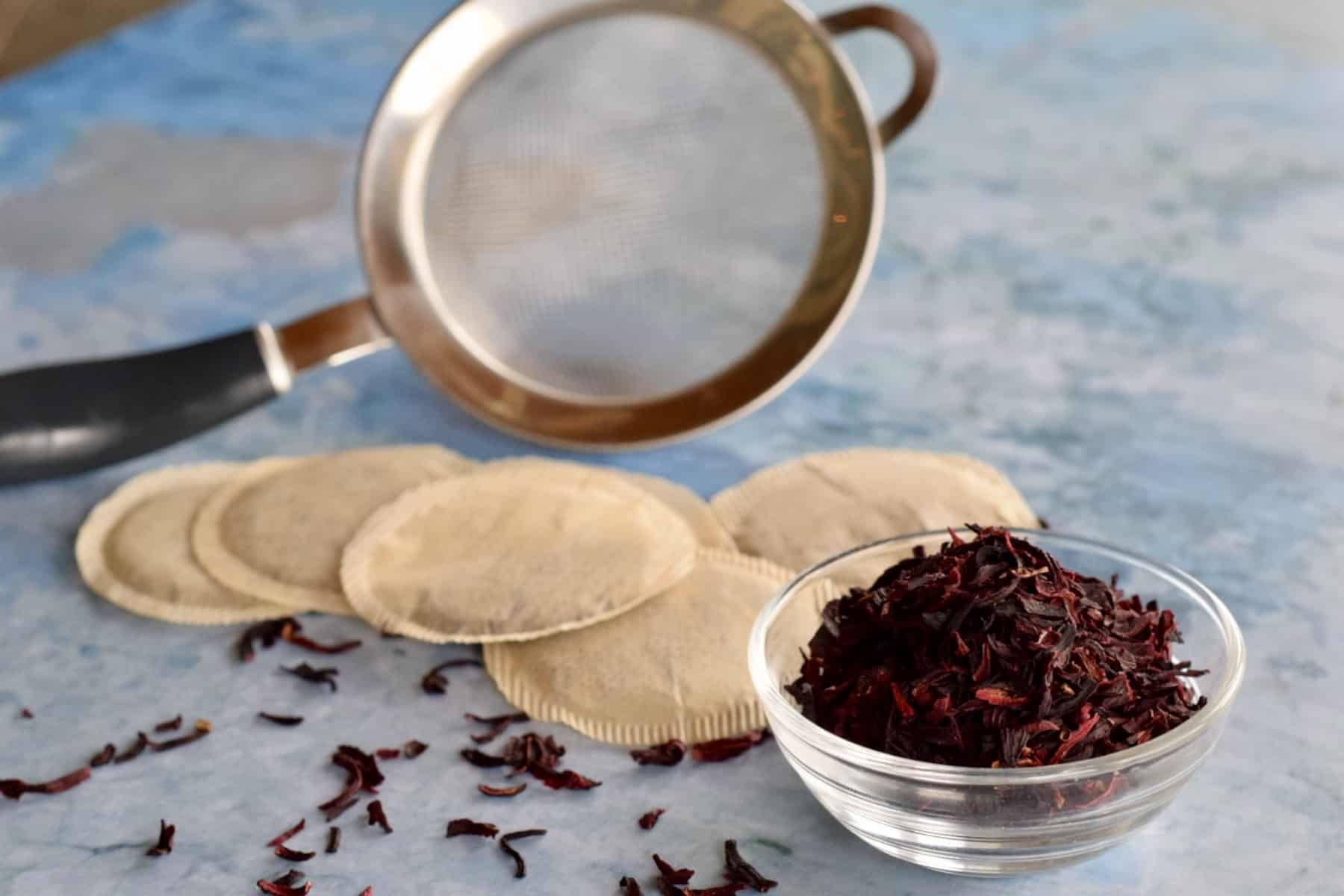 For the hibiscus tea, use anything you like. I go for a loose leaf hibiscus tea for maximum flavor. There are so many options though for hibiscus tea, so use whatever brand you like.
Here are the tea bag and loose leaf hibiscus tea links for your shopping pleasure.
Berry Hibiscus Iced Tea Recipe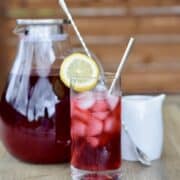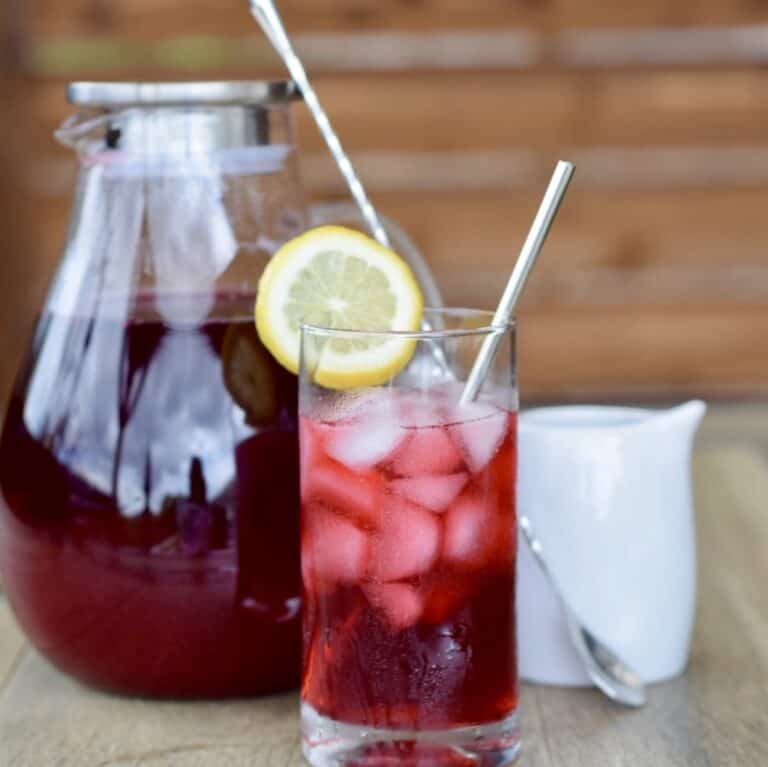 Print Recipe
Berry Hibiscus Iced Tea Recipe
A refreshing iced hibiscus tea infused with sweetened berry syrup
Ingredients
6

Bags hibiscus tea

or ¼ cup loose leaf tea

1

cup

granulated sugar

2

cups

frozen berries

4 ½

cups

water

2

cups

ice
Instructions
Making the Berry Syrup
In a small sauce pan, combine half of a cup of water, 2 cups of frozen berries, and 1 cup of granulated sugar.

Heat the sauce pan on medium and bring the berries up to a boil. Reduce the heat and stir until the sugar has dissolved.

Remove the sauce pan from heat and allow to cool for a few minutes.

Once the berry syrup has cooled, use a blender to liquify the berry syrup removing all large pieces.

Pour the syrup through a strainer so it is completely smooth and all seeds are removed.
Making the Tea
In a medium pot or tea kettle, heat 4 cups pf water and bring it to a boil.

Add the tea bags and submerge them completely. Remove the pot from the stove and allow the tea bags to steep for 10-15 minutes.

Pour the tea into a large serving pitcher. Add in the berry syrup and stir. Add in 2 cups of ice and out the pitcher in the refrigerator to chill.

Serve berry hibiscus iced tea in a tall glass full of ice and garnish with a lemon slice or fresh berries.
Nutrition
Calories:
120
kcal
|
Carbohydrates:
30
g
Did you make this recipe? Tag me on Instagram @fancy_apron 🙂 or leave a comment below.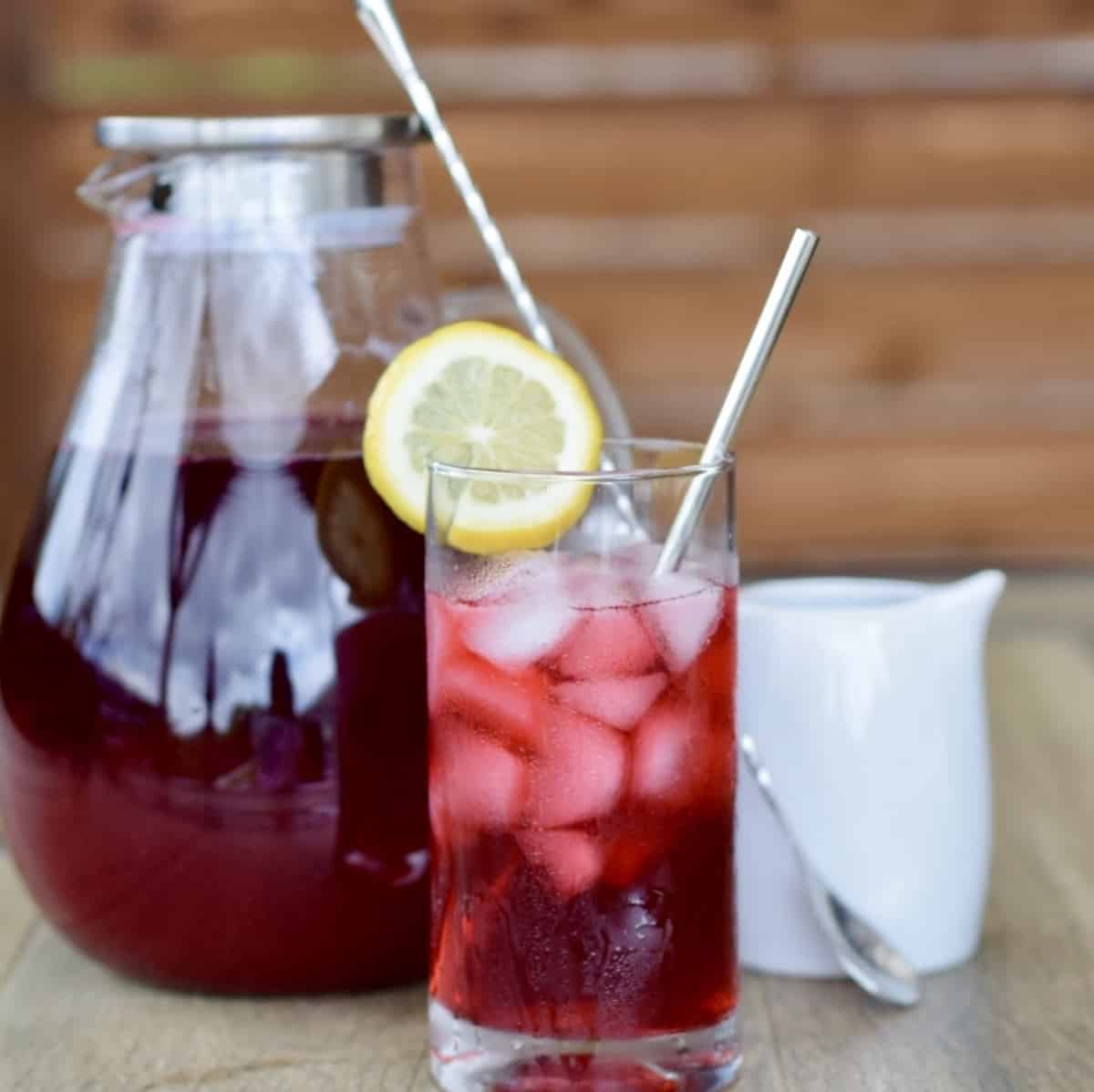 Iced Tea Supplies
Fun glasses
Mini skewers for garnish
Modifications
I actually prefer my drinks to be lightly sweetened, so I only use a half cup of granulated sugar. For a true sweet tea, use a full cup of sugar.
You can substitute the triple berry blend for strawberries or cherries if you prefer those flavors. Another fun twist on flavor would be using mango. My son loves mango.
Serve this Berry Iced Tea With...