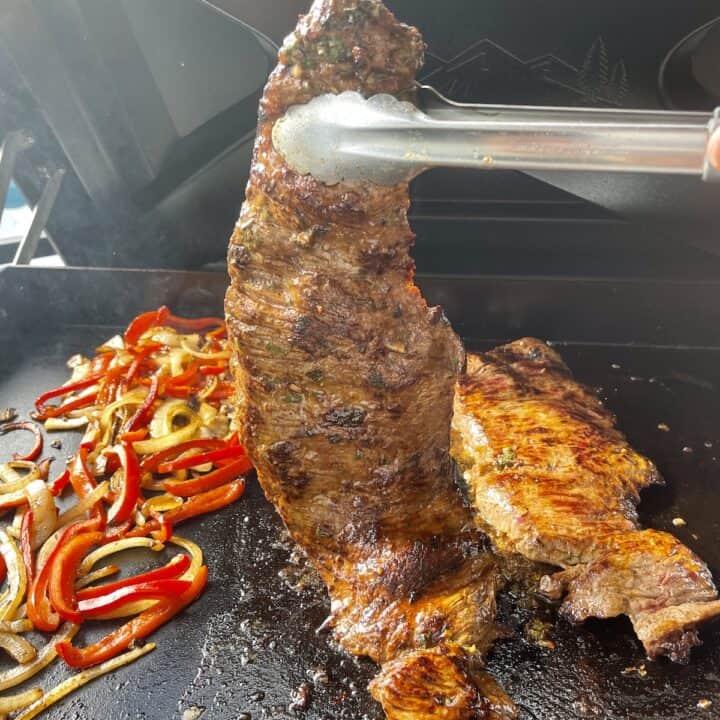 I am absolutely in love with this Traeger flatrock steak fajitas recipe. We get to use the entire grill surface to cook our steak and fajitas vegetables all in one space. This is a great way to up your cooking fun outdoors.
What Kind of Steak for These Fajitas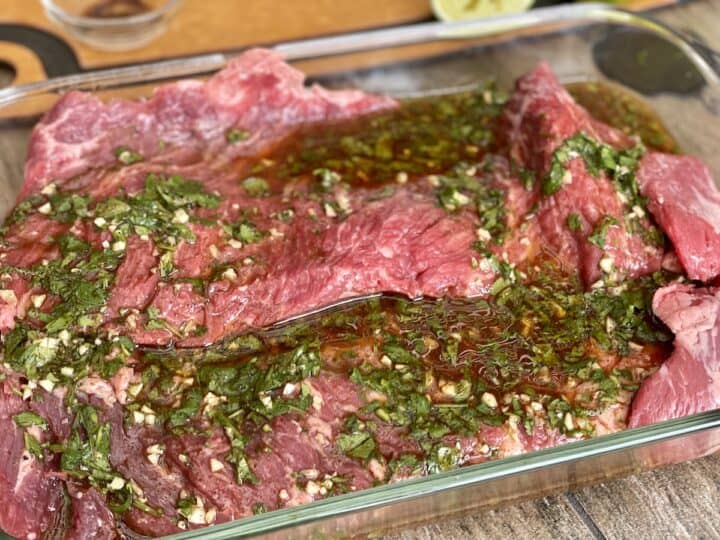 First things first, choosing our cut of steak. Traditionally, fajitas are made with skirt steak, flap meat, or even hanger steak. These are inexpensive cuts of meat making them perfect for feeding a crowd.
These cuts also do really well with a marinade and quick cook time over high heat. For this recipe, I am using skirt steak but you can certainly substitute another cut if you prefer.
My Favorite Steak Fajita Marinade Ingredients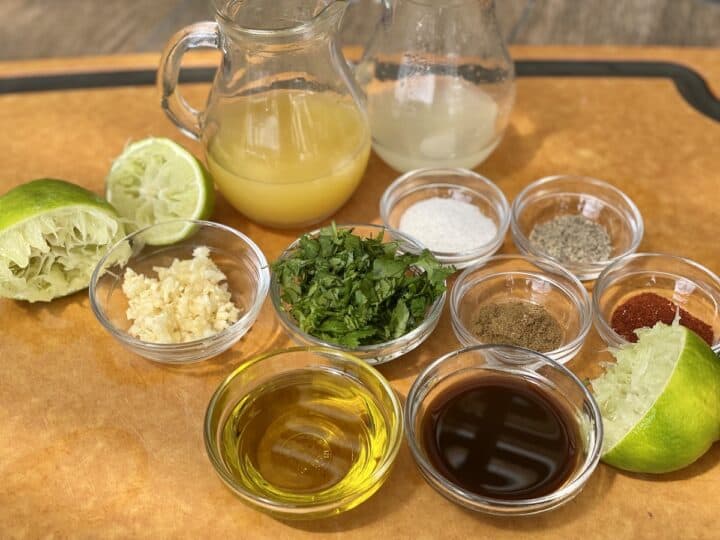 No matter where you cook your fajitas, this marinade is on and poppin. For the wet ingredients we need: lime juice, pineapple juice or orange juice, olive oil, Worcestershire sauce, soy sauce.
I really like the deeper flavor we get from combining both soy sauce and Worcestershire. The pineapple and lime give the marinade a nice brightness that cuts through the rich flavor of beef.
For the spices and other flavors, we need: minced garlic, cumin, chili powder, salt, pepper, and chopped cilantro.
I especially like it for steak fajitas, but you can use this marinade on chicken breast, chicken thighs, or other cuts of beef as well.
Fajita Veggies on the Flatrock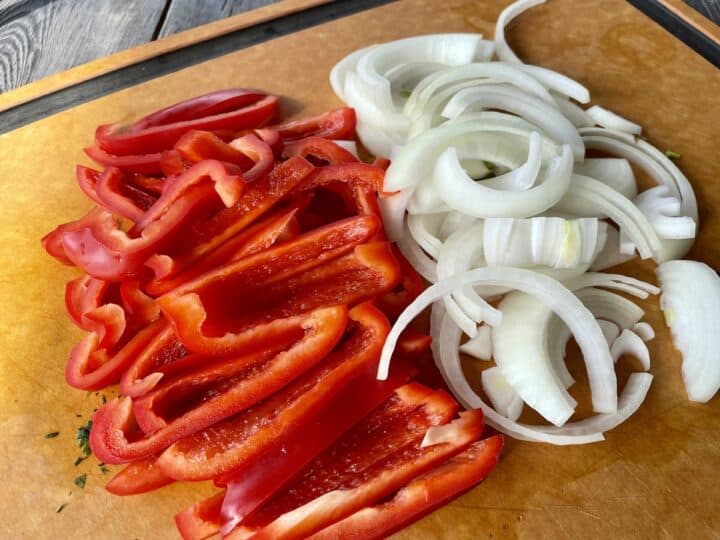 Traditional fajita veggies include sliced onions and bell peppers. Green bell peppers are common in restaurant cooking, but I always go for red bell pepper. Thinly slice both the onion and the red bell pepper. Because this is such a quick cooking recipe, it's important that the veggies are cut thin enough to cook consistently.
The Supplies You Will Need
Aside from your Traeger flat top grill, you only need a few other tools:
sharp knife
cutting board
large metal spatula or set of long tongs
Traeger does offer a set of tools for the flatrock including spatulas, scrapers, and squeeze bottles to help out your outdoor cooking arsenal.
How hot should I cook my Fajitas on a Traeger Flatrock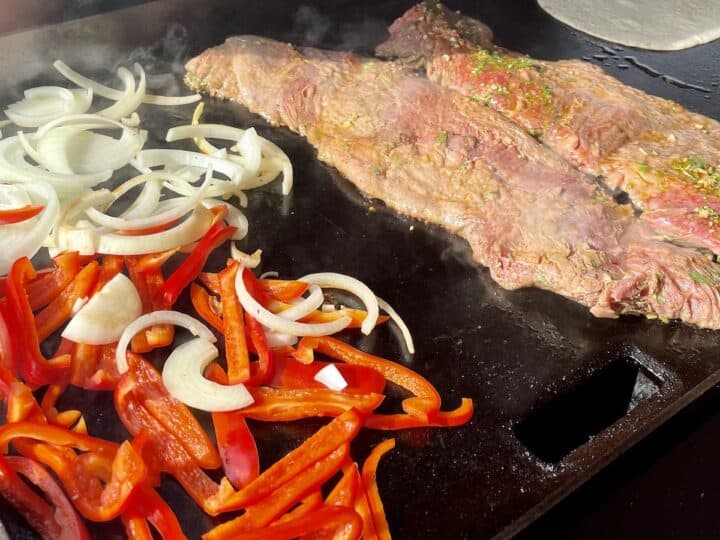 Once you have your steak fajita ingredients prepped and ready to go, you can fire up the flatrock. The cooking surface should preheat for about 10 minutes for the best results. Heat one section to medium-high, one section to medium, and one to medium-low.
The medium-high heat zone is for the fajita vegetables and will get nice caramelized edges in this zone. The marinated steak will cook the middle zone set to medium. That way it will have a chance to brown nicely without overcooking the steak. You will see the sizzle if it really has the chance to preheat.
Lastly, the tortillas can warm up on the section set to medium low giving them a nice even temperature all of the way through.
How to Cook Fajitas on a Traeger Flatrock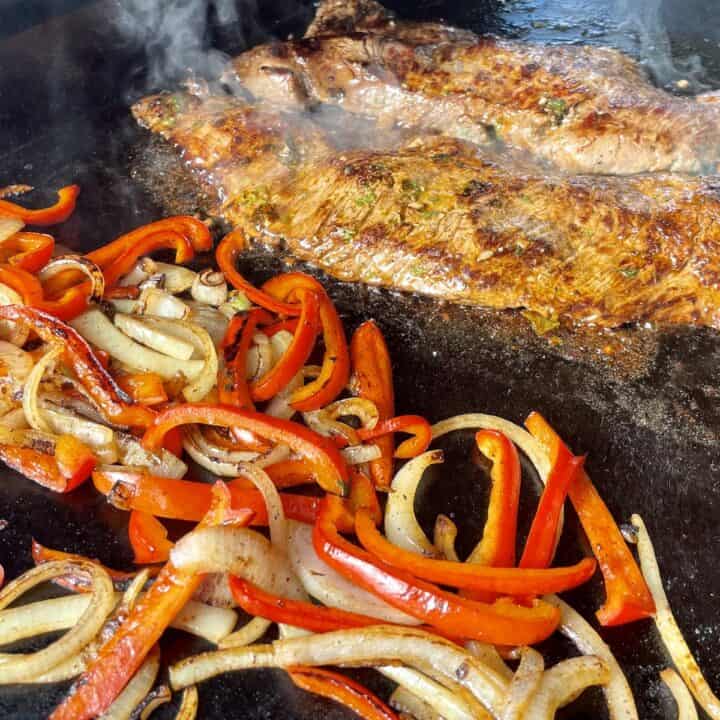 Once the griddle has preheated, begin cooking by adding a thin layer of vegetable oil or olive oil to the flat top and spread it around evenly with a paper towel or large spatula.
Lay the skirt steak on the section set to medium. On the section set to medium high, spread out the veggies. Drizzle the vegetables with a little extra oil if needed to prevent them from sticking and season with a blend of salt and black pepper. Allow the steak to cook until it has browned evenly on the outside and it pulls away easily so you can flip it and cook the other side. At this point, it should only take another 3-4 minutes to finish cooking through. Warm up the tortillas on the section of the griddle set to medium-low.
Once everything has finished cooking, remove everything and let the steak rest for 5 minutes before slicing.
Best toppings for Serving Traeger Fajitas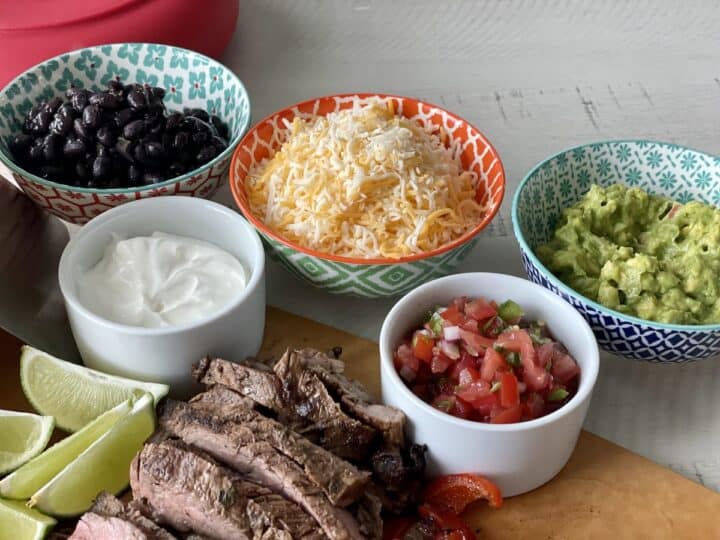 One of the very best parts making delicious steak fajitas on a Traeger Flatrock is that everyone gets to choose their own toppings. These are the favorites in my household:
sour cream
lime wedges
pico de Gallo
shredded Monterey Jack cheese
homemade guacamole
warm tortillas
Serving Traeger Flatrock Fajitas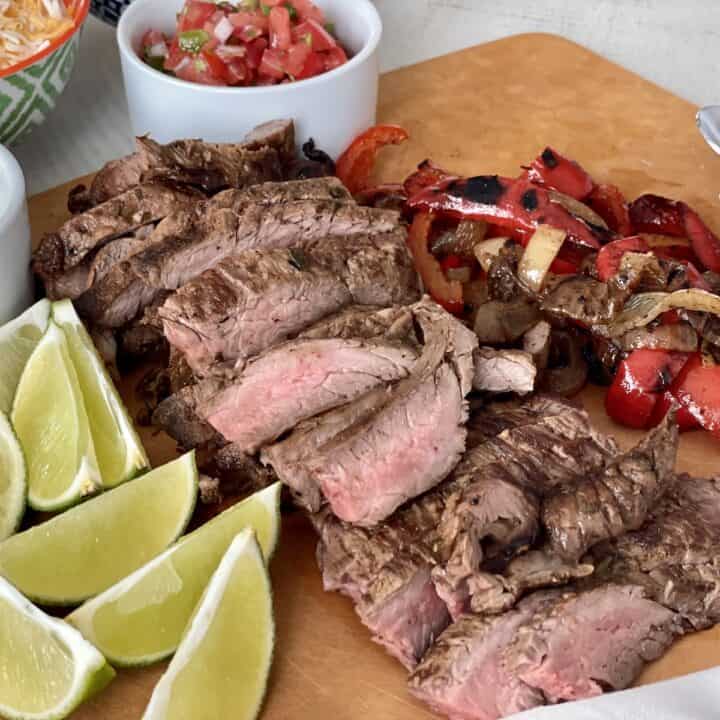 After the fajitas have cooked completely, remove the steak to a large cutting bowl. Using tongs or a large spatula, move the peppers and onions to a large bowl or platter for serving. Allow the steak to rest for 5-10 minutes before slicing.
After the steak has rested, cut the steak into 3-4 sections for easier slicing. Take each section and slice against the grain all the way down. Serve quickly with warn tortillas and fajitas toppings.
Favorite Side Dishes
My favorite sides include warm black beans, charred corn on the cob or Mexican style street corn, and a traditional Mexican rice.
Traeger Flatrock Steak Fajitas Recipe Card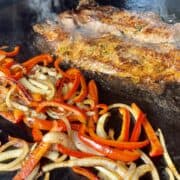 Print Recipe
Traeger Flatrock Steak Fajitas
Marinated skirt steak and fajita veggies cooked on a Traeger flat top griddle.
Equipment
1 Traeger Flatrock Griddle

Tongs or large spatula
Ingredients
Steak + Marinade
2

pounds

skirt steak

⅓

cup

lime juice

¼

cup

pineapple juice

or orange juice

2

tablespoon

Worcestershire sauce

2

tablespoon

olive oil

1

tablespoon

soy sauce

1

tablespoon

minced garlic

1

teaspoon

cumin

1

teaspoon

chili powder

½

teaspoon

salt

½

teaspoon

black pepper

¼

cup

chopped cilantro

optional
Fajita Vegetables
2

whole

red bell peppers

1

yellow onion

1

tablespoon

vegetable oil

1

teaspoon

salt
Fajita Fixings
12

tortillas

2

cups

shredded cheese

1

cup

pico de gallo

1

cup

guacamole

1

cup

sour cream

lime wedges

for serving
Instructions
Marinade the Skirt Steak
In a large zip top bag or large baking dish, combine all of the marinade ingredients and mix well. Add the skirt steak and refrigerate for 2 hours to 6 hours.
Cooking the Fajitas
Start by preheating all three sections of your Traeger Flatrock. Set one end to medium-high, set the middle to medium, and the other end to low.

One the griddle has preheated, squeeze or drizzle vegetable oil on all three sections and spread the oil around with a large spatula.

To the end set to medium-high, add the sliced bell pepper and onions. Season them with salt and toss them around so they are evenly coated with vegetable oil.

Next, add the marinated skirt steak to the middle section of the flat top that is set to medium. Cook the steak for 6-8 minutes. Once it has built up a nice crust, flip the steak over and cook for an additional 3-4 minutes or until the steak has reached an internal temperature of 125-130˚F.

While the steak cooks, warm up some tortillas on the other end set to medium-low. Transfer the warmed tortillas to a plate for serving. Cover with foil to keep warm. Continue to move the fajita veggies around occasionally for even cooking while the steak cooks. Reduce the heat under the vegetables if needed.

After the steak and vegetables have finished cooking, remove the peppers and onions to a serving bowl. Remove the fajita steak to a large cutting board and allow to rest for 5 minutes before slicing.

To slice the steak, first cut it into 3 sections. Then slice those sections against the grain into thin strips.

Serve fajita steak and vegetables with warm tortillas and optional toppings including cheese, guacamole, sour cream, and pico de gallo.
Nutrition
Calories:
783
kcal
|
Carbohydrates:
49
g
|
Protein:
49
g
|
Fat:
45
g
|
Saturated Fat:
17
g
|
Polyunsaturated Fat:
5
g
|
Monounsaturated Fat:
18
g
|
Trans Fat:
1
g
|
Cholesterol:
147
mg
|
Sodium:
1890
mg
|
Potassium:
956
mg
|
Fiber:
6
g
|
Sugar:
12
g
|
Vitamin A:
868
IU
|
Vitamin C:
16
mg
|
Calcium:
355
mg
|
Iron:
6
mg
Why Cook Fajitas on a Traeger Flatrock
In 2023, Traeger Grills released the Traeger Flatrock Griddle. This is a total game changer for Traeger enthusiasts. It has several innovative features including a triple u-burner design for total temperature control and more consistent cooks. Other cool features include a fuel gauge which lets you know how much gas you have.
For starters, the flatrock surface has almost 600 square inches of cooking surface. It also has 3 separate cooking zones with their own truly independent temp control so it's easy to cook several different foods all in one space. Steak can cook at a higher temperature on one side of the griddle while veggies like onions and bell pepper cook at a lower temperature on the other side.
More of my favorite homemade Mexican dishes