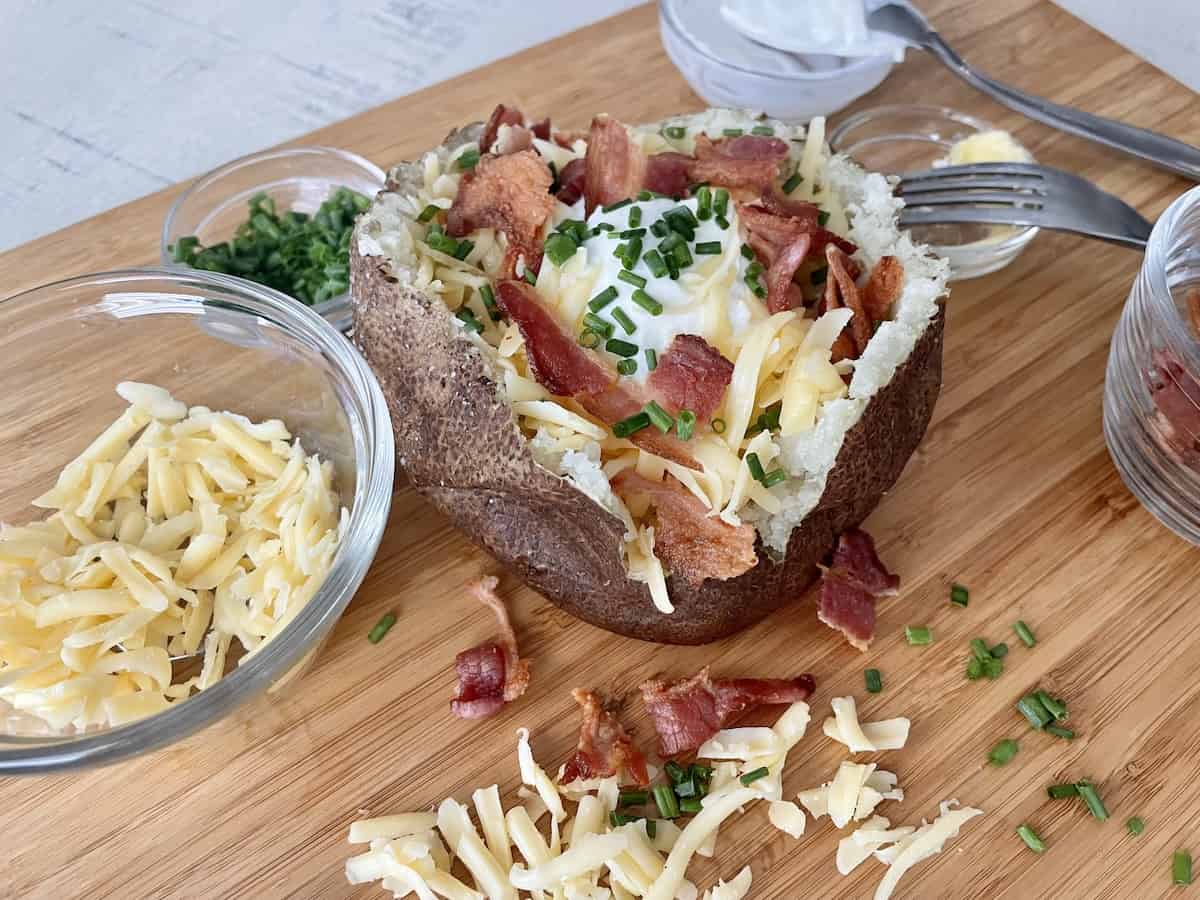 Traeger baked potatoes are the easiest side dish you could ask for and it's comfort food perfection with crispy bacon and smoked gouda cheese.
This blog post contains affiliate links. As an Amazon Associate and Traeger Affiliate I may earn a small commission from qualifying purchases.
Baking Potatoes on a Traeger Grill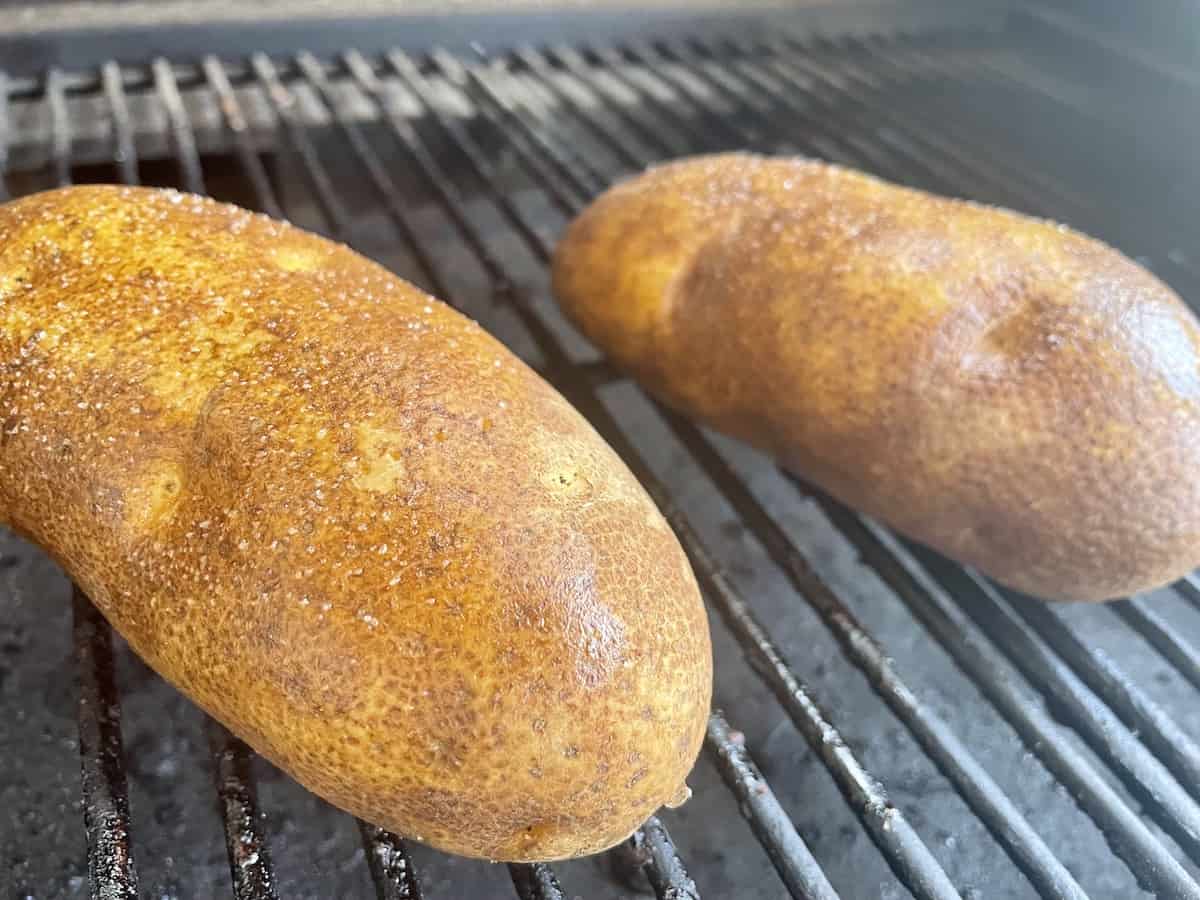 The ease and convenience of baking potatoes on the Traeger grill is great. By rubbing the outside of the potatoes with a little vegetable or olive oil and kosher salt, you get a crispy skin on the outside with a fluffy interior.
The best thing about this easy side dish is that you can double up by cooking the potatoes on one half of the grill grates and cook the main dish on the other side.
For example, thinly pounded chicken cutlets cook fast and perfectly at 375 degrees F. When the potatoes have about 15 minutes left on the cook time, I can lay chicken on the other half of the grill which means I can cook the whole dinner all in one spot. If you need to cook an entire meal at a lower temperature or higher temperature, you will just have to modify the total cook time for these potatoes.
What kind of potatoes can I use?
Russet potatoes are best for baking whether you are using a Traeger Pellet Grill, oven, or air fryer. They are high in starch and low in moisture. Sweet potatoes are the only other option when it comes to "baking" a whole potato. For yukon gold potatoes, red potatoes, or fingerling potatoes we would use a different cooking process.
Prepping the potatoes
Get the russet potatoes ready with the following steps:
give the outside of the potato skin a good scrubbing with warm water
use a fork or knife poke several holes into the potato (this prevents steam from blowing up the potato)
rub the outside with olive or vegetable oil
sprinkle the outside with kosher salt
If you plan on eating the crispy skin, you can also sprinkle on some garlic powder and onion powderer an extra delicious side dish.
*** you do not need to wrap the potatoes in aluminum foil for them to cook well***
Favorite Toppings for a Baked Potato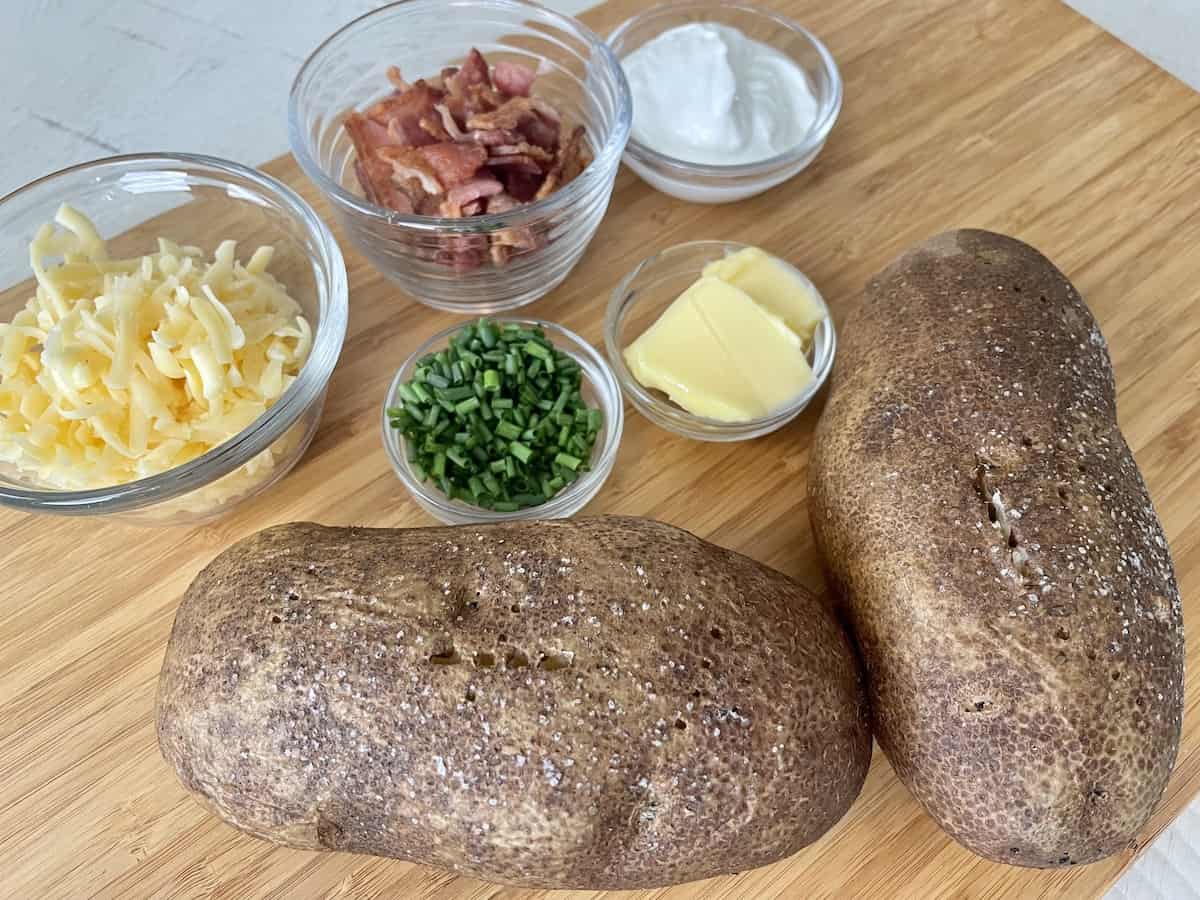 To go with our Traeger flavor, we are piling on smoked gouda cheese. It is a soft easy-melting cheese that brings a delicious smoke flavor. A smoky cheddar would be another great option. Other than choosing a complementary cheese, let's go for all of the other great toppings to make this an amazing side dish:
butter - salted
sour cream - whole fat, none if that low fat stuff
crispy bacon - regular or smoked bacon if you have it
chives - bright and fresh, they really add something special
Quick tip: always season the potato with salt and black pepper before adding on all of the other toppings. Bacon and cheese are already salty. You need the seasoning from the salt and pepper to specifically hit the potato inside.
Traeger Baked Potatoes Recipe Card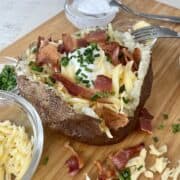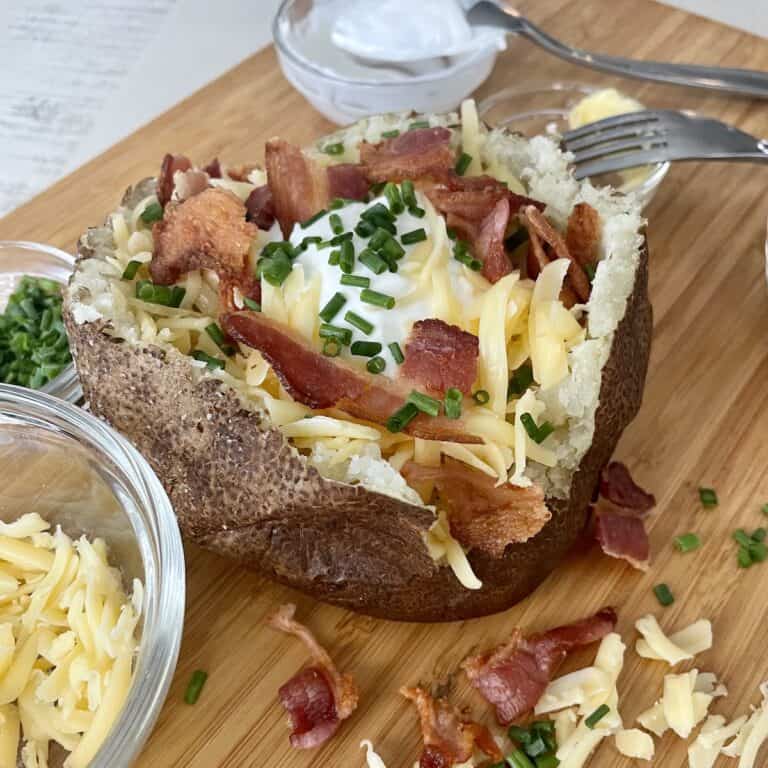 Print Recipe
Traeger Baked Potatoes
Perfectly cook a baked potato on the Traeger grill and top with bacon and smoked gouda cheese.
Ingredients
4

russet potatoes

2

tablespoon

vegetable or olive oil

6

tablespoon

salted butter

1

cup

sour cream

6

slices

bacon

1 ½

cups

shredded gouda cheese

2

tablespoon

diced chives

salt +black pepper
Instructions
Preheat your Traeger grill to 375F and let it heat up for 15 minutes with the lid closed.

Prepare the potatoes by washing them and rubbing them with the vegetable oil. Lightly salt the potatoes. Use a fork to poke holes several times in each potato.

Place the potatoes directly on the Traeger grill grates and close the lid. Depending on the size of the potato, they should take between 45 minutes to 1 hour and 15 minutes. Check for doneness by poking the potatoes with a fork. When the fork easily pokes through the potato, they are ready to remove.

While the potatoes are cooking, prepare the rest of the toppings. Cook the 6 slices of bacon and dice them into small pieces. Shred the gouda cheese and dice the chives.

To assemble the baked potatoes, cut a large slit through the top. First season the inside of the potato with salt and pepper. Next, add the butter, sour cream, cheese, bacon and chives.
Nutrition
Calories:
446
kcal
|
Carbohydrates:
41
g
|
Protein:
6
g
|
Fat:
30
g
|
Saturated Fat:
17
g
|
Polyunsaturated Fat:
1
g
|
Monounsaturated Fat:
8
g
|
Trans Fat:
1
g
|
Cholesterol:
80
mg
|
Sodium:
166
mg
|
Potassium:
965
mg
|
Fiber:
3
g
|
Sugar:
3
g
|
Vitamin A:
885
IU
|
Vitamin C:
13
mg
|
Calcium:
91
mg
|
Iron:
2
mg
Did you make this recipe? Tag me on Instagram @fancy_apron 🙂 or leave a comment below.
Shopping Traeger Grills and Other Kitchen Tools
The best part of this easy recipe is that you need almost nothing to make it. Just your Traeger Grill, wood pellets, some kitchen tongs to pull the hot potatoes off the grill, and dishes for serving.
Can other potatoes can I use for baked potatoes on my traeger?
Sweet potatoes! You can use white or red sweet potatoes for this recipe. They will cook faster though, so keep an eye on them.
What other toppings can I put on my baked potato?
Protein: BBQ pulled pork, diced chicken, chili
Dairy: cheddar cheese sauce, monterey jack cheese, swiss cheese, greek yogurt, cream cheese
Produce: steamed broccoli, caramelized onions, green onions,
What to serve these baked potatoes with...
This is the perfect side dish for all of the great recipes below. It's my idea of comfort food and better than anything you'll get from a restaurant. I am getting hungrier just thinking about the complete meal. I would also serve one of these main dishes and baked potatoes with a green salad, broccoli, or easy green beans for a well round dinner.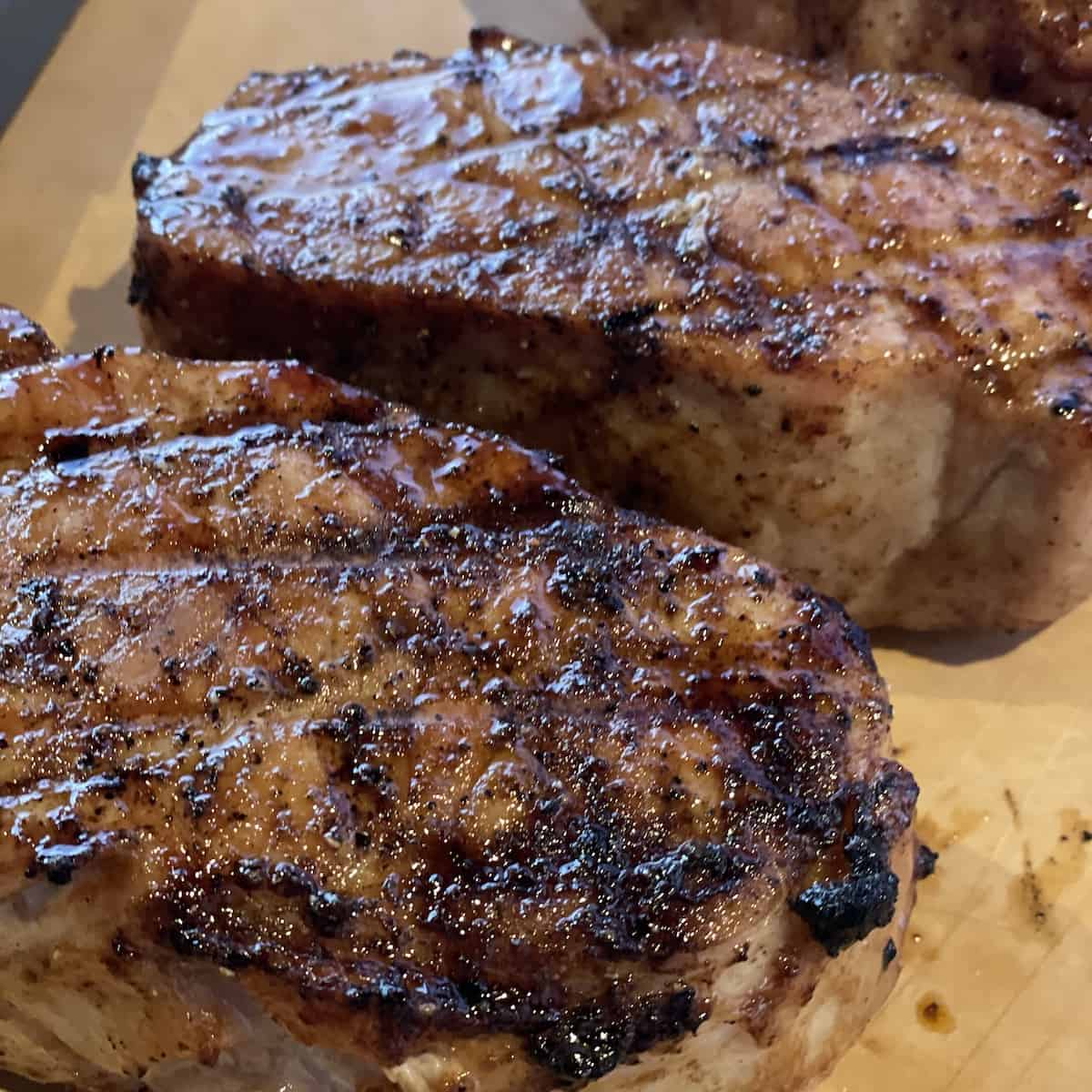 More Potato Recipes