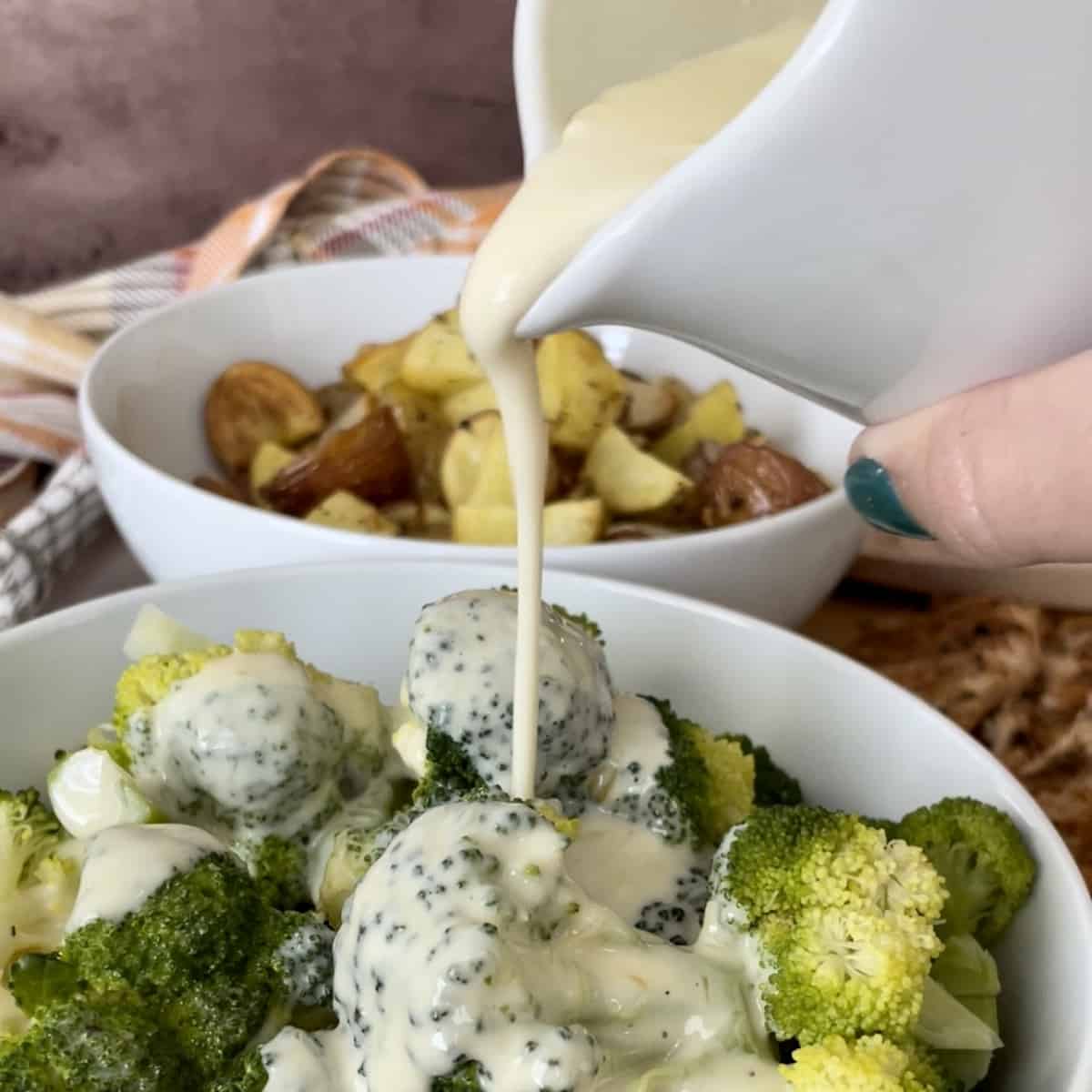 This flourless cheese sauce is creamy, delicious, and comes together in minutes. It is the perfect sauce for topping broccoli, roasted potatoes, or cooked pasta. I love this cheese sauce recipe for it's ease and versatility. If you want a quick sauce that will get your kids eating their veggies, this is the one you need.
This blog post contains affiliate links. As an Amazon Associate I may earn income from qualifying purchases. Thanks for the support.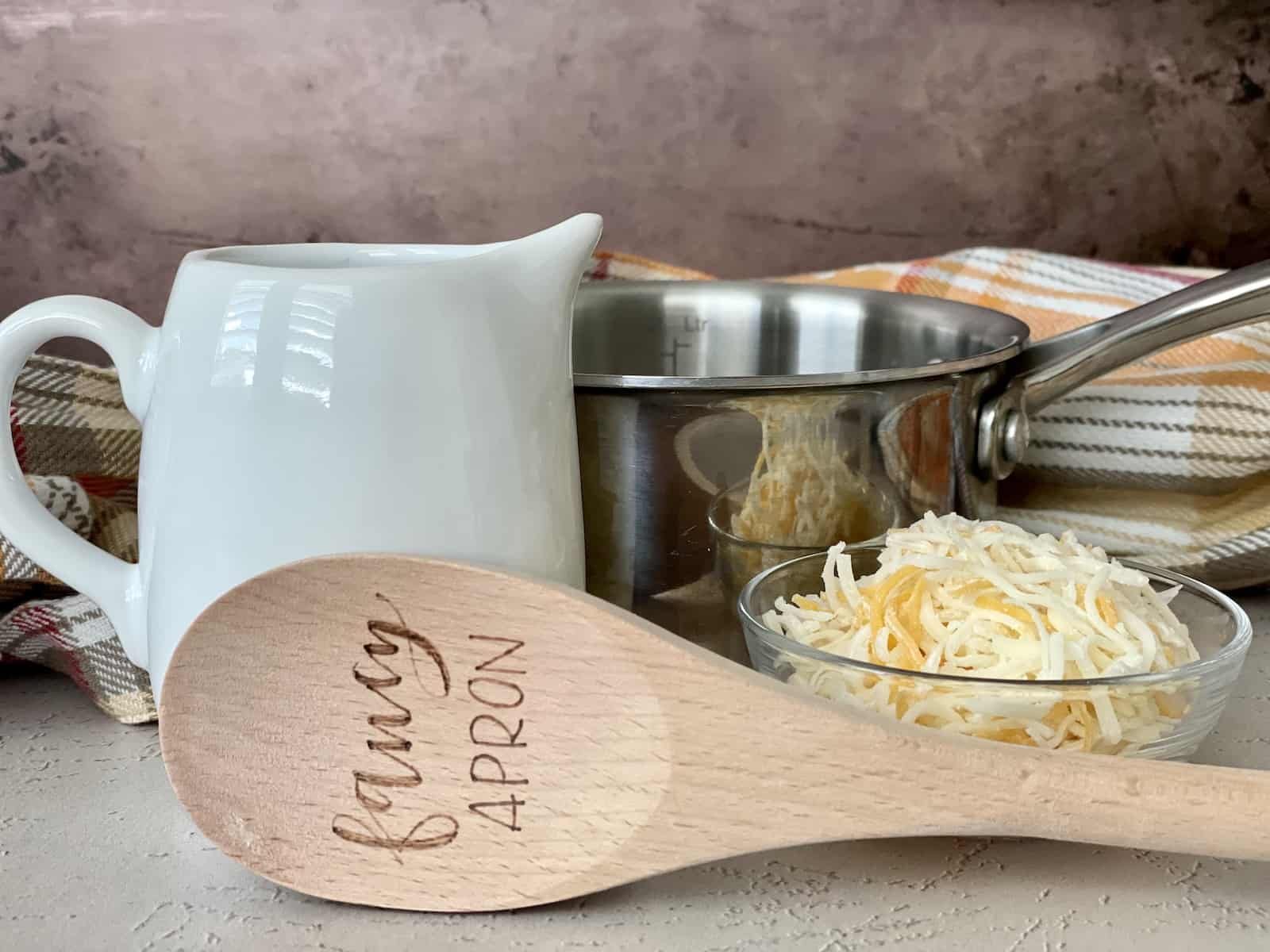 Homemade Cheese Sauce Ingredients
This super easy cheese sauce recipe includes a few simple ingredients: cream, shredded cheese, and a pinch of salt. The first time you make this, I recommend using a store bought shredded cheese blend. I always have the 4 Cheese Blend from Costco and that's what I use for the sauce most of the time.
Good melting cheese options include:
medium cheddar or sharp cheddar
american cheese
monterey jack
gouda
These cheeses have the right balance of fat and protein, so they yield a creamy consistency and melt easily. Nonfat or low-fat cheese will not work well in this recipe. The type of cheese I choose is based on how I am going to serve it. For a smooth sauce the fat content matters.
However, once you get down the routine of heating the cream and melting in cheese, you can make this so many different ways. Save the printable recipe card below, but have fun and make it with your favorite melting cheese.
The cooking process
The ease of this sauce comes down to two simple steps during the cooking process.
First, we need to heat the cream on medium heat until it barely starts to bubble. When that happens, we lower the heat to medium-low and stir in the cheese. You will continue to stir the cheese into the cream until you have a completely smooth sauce. That's it.
Pay close attention to when the bubbles begin to form around the edges and don't let the bottom if the pan burn. Once you mix in the cheese and it all comes together, you will have a very creamy texture that will continue to thicken as the sauce cools.
Using Cream Instead of Making Bechemel
Now, the most typical way to make a cheese sauce is to start with a béchamel. Bechemel is made by cooking butter with flour to create a roux. Then, hot whole milk is added and whisked with the roux until you have a thick and stable white sauce. I find this process too cumbersome and not full-proof. I had enough of that nonsense and started making my cheese sauce recipe with cream and shredded cheese because it tasted better and I could make it faster.
What you need to know!!! The temperature of the cream is the most important piece of this puzzle. Since we are not using flour to stabilize the sauce (making a béchamel), we just need to make sure that the cream does not break. When a sauce "breaks," that means the fat has separated from the liquid. This is caused by heating the sauce too high. Keep the heat under your sauce pot medium to medium-low and your sauce will be just fine.
Optional Ingredient Modifications
After you get the basic technique down, you can modify this so many ways to fit your needs. Check out my modifications and uses:
¾ cup cream with ¼ cup of freshly shredded parmesan cheese and ½ teaspoon of granulated garlic powder to drizzle over pasta cooked with spicy tomato sauce
for an easy white sauce combine ¾ cup of heavy cream with a ¼ cup of parmesan or pecorino romano, a pinch of nutmeg, and black pepper
for a turned up mac and cheese add in ½ teaspoon of mustard powder or dijon mustard
combine cream with ½ cup of cream cheese for more zip in your sauce
melt in an Italian cheese blend with provolone and pour over cheesesteaks
How I use this flourless cheese sauce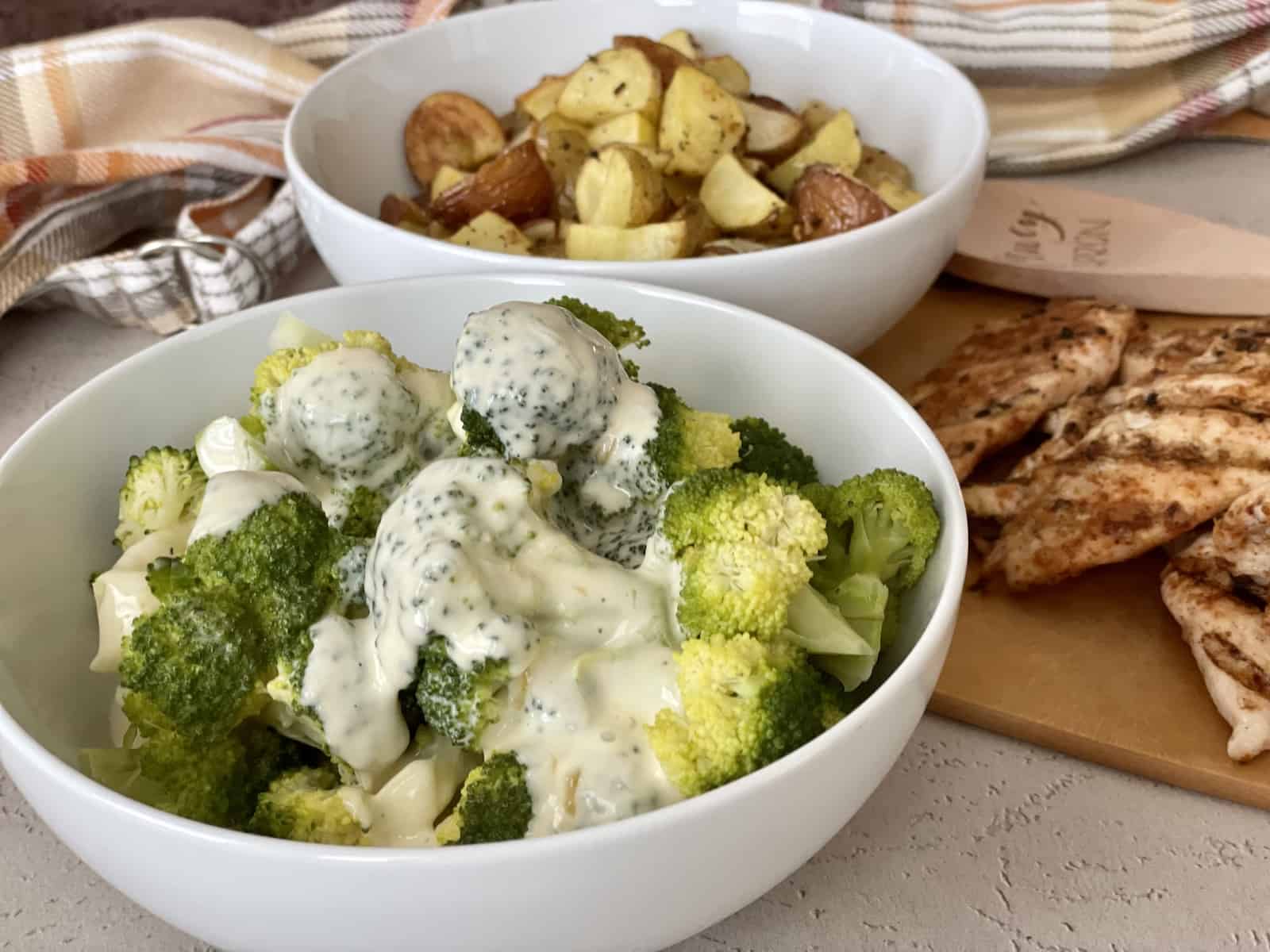 This creamy sauce can be used many ways and is often the special something that transforms a side dish. If you have a picky eater at your dinner table, this easy recipe might be the solution you are looking for to get them to eat.
I pour this sauce over:
broccoli
roasted potatoes: russets, yukon gold, fingerling, or white sweet potatoes
french fries
simple mac and cheese: small shells or macaroni are best
cauliflower
poured over cheesesteak sandwiches
dip for soft pretzels
Cheese Sauce Recipe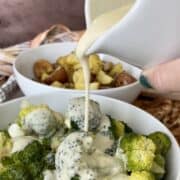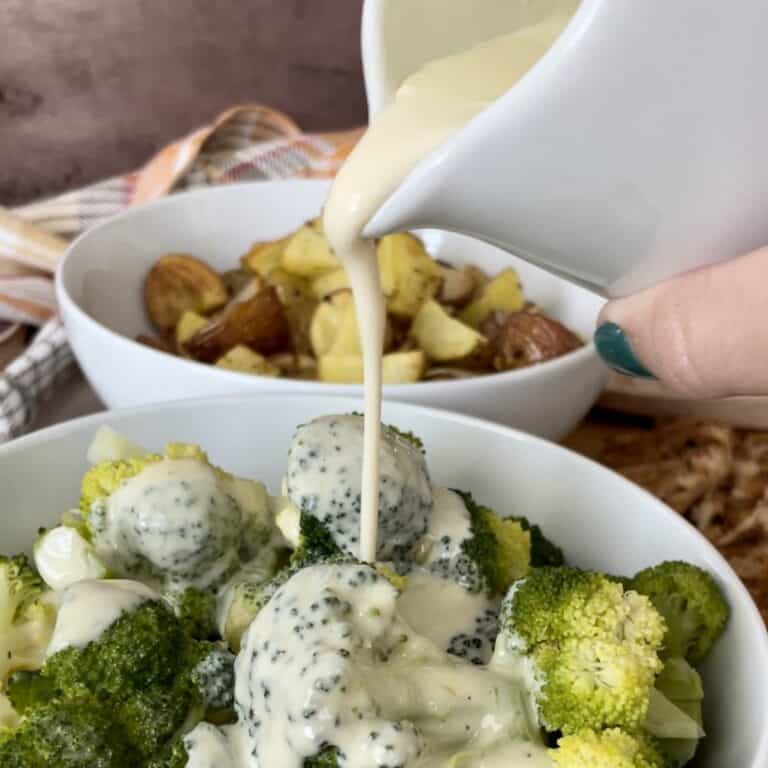 Print Recipe
Flourless Cheese Sauce
A super and creamy cheese sauce that tastes great every time and is a synch to make.
Equipment
1 small sauce pot

1 measuring cup

1 whisk or spatula
Ingredients
¾

cup

heavy cream

½

cup

shredded cheddar cheese

or cheese blend

pinch of salt and pepper to taste
Instructions
Add the heavy cream to a small pot and heat on medium low.

As soon as the cream starts to bubble, reduce the heat to low and add the shredded cheese. Using a whisk or spatula, stir the cheese into the cream until it has melted completely.

Turn the heat off and taste the cheese sauce checking for seasoning. Add a pinch of salt and pepper if desired.
Nutrition
Calories:
176
kcal
|
Carbohydrates:
2
g
|
Protein:
5
g
|
Fat:
17
g
|
Saturated Fat:
11
g
|
Polyunsaturated Fat:
1
g
|
Monounsaturated Fat:
4
g
|
Cholesterol:
53
mg
|
Sodium:
98
mg
|
Potassium:
52
mg
|
Sugar:
1
g
|
Vitamin A:
685
IU
|
Vitamin C:
0.3
mg
|
Calcium:
88
mg
|
Iron:
0.1
mg
Make Something Everyone Wants for Dinner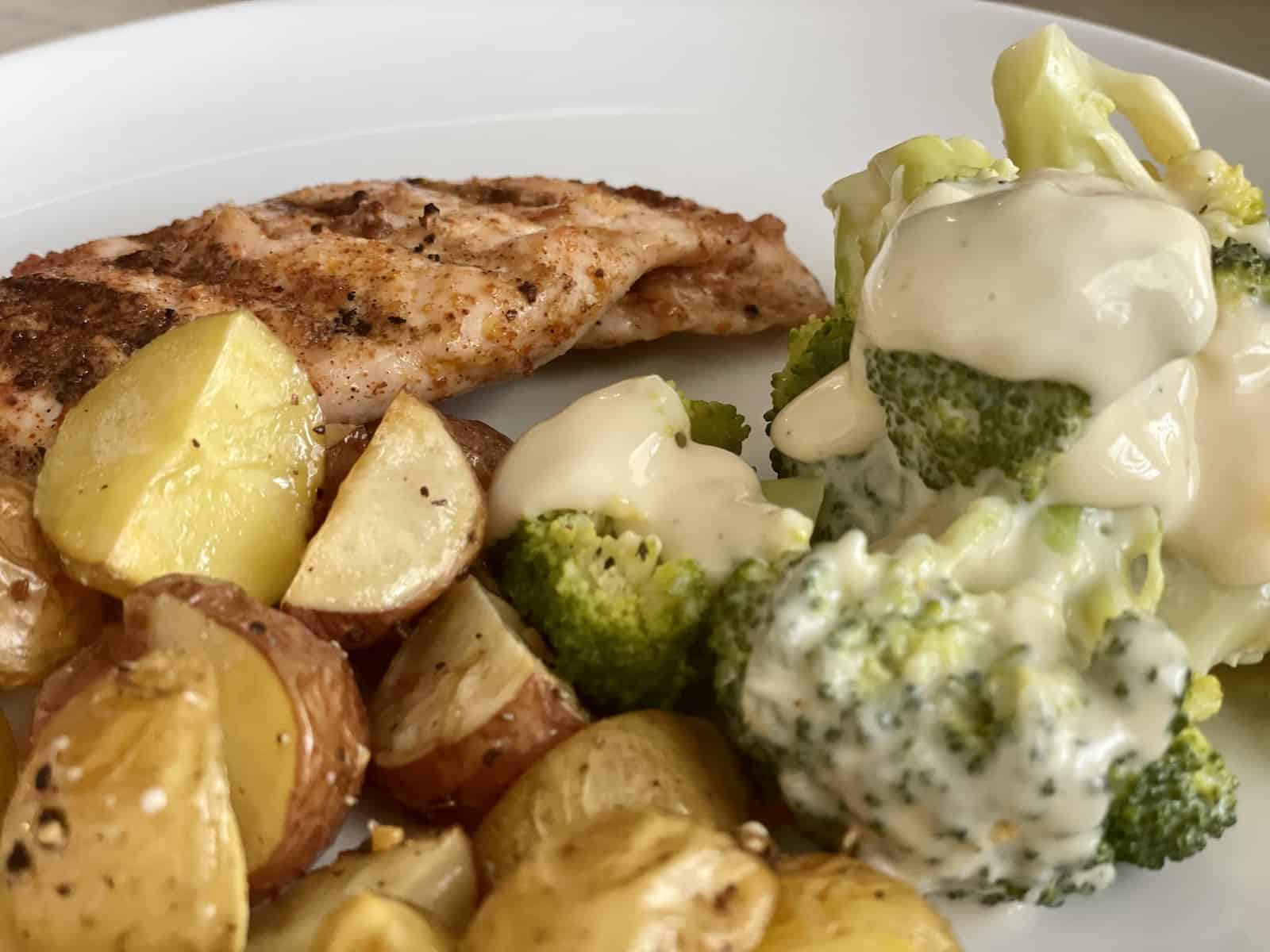 This great recipe is an easy way to get the whole family to the dinner table without complaints. It can be used on anything from an easy mac to getting your kids to actually eat their vegetables.
Although the primary reason I make this flourless cheese sauce is for its ease and to save time, it is also gluten free. I choose gluten free options as much as I possibly can just because I feel better.
Easy Weeknight Main Dishes