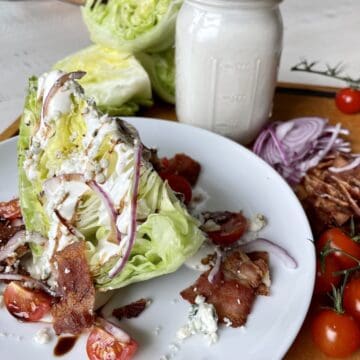 We are going to bring the steakhouse home and make my delicious copycat wedge salad recipe for dinner. The Outback wedge salad has all of my favorite ingredients for a classic wedge salad with one special ingredient that sets it apart from the rest. They add a balsamic vinegar reduction for an extra pop of flavor and brightness. So, let's go!
This blog post contains affiliate links. As an Amazon Associate I may earn income from qualifying purchases. Thanks for the support.
What Makes this Wedge so Amazing
What makes this copycat recipe so delicious is the homemade blue cheese dressing. I haven't bought blue dressing in the grocery store for years because its just too easy to make at home and it tastes way better. The dressing along with more blue cheese crumbles and salty bacon on crisp iceberg wedges in the ultimate salad in my book.
Homemade Blue Cheese Dressing Ingredients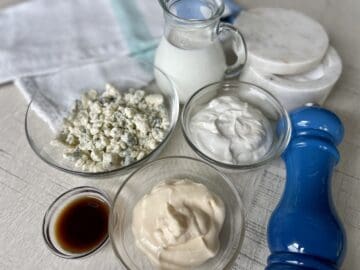 Let's make the dressing. We only need a few simple ingredients and they are a synch to prepare.
For the dressing, we need:
crumbled blue cheese
mayonnaise
sour cream- essential for a creamy blue cheese dressing
Worcestershire sauce (my secret ingredient to making this my favorite blue cheese dressing) this adds a special flavor and cuts through the richness
heavy cream
salt and black pepper
How to make the dressing
This blue cheese dressing is such an easy recipe to whip up in a mini food processor or blender. When I make a small batch, I combine the blue cheese crumbles, mayonnaise, sour cream, Worcestershire sauce, heavy cream, salt and pepper in the bowl of my food processor. Blend the ingredients until there are no large blue cheese crumbles left. Transfer the dressing to an airtight container and refrigerate for at least 30 minutes. This gives the blue cheese a chance to bloom in the cream and gives you a delicious tangy dressing. 
The dressing will also be a little thinner than the final product right after it comes out of the blender. While the dressing chills in the refrigerator, it will thicken.
Copycat Wedge Salad Ingredients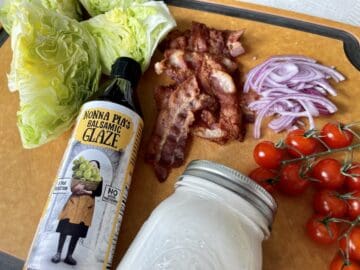 To assemble the salad:
small head of iceberg lettuce
6 slices bacon- cooked over medium heat until perfectly crispy and diced into smaller pieces
1 cup grape tomatoes or cherry tomatoes- cut in half lengthwise
a small red onion- very thinly sliced
balsamic reduction- store-bought is easiest but you can also make your own
more blue cheese crumbles- for topping
Putting together your Outback Steakhouse Wedge Salad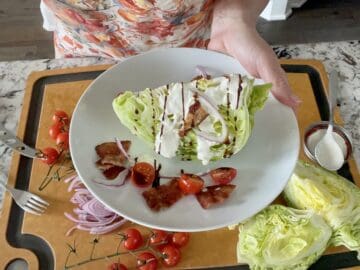 First get ready with individual serving dishes. The presentation is pretty special when you plate up each wedge salad with all of its toppings. Start by placing an iceberg lettuce wedge in the middle of the plate. Spoon a generous amount of blue cheese dressing over the top and help it get down in the crevices of the lettuce.
Nest, add the crispy bacon, juicy tomatoes, sliced red onion, more blue cheese crumbles, and finish with a drizzle of balsamic glaze. I like my salad with a little extra cracked black pepper on top. Voila! You have made a beautiful blue cheese wedge salad at home.
If you are serving a crowd, I do recommend serving these as a salad bar. Prepare the head of lettuce and set it out on a large plate. Offer all of the toppings and let your guests make up their own. It's pretty simple, so it shouldn't take long.
Helpful Supplies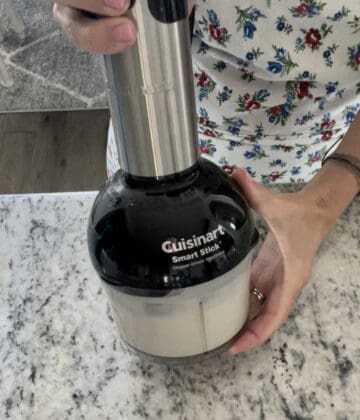 There are only a couple things you need to whip up the blue cheese dressing and wedge salad:
Blue Cheese Wedge Salad Recipe Card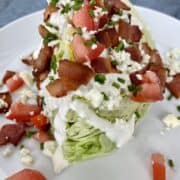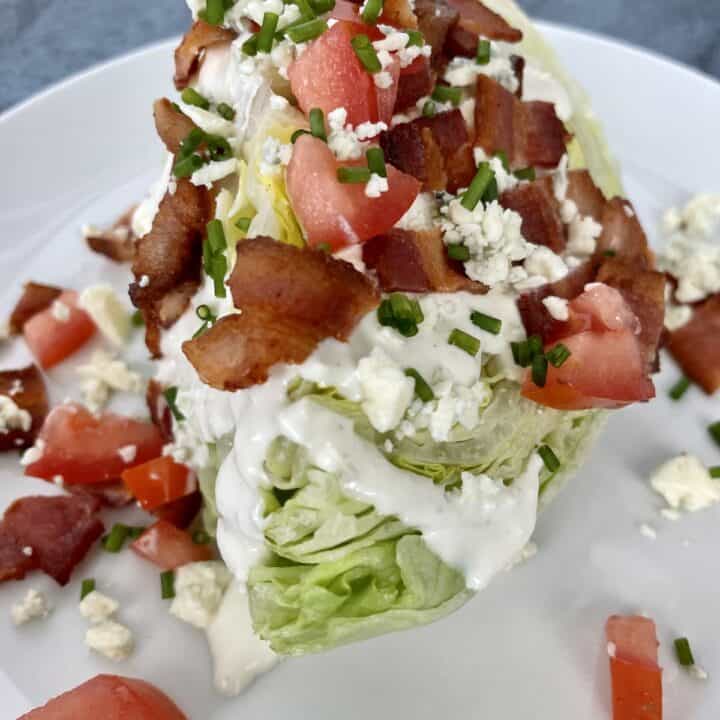 Print Recipe
Outback Steakhouse Wedge Salad
Make a steakhouse style wedge salad with a creamy blue cheese dressing that packs a punch.
Equipment
1 mini food processor

measuring cups

food storage glass jar
Ingredients
Homemade Blue Cheese Dressing
½

cup

heavy cream

¼

cup

mayo

¼

cup

sour cream

½

cup

blue cheese crumbles

½

teaspoon

worcestershire sauce

salt and pepper
Wedge Salad
1

head iceberg lettuce

8

slices

bacon

1

cup

cherry tomato

½

cup

red onion

very thinly sliced

1

cup

crumbled blue cheese

2

tablespoon

balsamic glaze
Instructions
Make the Dressing
Combine the heavy cream, sour cream, mayonnaise, blue cheese crumbles, Worcestershire sauce, salt and pepper in a small food processor and blend.

Pour the dressing in a food storage jar and refrigerate for 30 minutes to 2 hours.
Wedge Salad Assembly
Prepare the iceberg wedges by cutting the head of lettuce into 6 large wedges. Rinse the lettuce and place on paper towels cut side down to drain the water.

Cook 8 slices of bacon until they are crispy. Dice the cooked bacon into bite sized pieces and set aside.

Cut the cherry tomatoes in half and thinly slice the red onion.

For salad assembly, set each section of lettuce on a plate. Top each wedge with a generous spoonful of blue cheese dressing. Top each wedge with diced bacon, cherry tomatoes, sliced red onion, a drizzle of balsamic glaze, more blue cheese crumbles and extra cracked black pepper.
Notes
1. Letting the dressing sit in the fridge for at least two hours, or overnight if possible, allows the blue cheese to diffuse into the dressing. 

2. A slightly thinner dressing vs an ultra thick and heavy dressing will get down into the layers of iceberg more easily. These are the things that matter.

3. Don't go too heavy on the salt. Blue cheese has a salty bite to it, so it won't need much. But freshly cracked black pepper is a win, so crack away!

Nutrition
Calories:
267
kcal
|
Carbohydrates:
9
g
|
Protein:
9
g
|
Fat:
22
g
|
Saturated Fat:
10
g
|
Polyunsaturated Fat:
5
g
|
Monounsaturated Fat:
6
g
|
Trans Fat:
0.02
g
|
Cholesterol:
43
mg
|
Sodium:
481
mg
|
Potassium:
283
mg
|
Fiber:
1
g
|
Sugar:
5
g
|
Vitamin A:
860
IU
|
Vitamin C:
4
mg
|
Calcium:
230
mg
|
Iron:
1
mg
Serving your Wedge Salad
Since this is one of my favorite menu items at any steakhouse, let's really bring the steakhouse home. I love serving a bright side salad alongside on a decadent main dish like steak and mashed potatoes. You can also prepare all of the ingredients ahead of time and keep them chilling in the fridge.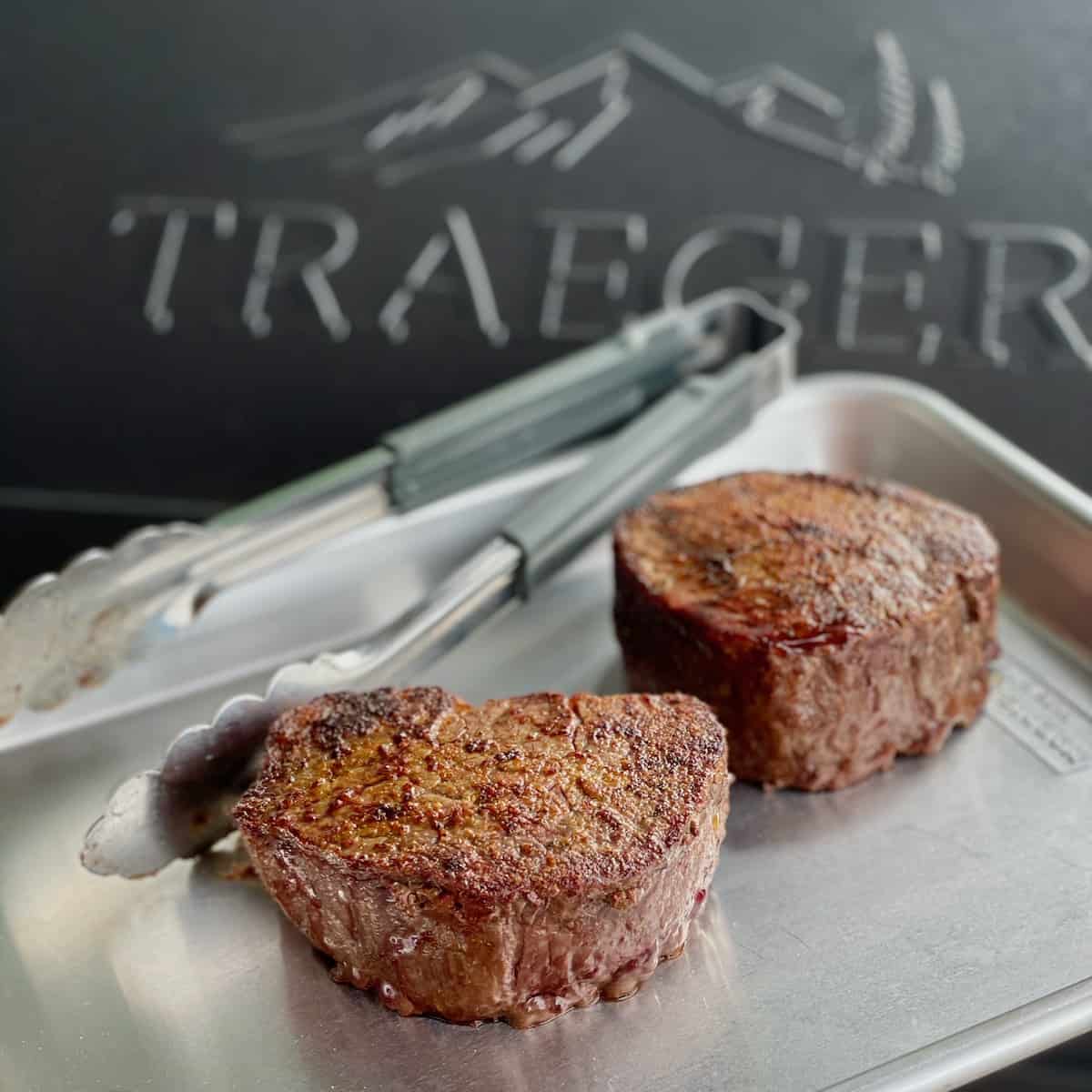 Why make blue cheese dressing at home
Now, I used to find restaurant salad to be so much better than salad at home and I think the key is the dressing. That motivated me to make just about all of my own salad dressing for two reasons: they taste better home-made vs bottled and it takes us forever to finish a bottle of salad dressing.
For us, this was especially true of creamy dressings such as caesar or blue cheese. I would have a craving for a salad with blue cheese and then the bottle would sit on a shelf in the door, taking up space until I wanted another one a month later, only to find it expired before I got to it. That sucks.
Lastly, I like making my own blue cheese dressing because I can make it in exactly the number of servings I need. This recipe is easy to adjust if you're making salad for 2 or 12. If you're having friends over for dinner, its fun to set up a little salad bar with build-your-own wedges.
More Great Recipes for Homemade Blue Cheese Dressing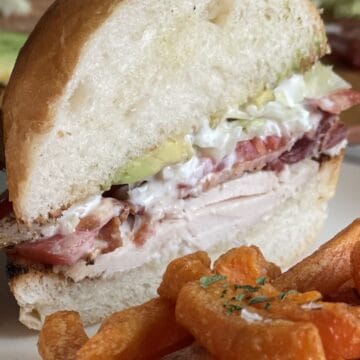 My chicken Cobb sandwich is another favorite copycat recipe. Once upon a time, BJ's restaurant served a sandwich that was a mash up of a Cobb salad and a sandwich. If you have any leftover dressing, check out this recipe for a fun lunch or quick and easy dinner.