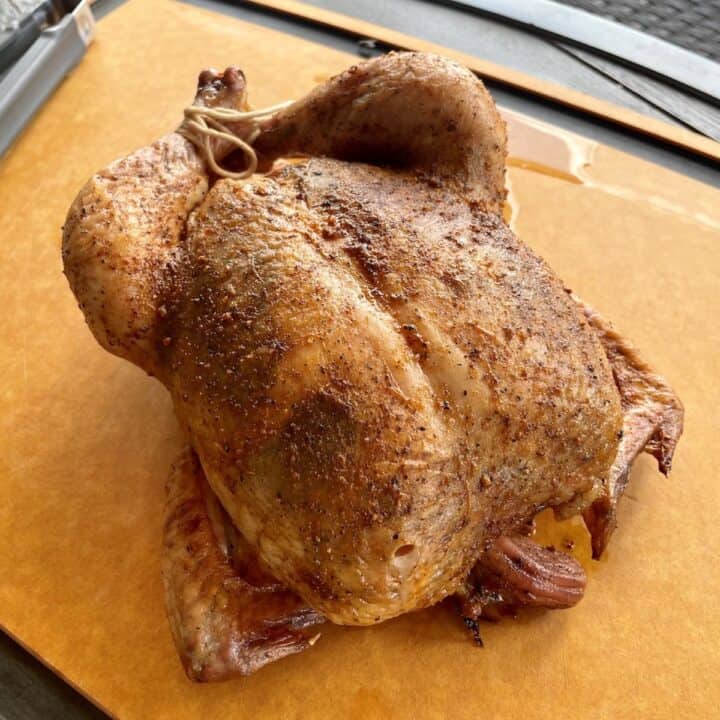 If you need to know how long to smoke chicken at 250˚ degrees, I have cook times and flavor ideas for you. This is a fun way to mix up the usual chicken routine whether you are making skinless chicken breasts or an entire chicken. Continue reading for each cook time and a great way to get that roast chicken flavor on the dinner table.
This blog post contains affiliate links. As an Amazon Associate I may earn income from qualifying purchases. Thanks for the support.
Cooking chicken breasts at 250˚F
How will smoked chicken on the Traeger turn out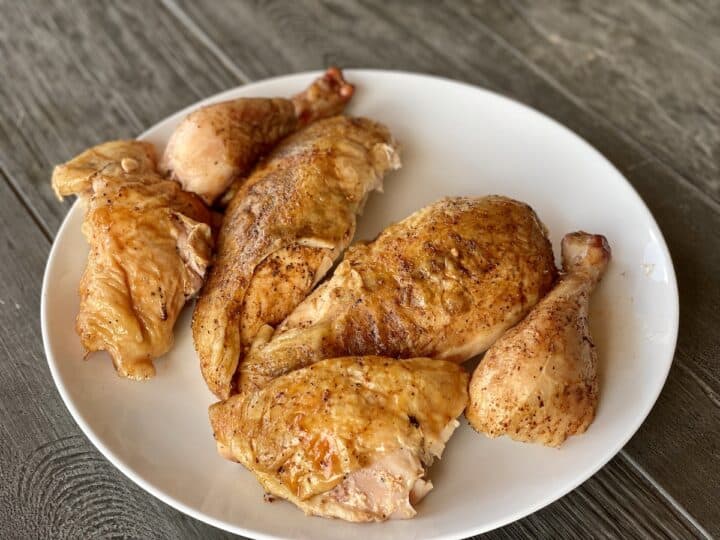 After smoking a chicken breast for an hour, you will see a mild smoke ring around the edges. However, you will definitely have a fantastic smoky flavor for the smoking process. They should still have quite a bit of moisture inside and be very easy to slice.
For juicy chicken breasts, make sure to pull the chicken right at 165 degrees. There will be some carryover cooking and you don't want it to dry out completely.
How to prepare a chicken breast for the smoker
The prep for this recipe couldn't be any easier! Since chicken breast has very little fat, you need to help it out with a drizzle of vegetable oil or olive oil. After that, generously season the breasts on all sides. Don't hold back. Chicken is like a blank slate and wants the flavor!
How long to smoke chicken breast @ 250˚F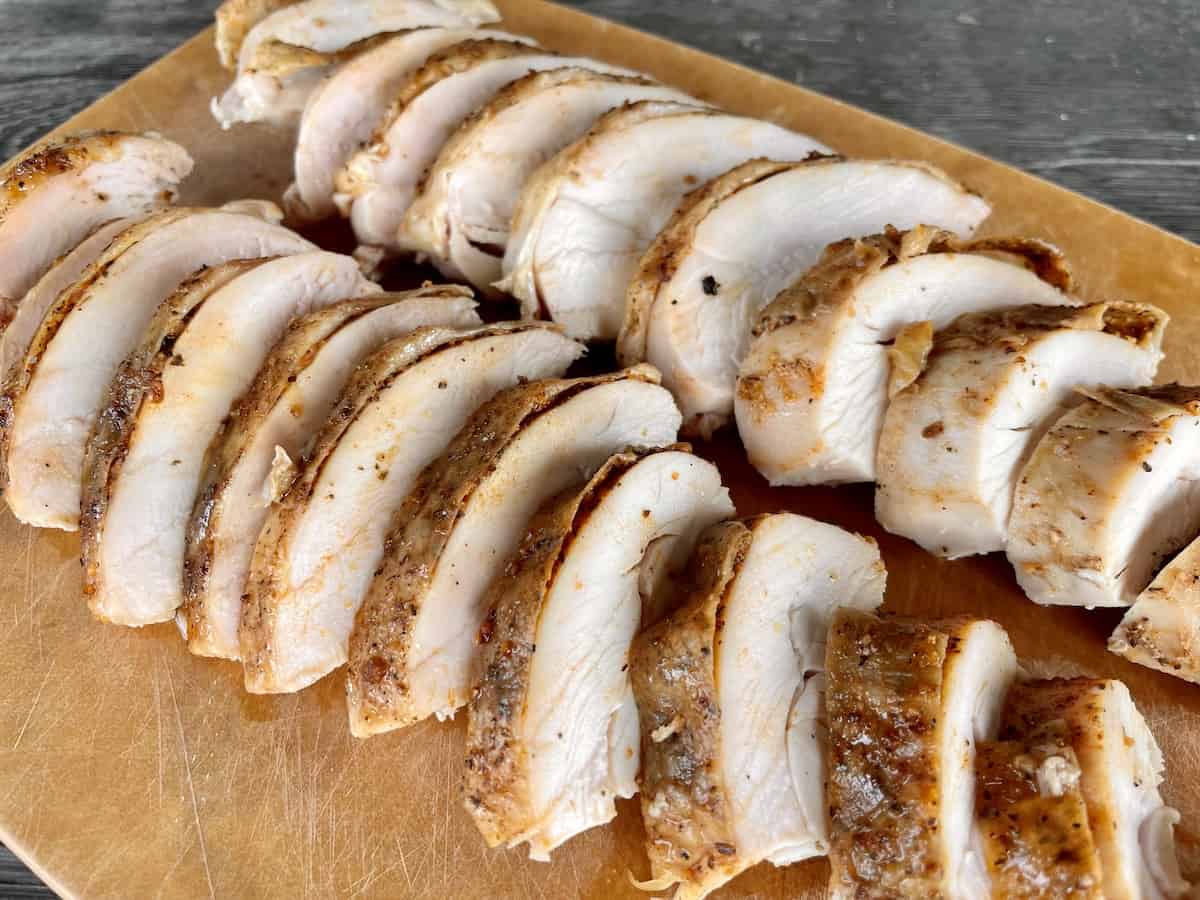 Every time we are cooking chicken, the most important thing is getting that internal temperature of the breast meat up to 165˚ degrees Fahrenheit. It doesn't matter if we are cooking at 200 degrees or over high heat. For food safety assurance, we have to get the safe internal temperature right to kill off all of the bacteria.
I have found that when smoking a large boneless breast, it takes about 75-90 minutes to cook all of the way through.
Smoking a Whole Chicken at 250˚ Degrees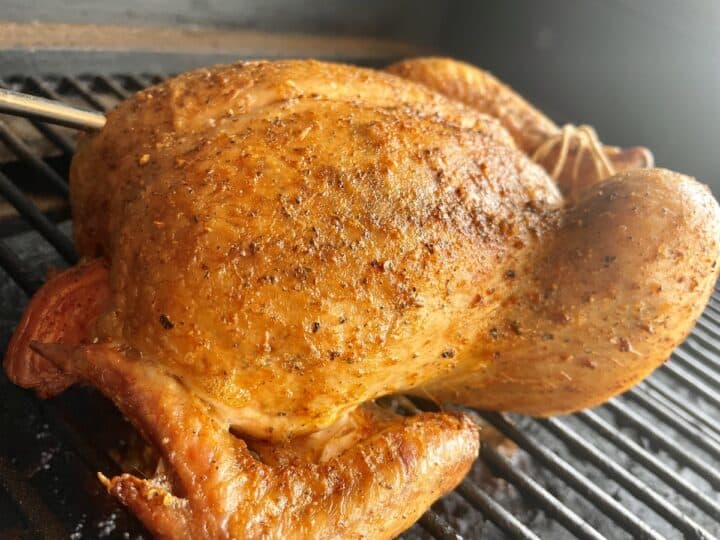 For a 4 pound chicken, it should take approximately 3 hours. Depending on the size of the chicken you may need to add or reduce the total cook time. Rough math says it should take approximately 45 minutes per pound of chicken.
A good rule of thumb is to start checking the internal temperature of the chicken at the 2 ½ hour mark. You want the chicken legs and chicken thighs to reach 180˚F and the white meat to hit 165˚F on a digital thermometer.
As a side note, if you want the chicken skin to get crispy, you will need to turn the smoker up to a high temperature. Around 375˚-400˚ for 10-15 minutes is the only way to dry out that skin. Be sure to brush the skin with a little extra butter or olive oil to get some extra flavor and help browning.
How long to cook chicken thighs at 250˚F
My basic recipe for slow cooked chicken thighs starts with a mesquite rub. I like the combination of garlic powder, smoky paprika, brown sugar, onion powder, cumin, dry mustard, black pepper and kosher salt.
Once the smoker reaches 250˚F, we can place chicken directly on the grates and cook for 2 hours or until the internal temperature reaches 185˚F. Because we are cooking this dark meat at a low temperature, they can smoke for up to 3 hours and you will still have incredibly juicy results. Make sure to flip the chicken thighs halfway through the cook.
If you are cooking bone-in chicken thighs, add a half hour to the total cook time.
Reaching the Right Temperature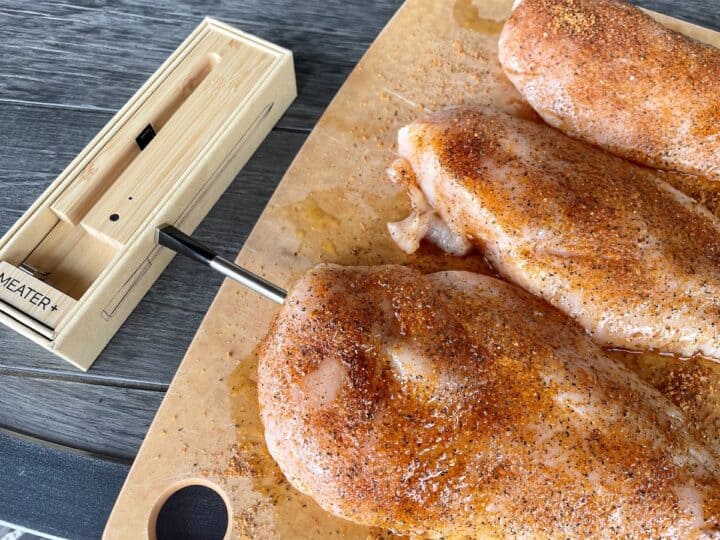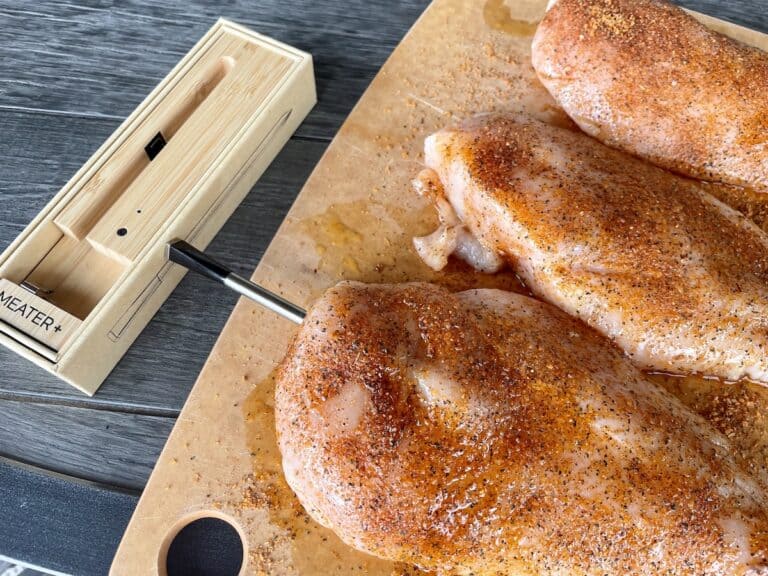 I don't like guessing and constantly checking where we are in the cooking process, so I use a meat thermometer. The best way is to use a Meater+ which communicates with you directly via your phone. You will get notifications and get to follow along without any guessing.
The second best thermometer option is to use the probe that comes with your smoker. Most are equipped with them these days. Traeger Grills has one that comes with most models and also communicates with you through the WiFi feature and app on your phone.
The last option, but still entirely useful is a instant-read thermometer. By far the least expensive option and still gets you to the desired internal temperature. Instant read thermometers are a good tool to have on hand anyway.
Recommend rubs and seasoning for a flavorful chicken
When it comes to any chicken, I love the Traeger Chicken Rub with Citrus and Black Pepper. It has bright and delicious flavors with a great balance of salt and sweetness. My next favorite is the Traeger Rub when I am really going for something smoky and more BBQ. It doesn't have much sweetness, but does have great all around flavor. Lastly, if I am mixing up my herby mix- I love Italian seasoning with extra granulated garlic and black pepper.
Since this is more about the cook time, I suggest you use any seasoned salt or dry rub that you like. Also, consider how you will be serving the chicken. I love to meal prep and make a few breasts early in the week so I can use them for lunches in things like chicken cobb sandwiches, chicken tacos, or a big salad. As long as you have kosher salt and fresh black pepper, a delicious chicken meal is within reach.
Steps for Smoking a Chicken Low and Slow on the Traeger Grill
Preheat your smoker to 250˚ Degrees Fahrenheit
Take the chicken out of the refrigerator and let it come to room temperature. Pat the chicken dry with paper towels.
Drizzle the chicken with olive oil.
Generously season the chicken with your dry rub.
Insert wireless thermometer or Traeger Probe into the thickest part of the breast meat or thickest part of the thigh if cooking a whole chicken.
Once the smoker has reached 250˚F and heated for 15 minutes, place the chicken breasts directly on the grill grates and close the lid.
If cooking chicken breasts- flip them after 40 minutes and cook for an additional 40 minutes or until the internal temperature reaches 165˚F
Remove the chicken from the grill and cover with aluminum foil. For best results, the chicken rest for 20-25 minutes before slicing.
Serve with your favorite sauces and sides.
Serving a Smoked Chicken Breast
There are a variety of ways you can serve this up. After the chicken has reached the desired temperature and it has rested, you can slice it and . My favorite way is to slice it diagonally on a bias to make sure I get a really tender piece of chicken.
Lean in to that smoky flavor with a Jack Daniel's sauce or other BBQ sauce that you love. For sides, you can really go any direction. Here are some great sides that are perfect for this easy smoked chicken breast recipe.
Roasted Potatoes
Rice Pilaf
Big salad
Smoked Mac n Cheese with Gouda and white cheddar
Corn on the cob
Modifications to this technique
If you want more smoke flavor, you can cook at a lower temperature and increase the cook time. Use your meat thermometer and pull it at 165˚. If you want that smoky flavor but are a little shorter on time, cook at a higher temperature to reduce the cooking time.
You can also dry brine or wet brine your chicken. This will lock in moisture and get salt well below the surface of the meat. This will also help your chicken cook in less time. Controlling the water content of the chicken speeds up the cooking time, so make sure to pay attention to your digital meat thermometer.
Can I cook chicken in the oven at 250˚
You can definitely cook chicken in your oven at 250˚F as well. If you want to keep the cook inside instead of taking it out to the smoker, you can still follow all of these cook times. I like to use a baking sheet lined with a wire rack so the air is able to circulate the chicken. This also means the bottom won't burn on the sheet pan.
Smoked Chicken Recipe Card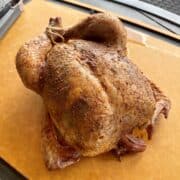 Print Recipe
How Long to Cook Chicken at 250˚F
Cook times for chicken breast, chicken thighs, and whole chickens cooked at 250˚F
Equipment
1 meat thermometer

1 Pellet Smoker
Ingredients
Chicken Breast
4

chicken breasts

1

tablespoon

olive oil

¼

cup

chicken rub

Traeger brand or other preferred chicken rub
Chicken Thighs
8

boneless skinless chicken thighs

½

cup

BBQ rub
Whole Chicken
4

pound

whole chicken

¼

cup

olive oil

or butter

⅓

cup

chicken rub
Instructions
Preheat your pellet smoker to 250˚ and allow to heat for 15 minutes with the lid closed.
Chicken Breasts
Prepare chicken breasts by drizzling with olive oil and seasoning all sides with your favorite chicken rub. Place the chicken breasts directly on the grill grates and cook with the lid closed for 90 minutes. Flip the chicken halfway through the cooking process.

Remove the chicken from the grill once it has reached an internal temperature of 165˚F. Allow the chicken breasts to rest for 10-15 minutes before slicing.
Chicken Thighs
Prepare the chicken thighs by generously seasoning with favorite mesquite flavored bbq rub. Place the chicken thighs directly on the grill grates and cook with the lid closed for 2 hours. Flip the chicken halfway through the cooking process.

Remove the chicken thighs from the smoker when they have reached an internal temperature of 185˚F.
Whole Chicken
Prepare the chicken by generously seasoning with desired rub. Apply the rub to the outside and underneath the skin. Tie the legs together and tuck the wings behind the back. Lightly drizzle the outside of the chicken with olive oil.

Place the whole chicken directly on the grill grates and cook with the lid closed for 3 hours or 45 minutes per pound.

Once the chicken breast has reached an internal temperature of 165˚F you can remove the chicken to a large cutting board. Cover the chicken with foil and allow to rest for 20-30 minutes before cutting.
Nutrition
Calories:
180
kcal
|
Carbohydrates:
2
g
|
Protein:
28
g
|
Fat:
7
g
More Chicken Recipes on the Traeger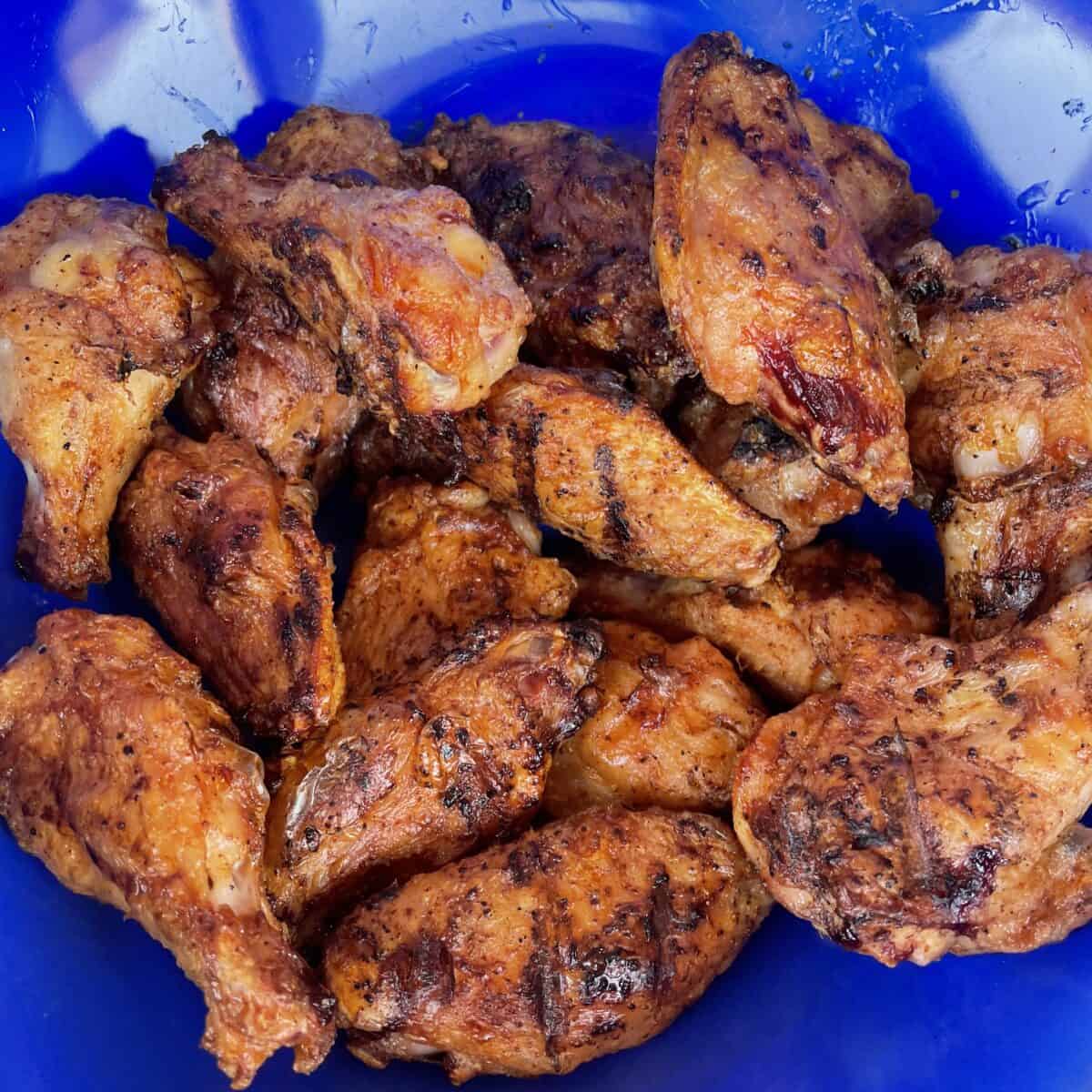 Tequila Lime chicken wings are absolute favorite off the Traeger. We get a nice crispy skin and perfectly cooked inside. For a nice Sunday dinner and super easy recipe, make my smoked whole chicken that's fully loaded with juicy meat and great flavor.
If you love chicken breast recipes, check out this smoked chicken breast recipe.