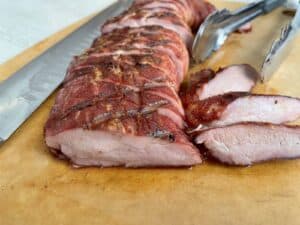 This blog post contains affiliate links. As an Amazon Associate I may earn income from qualifying purchases. Thanks for the support.
Welcome to the best side dishes for pork tenderloin. Let's go through everything from easy green beans to starchy baked potatoes. We are look at lots of options for a great pork tenderloin weeknight dinner or getting fancy for special occasions.
Great Reasons to Make Pork Tenderloin a Dinner
I love the affordability and quick cook time for a pork tenderloin. If you don't already have a great pork tenderloin recipe, check out mine. Then check out some of my favorite side dishes to serve alongside it. This versatile cut of meat can be easily transformed with a great side dish. Lets dig in to everything from roasted potatoes and broccoli to easy weeknight fried rice.
Easy and Delicious Potato Sides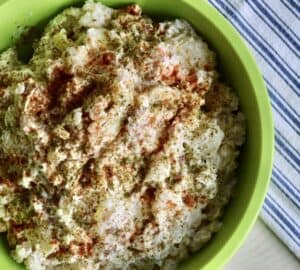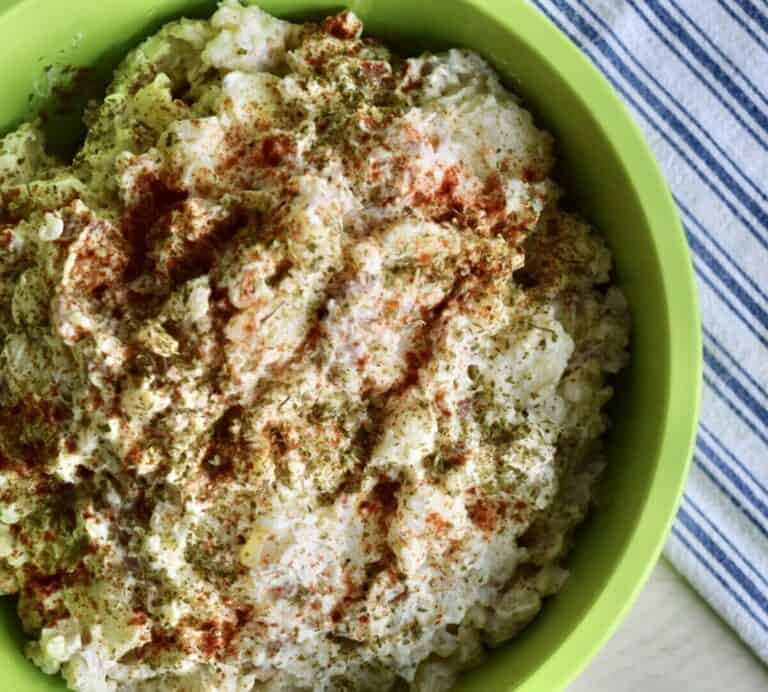 It's so important to have a wide variety of side dishes in your pocket. First and foremost, I live for starchy potato side dishes. Potato sides are the best sides 🙂
For potato side dishes, we mostly need sheet pans. If you are in need of new ones, add these sheet pans to your next shopping cart.
Sweet Potato Fries with Paprika Garlic Aioli: sweet potatoes are loaded with flavor and vitamins making it a great meal to feed your family. I love all french fries, but it's nice to mix up the routine every once in awhile with these beauties.
Traeger Roasted Potatoes with Chipotle Mayo: for an all-in-one meal, make these on the Traeger. Just mix up the zesty chipotle mayo and use a bbq rub on the tenderloin for a perfect combination. Consider the Mexican Street Corn recipe below to go with it.
Hassleback Poatatoes: If you have potatoes on hand, you can make this easy side dish. No grocery store needed. It's just potatoes not quite sliced all the way through and drizzled with olive oil or butter and spices. There are so many optional toppings for this one.
Roasted Fingerling Potatoes: These cuties are cut lengthwise and roasted with garlic and herbs. You get a crunch inside and buttery inside. Its the perfect accompaniment for an herby main course like herb crusted pork tenderloin.
Rice and Pasta Sides for Pork Tenderloin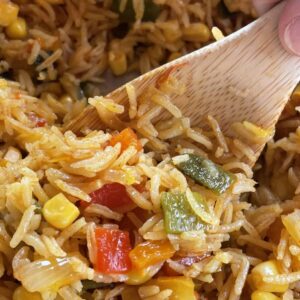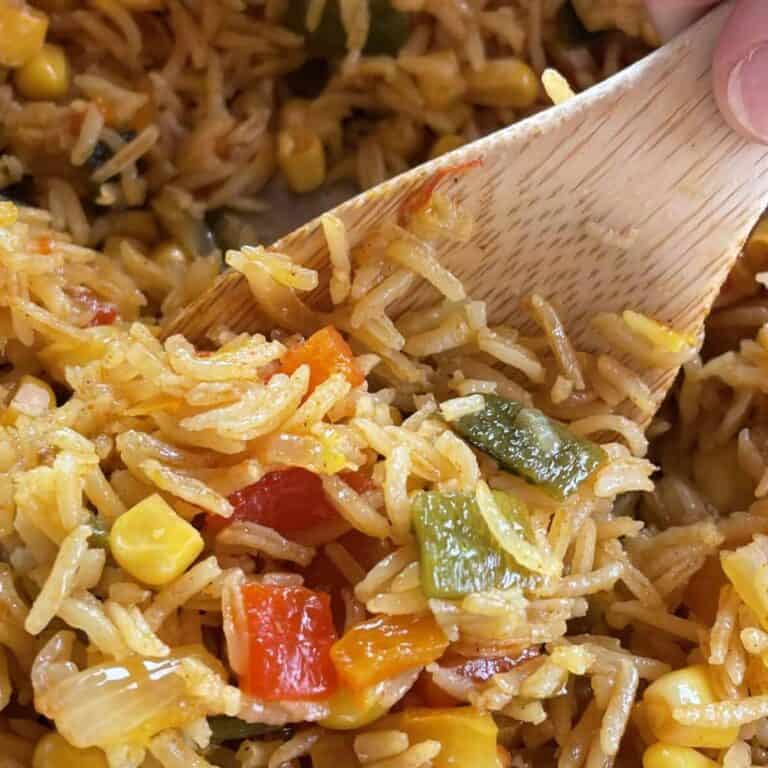 For the perfect side dish, I look for something simple, but also a delicious side dish. Recipes with rice and pasta are a great way to get my kids eating dinner without complaining. Pork tenderloin is very tender and easy for their little teeth. I like making dinner a home run with an easy side dish for them also.
On another note, if you don't already have an enameled cast iron pot, consider getting one. For rice and pasta side dishes, I like the nonstick surface of enameled cast iron with the heavy weight to really maintain consistent heat.
Parmasen Orzo: This simple side dish comes together in minutes and is completely loaded with flavor from parmesan cheese and fresh herbs.
Mac and Cheese: Stovetop macaroni and cheese is glistening with cheddar cheese and cream cheese (that's a lot of cheesiness). Your family will go bananas for this one!
Smoked Macaroni Salad: This macaroni is boiled and then smoked giving it a special and unique flavor. Fold in some veggies and you have a simple recipe made on the Traeger.
Fried Brown Rice: When I'm craving a teriyaki pork loin, I like to pair it up with a one pot veggie and starchy side like fried brown rice. I can go through the produce bin in my fridge and use any veggies available for fried rice.
Mushroom Rice Pilaf: Not your average rice side dish. We are going to fold together meaty mushrooms cooked with a dry sherry, garlic, shallots, and herbs. It's such a fancy side dish that you can serve it with a simple pork roast and call it a day.
Vegetable Sides and Salads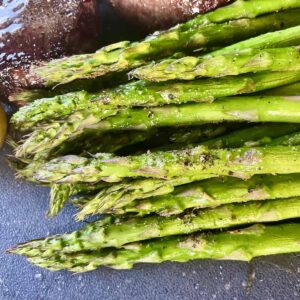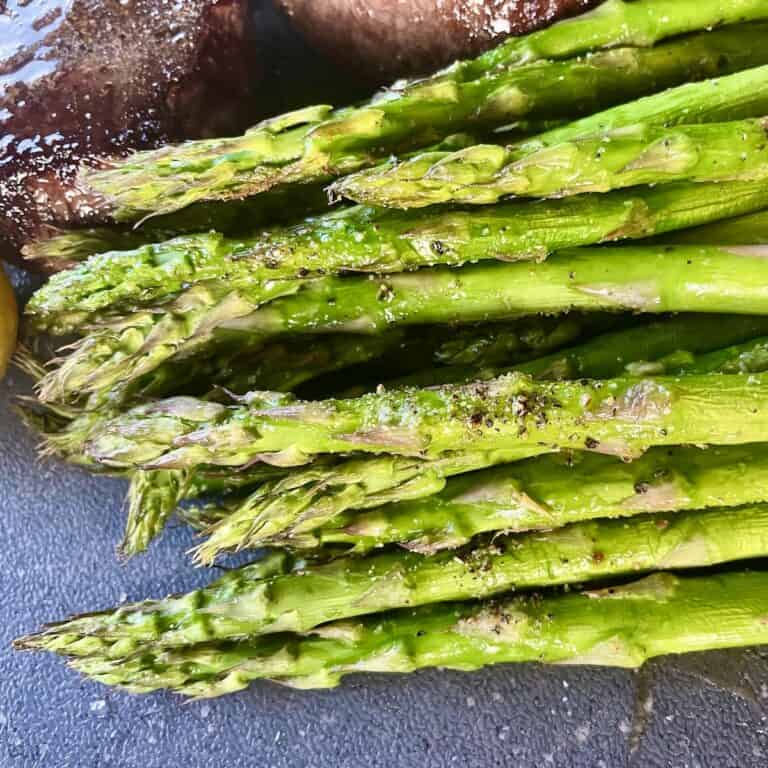 Let me first offer my favorite kitchen for vegetables. I love my grill topper for veggies. I get the great flavor from grilling veggies at high heat, but don't lose any to the grill grates. My other favorite item is a cast iron skillet for veggies like green beans or brussel sprouts because the heavy cast iron builds caramelized edges easily.
Spinach Salad with Poppyseed Dressing: Up next is this zippy salad. The dressing is made of balsamic vinegar and dijon mustard with plays up nicely with our meat. You may want to serve some extra dressing on the side for more dipping.
Fennel and Avocado Salad: Surprise your dinner guests with fancy but low impact side dish. Fennel is underused if you ask me. It's an explosion of vegetables that really dresses up a pork dinner.
Roasted Brussels Sprouts: Another great option for an easy veggie is sheet pan roasted brussels sprouts. They have tasty crispy edges and caramelized flavor with very little effort.
Blistered Green Beans: It's the caramelized edges that do it for me with this one. Grab your cast iron skillet so you can easily brown the edges of sweet french green beans.
Classic Coleslaw: A tasty coleslaw is a perfect make-ahead slaw that brings bright flavor to the table. This recipe has a hint of sweetness from maple syrup that pairs really well with the subtle sweetness from the rub on our pork tenderloin.
Mexican Style Corn off the Cob: Your kids are gonna bananas for Mexican style corn. Kids have a tough time biting through corn on the cob, so I like to serve it this way. Tasty cojita cheese and spices dresses sweet corn right up.
5 Fantastic Sauces and Toppings
Homemade AppleSauce: Pork and apple sauce is a classic combination going way back. You can whip up a batch with some sweet apples, serve it with a pork tenderloin, and have plenty leftover.
Pineapple Salsa: Sweet meets salty with a bright pineapple salsa. On a hot day, you need a fresh topping to balance out the heat of the day. An easy grilled pork tenderloin pairs so nicely with fresh pineapple, red onion, and herbs.
Honey Mustard Sauce: Sweet and spicy makes a great addition to pork. Serve this sauce alongside your pork and fingerling potatoes listed above for the perfect weeknight dinner.
More Easy Pork Recipes
These Bourbon Glazed Pork Chops are my most favorite and delicious pork chops ever. They are brined to infuse flavor and glazed with an incredible bourbon and brown sugar sauce.
Cooking on Pork Tenderloin on the Traeger is fast and super easy. Once you get the timing and temp down, you can mix it up with plenty of flavors like teriyaki, herbs, or honey mustard.